| | Just yesterday a good friend of mine (I've met him on Steemit) mentioned that he is looking for a few full time writers/social media marketers for him/his client. |
| --- | --- |
INTRODUCTION

He then asked me if I could suggest anyone I know and trust so I figured that the best thing I can do is to use my influence and publish his hiring criteria on my post.
I'm pretty sure that many of you reading it will be interested and I see it as another opportunity to strengthen our little community.
REQUIREMENTS

Allow me please to QUOTE the requirements for those positions.
1) TWO FULL TIME WRITERS: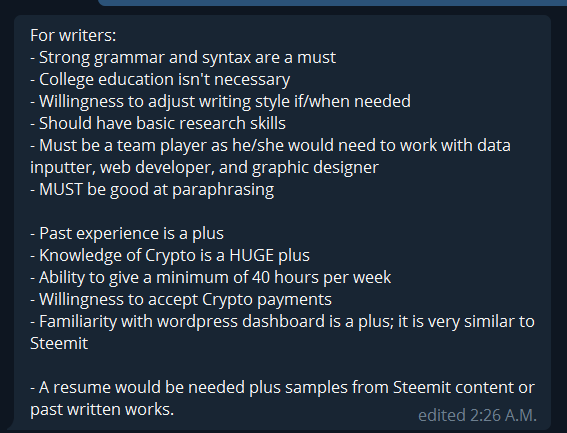 2) FULL TIME SOCIAL MEDIA MANAGER: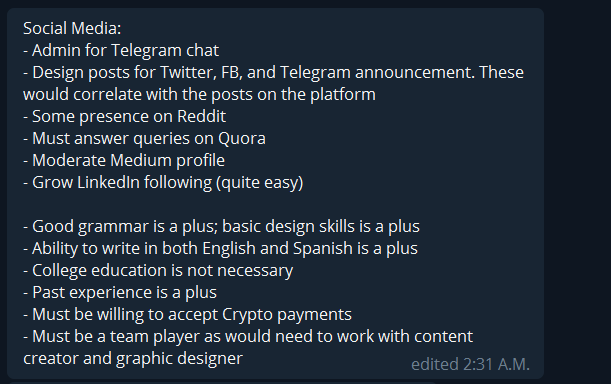 INTERESTED? HOW TO APPLY?

If you think that any one of those offers are related to your skills and it's something you find yourself being good at, then please drop me an email to my public account: [email protected]
As an email title, please write: "APPLICATION: writer" or "APPLICATION: social media manager". I will quickly go through all received application and I will visit them.
In your email, please remember to mention your steemit username. Write few sentences about yourself and your previous experience and skills which could be useful in that particular position.
Let me also know if you would be capable of working full time (40h a week) and if not then how many working-hours a week of your time can you offer.
Basically I will be forwarding all applications which I will consider serious. I will forward them to the person looking for those few employees and that's where my involvement will come to an end. And my task will finish the moment I introduce both parties to each other (potential emplyee and employer).
I asked about payments and I believe this part will be always discussed and negotiated directly between both parties.
QUICK SUMMARY

I believe I made this post clear and easy to understand. Whoever is interested to apply, please follow the instructions above and keep in mind that I'm not deeply involved in this project so at this stage I may not be able to reply all your questions. I shared with you pretty much all I know right now :)
RESTEEM IF YOU CAN

Perhaps I could kindly ask you, my dear readers, to resteem this post so I could reach out to a larger audience. I would appreciate it greately.
UNITED IN GRIEF

Minutes ago I've read very something very disturbing and unfortunatelly a very saddening post published by @nurseanne84 about tragic events that just took place in Philipines.
I had a pleasure to know @nurseanne84 for quite sometime and not only she is greatly supportive but also on daily basis she work as a nurse, which makes her exposed to victims of such a terror:
https://steemit.com/payitforward/@nurseanne84/the-call-to-peace
I would like to ask each one of you to open this link in new tab and show your support. We cannot do much to help those people, but even reaching out and showing that we care means a lot to some.
Yours
Piotr