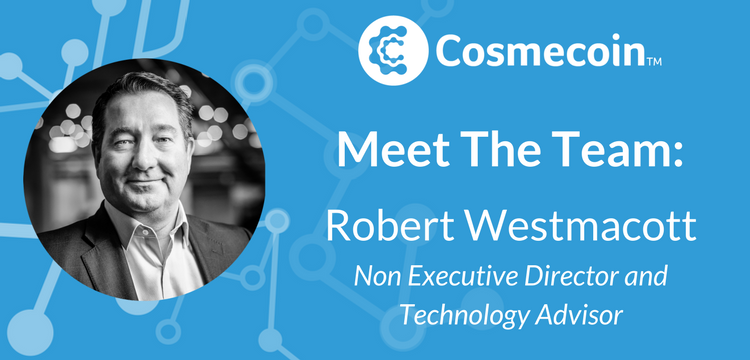 Rob is the founder of Scribestar, a SaaS based document collaboration and verification platform used in Capital Markets transactions. Robert has over 32 years experience in Sales and Marketing within the legal and financial services sectors, presently Chief Executive of Coinseige, the world's first Cryptocurrency Fantasy League game.
Here's what Rob had to say about joining the Cosmecoin advisory board as the Non-Executive Director and Technology Advisor:
"iConsult is one of those companies that is a perfect example of a company that would benefit from a technology pivot into Blockchain. It has an established, award winning business which has changed the way the practitioner interacts with patients, yet it was missing a mobile application to fully take advantage of creating a "trusted ecosystem" distinctly lacking in the current deployment. The company needed money to further develop their product and blockchain was the obvious technology to bring all of this together into a "tokenised reward based economy". I felt that the consumer would appreciate this more than perhaps a VC and so a crowd-sale process looked like a good fit. I was fortunate enough to have a number of key contacts that I felt could bring this all-together, including partnering with my own company to address the issue of compliancy, so I was excited when Richard Crawford-Small asked me if I could help."
Robert Westmacott, LinkedIn: https://www.linkedin.com/in/robert-westmacott-998633/
Robert Westmacott, Twitter: https://twitter.com/NobbyR
DISCLAIMER:
Neither this document nor anything contained herein shall form the basis of, or be relied upon in connection with, any offer or commitment whatsoever in any jurisdiction. Any offer to acquire tokens will be made, and any investor should make its investment decision solely on the basis of the information that is contained in the information memorandum to be published by iConsult Software Ltd in due course in connection. Copies of the information memorandum will, following publication, be available at www.cosmecoin.io.
These materials are not an offer of securities for sale in the United States. The securities to which these materials relate have not been registered under the US Securities Act of 1933, as amended (the "Securities Act") or the securities laws of any state or jurisdiction of the United States. Accordingly, these securities may not be, sold, pledged, assigned, delivered or otherwise transferred, exercised or redeemed, at any time, within the United States or to, or for the account or benefit of, U.S. Persons. There will be no public offering of the securities in the United States.