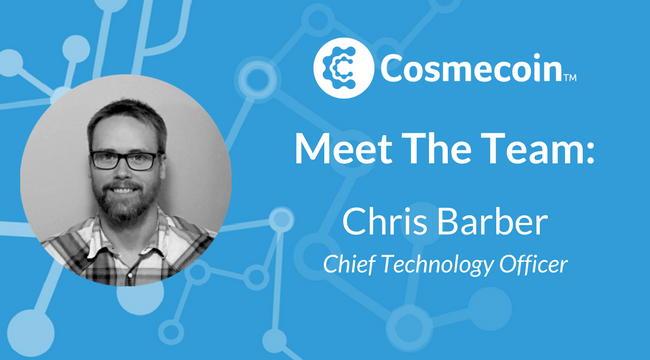 Chris Barber is a qualified Project Manager, Blockchain Consultant, and Analyst with over 10 years experience delivering large scale projects from petrochemicals to software development, as well as bringing complex, multi-stakeholder projects to successful conclusion. A background in Computer Science and a real interest in emerging technologies, Chris specialised in Blockchain projects and focussed on ensuring that organisations successfully develop their solutions by providing business analysis, tech leadership and programming solidity smart contracts.
Here's what Chris had to say about joining the Cosmecoin team:
"When I first heard about iConsult, I was initially attracted by the solid business structure of connecting consumers and practitioners in the Medical Aesthetics industry. What excited me, however, was the proposal of applying blockchain technology to the existing iConsult software platform. This would create a regulated ecosystem by connecting, recording, protecting and rewarding all parties involved.
My extensive background in blockchain programming has allowed me to take the position of Chief Technology Officer for iConsult. In the last six months, I have played a large part in the development of the Cosmecoin whitepaper, tokens and smart contracts in preparation for the ICO. Following this, I will lead the team in placing iConsult v3.0 on the Blockchain and developing the system further."
Chris Barber, LinkedIn: https://www.linkedin.com/in/chris-barber-146aa063/
DISCLAIMER:
Neither this document nor anything contained herein shall form the basis of, or be relied upon in connection with, any offer or commitment whatsoever in any jurisdiction. Any offer to acquire tokens will be made, and any investor should make its investment decision solely on the basis of the information that is contained in the information memorandum to be published by iConsult Software Ltd in due course in connection. Copies of the information memorandum will, following publication, be available at www.cosmecoin.io.
These materials are not an offer of securities for sale in the United States. The securities to which these materials relate have not been registered under the US Securities Act of 1933, as amended (the "Securities Act") or the securities laws of any state or jurisdiction of the United States. Accordingly, these securities may not be, sold, pledged, assigned, delivered or otherwise transferred, exercised or redeemed, at any time, within the United States or to, or for the account or benefit of, U.S. Persons. There will be no public offering of the securities in the United States.