CoinNess.com — To Make crypto investing easy.
Our Telegram Incentive Campaign is online! We decided to reward our early stage user on Dec.12th — Dec.21st(UTC+0) with 1,000,000 CNNS token and 100,000USDT. Join our group https://t.me/coinnessofficial to claim your rewards and win 100,000USDT now!
Rewards list for everyone right now:
Join official telegram group https://t.me/coinnessofficial to earn 20 CNNS immediately!
Invite Friends or Add Members to the group. 5 CNNS for each invitation.
Download CoinNess App for 70 CNNS.
Retweet & follow official Twitter to get extra 10 CNNS: https://twitter.com/CoinNessCom
100,000 USDT will be distributed totally 10 times in the telegram group
Priority for airdrops from our partner projects. We have over 100 partners all over the world.
More CNNS bouns for future campaigns.
Join Telegram Group @CoinNessOfficial to Collect CNNS and 100,000 USDT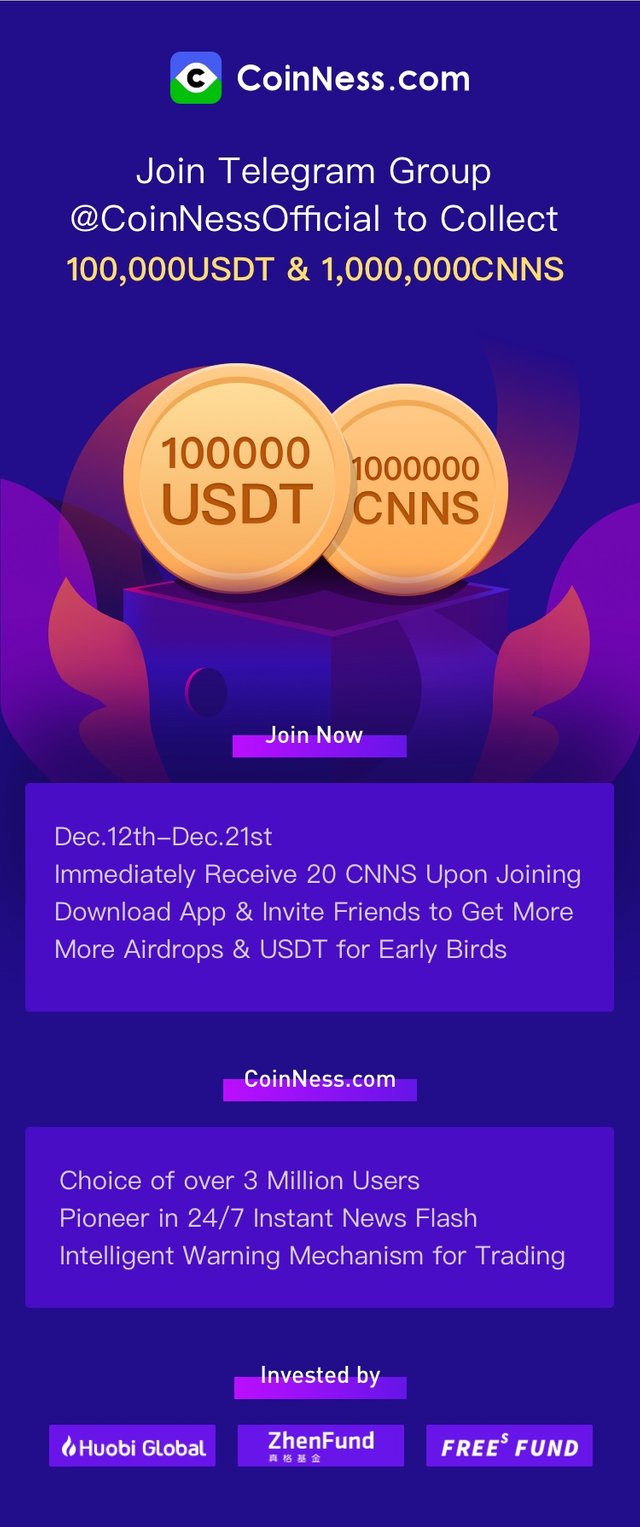 How to get rewards?
Please join group https://t.me/coinnessofficial to claim and check with your exclusive bot.
TIPS! CNNS would be listed on exchange platform in the first half of 2019.
About CoinNess.com
PC and App Multi-platform
Choice of over 3 million crypto investors to help you capture market trends in real time
Pioneer in 24/7 instant news flash, delivers trade information ahead of the market.
Intelligent warning mechanism to monitor and seize every trading opportunity.
Quantitative analysis provides reference to your investment strategy.
Invested by: Huobi Global; ZhenFund; Free's Fund
Website: https://www.coinness.com
Twitter: https://twitter.com/CoinNessCom
Facebook: https://www.facebook.com/CoinNessCom
CoinNess team