RedCab LLC is an advanced company offering a blockchain solution for cab transportation and delivery service to individuals and organization. The Expert research team of RedCab LLC carried studies on the needs of the customers and that of the drivers and further research to understand the market gap of the available services with the aim of providing services that meet the customers' requirements. This cab transportation sector is rapidly growing and it has been estimated to reach about $285 billion in the year 2030.
The RedCab LLC is a company that aims at bringing innovative changes to the transportation ecosystem by utilizing the blockchain technology for fast, cost-efficient and secure transactions. This innovation helps to save billions of dollars which would have been paid as commission to middlemen. This is rewarded back to the RedCab Ecosystem to ensure the sustainability and continuity of the business through customer loyalty program, performance management and the application of the best available technology.
How it works
The RedCab business model is incorporated into a decentralized blockchain ecosystem, on which decentralized applications (Dapps) will run and also the Dapps can also run on P2P network. This is to avoid any form of interference from an external party or any single authority. The Proof-of-Driving and the Proof-of-marketing are also great features of the Redcab ecosystem to keep the balance of supply and demand.
RedCab Services
Pick Up and Car Hailing Services: The type of service provided depends on the customers need. There are different types of services available to suit the customer's needs, this includes economy cab, family cab, luxury cab and the red cab. You can order for pickup of an item or someone from a given location.
Hotel and Airport Transportation: User can get a scheduled trip to airport, hotels and choice places. Visitor and tourist can utilize the services and their destination on time at the best price. The system also recommends hotels and nice place that one can visit.
Delivery Services: there is an increase in the demand for delivery services globally. This platform provides a world-class delivery service to business in need of a good delivery service or who don't have a dedicated delivery fleet.
Benefits of the RedCab Ecosystem
The benefit of the RedCab ecosystem is enormous both for the customer, Driver, and Businesses
Customer's Benefits
There is a reduction in the waiting time to get a ride
The transportation fare is greatly reduced
People get referral bonuses for introducing people to the ecosystem
Customers can earn token through proof-of-marking
Driver's Benefits
The drivers earn more and make more profits
The drivers can earn token through Proof-of-Driving
The drivers get more rides per hour
Hotels and Restaurants Benefits
High savings and maximum efficiency for businesses without dedicated delivery fleets
There are discounts and promotion Ads available for business
The Delivery service is excellent
RedCab Token Details and ICO
Pre-sale period: June 01, 2018 at 12:00 AM — June 21, 2018 at 23: 59 GMT. During the pre-sale period, early investors receive a 15% discount. Main sale period: June 22 at 12: 00 AM-August 15, 2018 at 23:59 GMT. Token Maximum Supply is 100,000,000 REDC Tokens.
• Accepted Currency for Token Sale: Ethereum
• Token Name: REDC
• Token Type: ERC20
• Soft Cap: 2143 ETH
• Exchange: 1 ETH = 2333 REDC
• Hard Cap: 24529 ETH
• Min Purchase: 0.1 ETH = 233.3 REDC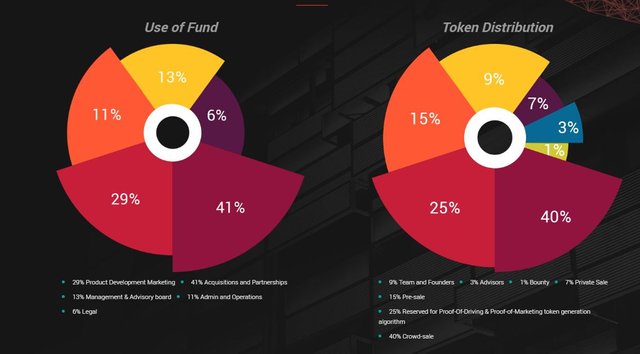 Visit the links below for more information:
Website: https://redcab.io/
Whitepaper: https://redcab.io/downloads/Whitepaper_EN_v1.0.pdf
Telegram: https://t.me/RedCab_ICO
LinkedIn: https://www.linkedin.com/company/redcab
Twitter: https://twitter.com/redcab_llc
Medium: https://medium.com/redcab
Facebook: https://facebook.com/redcabeg
Reddit: https://www.reddit.com/u/Redcab_io
Authors Bitcointalk username: Greenmane
Bitcointalk profile link: https://bitcointalk.org/index.php?action=profile;u=2234538