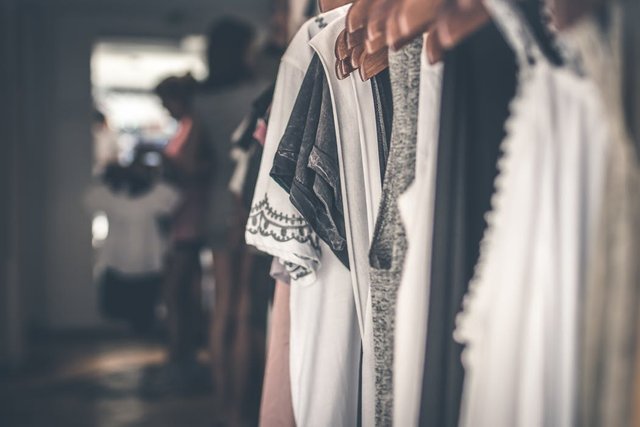 Image Source: Pexels
While looking good is good business, the fundamental business which actualizes our being able to look good, is not looking so good. Although the trends of fashion has changed dramatically over the past few years, one thing has remained constant; the dependency of the industry on cotton. Considering the dependency on it by such large industry (worth over $3 billion (USD)) and some others such as the bedding industry, It's no wonder then why this plant has been dubbed, "The white gold".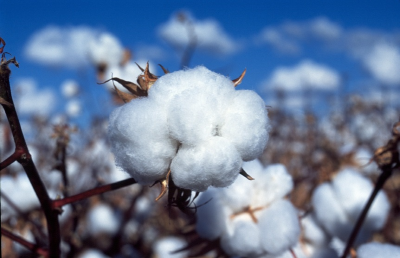 Image Source
The difficulty level associated with "mining" white gold is just as high as that of mining metallic gold. This is so because, although being a little plant, cotton requires
intensive maintenance
. As a fact, cotton plant requires about 20,000 litres of water to produce just a kilogram (1kg) of cotton wool. In addition, cotton plant is most often attacked by pests and insects, making it highly dependent on chemicals such as pesticides and insecticides for survival and optimal production. All these forms of plant maintenances team up to raise the
cost of production
.
heightened cost of production
does not go down well with the fact that over 75% of the world's cotton production comes from third world countries and newly industralized countries, (such as Brazil, Uzbekistan, India, China, Pakistan) whose citizens are barely escaping from the crushing jaws of poverty. The farmers however, are still clenched in it.
A heightened cost of production plus low income farmers multiplied by the low levels of trust associated with third world countries could only result to indebtedness of the farmers, poor working conditions, non/delayed payments, malicious handling of products somewhere along the supply chain e.t.c.
Statistics show that these menacing problems have resulted to the death of so many third world country farmers.
Should we stand idle and let these problems prevail? Should we fold our arms and let the colour of the white gold industry silently fade away?🤔
Questions like these led to the adoption of the blockchain technology to solve this problem, questions like these resulted to the conception of Cotton Coin.🤗😏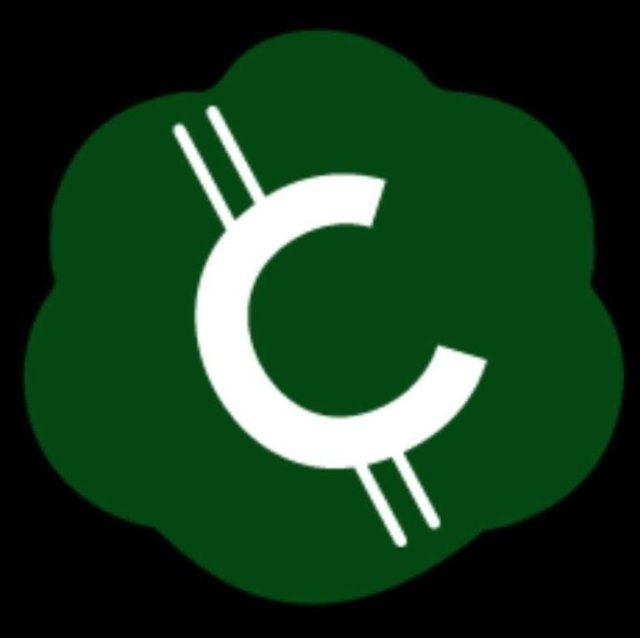 Image Source
---
The Solution to the Fading Industry.
Cotton Coin aims to save lives in the cotton industry and revamp the the fading color of the industry by providing what has since been lacking; trust and funds. It plans to achieve this through the blockchain technology or rather "trust machine" by designing a protocol on it which creates a transaction ledger which integrates consumers, supply chain participants and authorities in one ecosystem. Undoubtedly, this will increase the proximity of agents in the cotton industry supply chain, allow for swift and seamless flow of funds and also facilitate the purchase and sales of products by buyers and consumers respectively.
Not only is cotton plant usually plagued by insects and pests, the industry has also been plagued by corruption, scams and cotton fraud. This is a cogent reason why the Cotton Coin blockchain solution is a much needed one because it creates an immutable and transparent transaction ledger that will help apprehend all forms of scams and corruptions that threatens the industry by providing growers to buyers traceability. No more will intermediaries divert funds to their purses or inflate prices because Cotton Coin also enables a secure peer to peer (P2P) transactions.
Improving working conditions requires farmers to not only have funds available but to also know how to spend these funds appropriately on their Cotton business. But for so long cotton related information has been locked behind closed doors of big companies in this industry. Cotton Coin democratize access to these cotton related information by providing access to it as a common property and enabling small industries to be more competitive as they would not only have funds but information on improved methods of producing Cotton.
---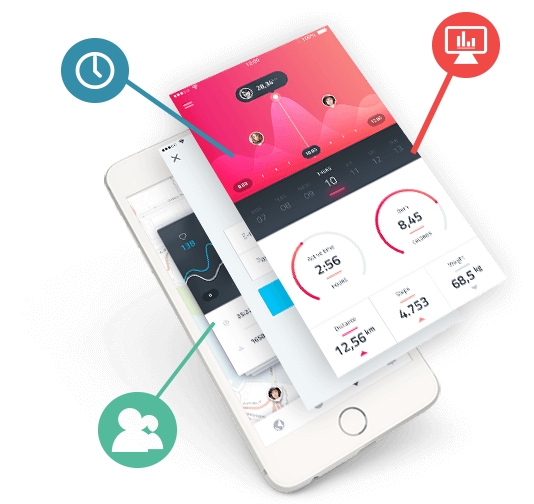 Image Source: Cotton Coin Website
To serve as a gateway into the instant and secure global payment method and the versatile traceability system provided by this blockchain solution,
Cotton Coin
provide role-based multilingual mobile Dapps which has be optimized for low end phones. These include the B2B mobile Dapp and B2C consumer mobile Dapp. Mobile Cameras would serve as QR code scanners to link the physical products movement to the digital system.
B2B Mobile Dapp.
This is an industry management tool which is role based i.e each agent in the supply chain has its own processes, menus and functions. Some of these functions include; Logistics transactions, Cotton safety information, Identification tool management and authority tools. The logistics part of the Dapp provides information about the transportation which may include the route taken, estimated transport time and the transport system used. In all of this cycle, the cotton safety information such as package number, weight and farm to verify the processes in this supply chain cycle. The identification tool management serves as inventory for all used tools and the authority tool helps the supply chain take the place of any centralized organization in governing the system.
B2B Consumer Mobile Dapp.
Ensuring transparency to the very end of the supply chain, Cotton Coin provides a Dapp for retailers and consumers as well. This is no make sure that they can be able to scan QR codes in order to ensure the characteristics and originality of the cotton Product instead of just relying on the word of retailer or the previous agent in the supply chain who may not be trustworthy.
---
The Dapps are available to download for Android and IOS smartphones.
---
Cotton Coin ensures transparency through openness of transactions and traceability. As a matter of fact, to ensure top notch security, Cotton Coin provides standard interfaces to allow for integration third-party traceability and identification solutions and reports this in time intervals to supply chain participants. Cotton Coin also provides information about the industry status about the industry status to national and international authorities through the Cotton Registry when they connect through their API. Cotton Coin also aims to provide tools to alert and help handle potentials outbreaks.
Opening accurate and reliable data (blockchain based) of operation of the Cotton industry to the world proves the credibility of the industry and this will attract investors to it. More trainings, opportunities and funds accessibility will be created for the existing farmers and farmers in other industries will get involved in this industry too as returns from their labour are secured and certain.
---
Mr Piotr's Discovery.😏
In a world where Job opportunities was no longer mouthwatering, Mr Piotr, a hardworking handsome young man begins to seek other options. He begins to research about products that the world is really dependent on and a product that the world's dependency on it will not be changing anytime soon. So he goes online and does some search and the internet suggest fashion. Being more interested in plants, he decides to start a business in the foundation on which this industry is built.
Scanning through information concerning cotton farming, he is a little worried about the problems and number of deaths associated with the industry. But as he searches a little more, he finds some more information about the current status of the industry in the cotton registry provided by Cotton Coin project. Interested in cryptocurrency too, he does a little more research about it and he fully understands and internalizes the features of the project.
After some years of farming using the information provided by the Cotton Coin project, he is truly impressed by the yield of his farm. Without pondering much about how to make sales, Mr Piotr visits the Cotton Coin marketplace where he places a Sell order. Mr Ced, a Cotton producer and wholesaler has been in the Cotton Market place for some time and has gotten a good reputation score. He matches the Sell order. Doubtful about Mr Ced, Mr Piotr goes through his profile where he views all the successfully completed transactions of Mr Ced and his reputation score. Convinced, Mr Piotr confirms the Order and Mr Ced makes an instant payment to Mr Piotr Cotton Coin's wallet available in his mobile Dapp he had downloaded from Google playstore.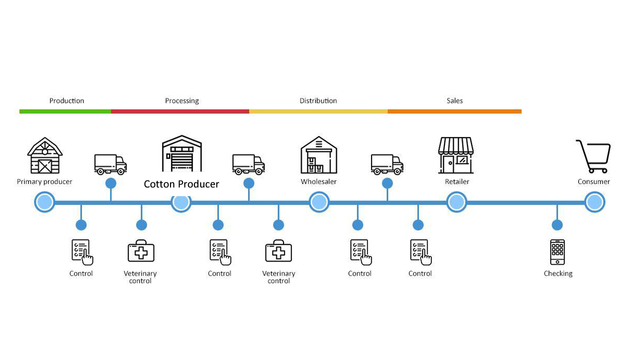 Image Source: Cotton Coin Whitepaper
Packaging the Ordered product through the aid of
Cotton Coin
agents, the weight, package number are specified. Mr Ced is relaxed as he tracks his products all the way through the supply chain and as the
Cotton Coin
network also confirms that the product specifications are met.
Mr Piotr is wowed by the efficiency of this blockchain solution. because anytime he is in need of funds, he can easily apply for some through his credible blockchain credentials, within a short while, he is becoming one of the biggest cotton producers in his country and also an educator of the power of the Cotton Coin project to help save more lives of Cotton farmers in third world countries and confirms that indeed cotton is the white gold.
---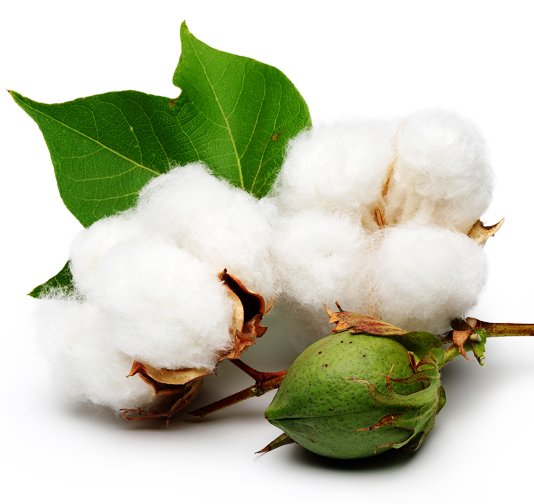 Image Source: Cotton Coin Website
The cotton industry has indeed suffered greatly due to lack of trust and funding. Not because the funds are not provided, but because they are diverted by unscrupulous intermediaries. The blockchain is called the trust machine because it is transparent and unalterable.
Cotton Coin
integrates this blockchain technology to eliminate the corruption and scams that has constantly plagued the industry. Also improving farmers' working condition through up to date implementable information. The world may have seen some potential of the Cotton industry but they have not seen it all. With the instant payment systems
Cotton Coin
provides, farmers will be incentivized to produce more to fully match the demands of this plant.
---
The ecosystem is obviously powered by the Cotton Coin token. It is utilized primarily in value exchange in the supply chain. I.e to purchase valuable information from supply chain companies, to order cotton analysis service. The traceability ledger can assesed when the token can be used to make payments, hence it serves as a toll. Finally it is used to incentivize customers for using the Cotton Coin Dapps.
---
Token Details.
Cotton Coin (COTN) which powers the ecosystem is a ASIC- resistant utility coin with the X11 type hash algorithm. This is meant to deter persons who are not supportive to the industry from making quick profits through generation and dumping in exchanges. The total supply of the tokens amounts to 20,000,000 COTN with 2,000,000 COTN already pre-mined.
---
Cotton Coin Team.
The project is managed at the moment by a team of three who are highly trained in their various fields, one of which includes blockchain developing.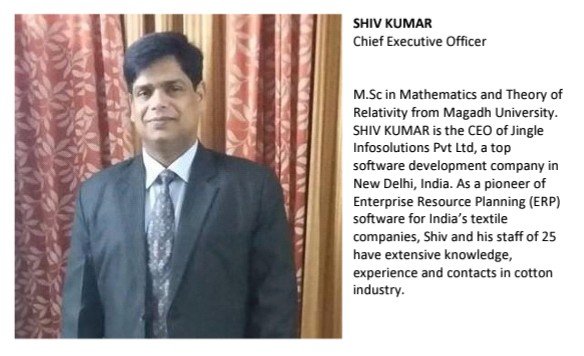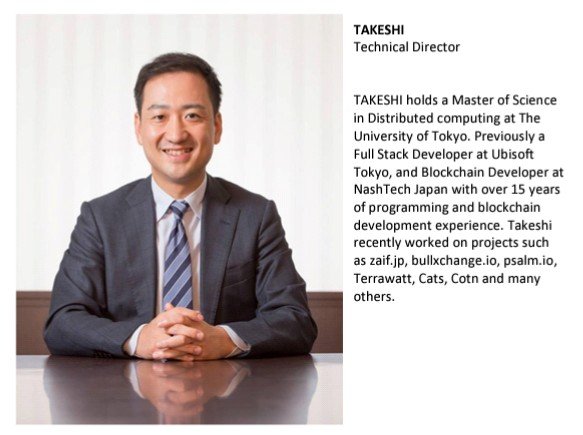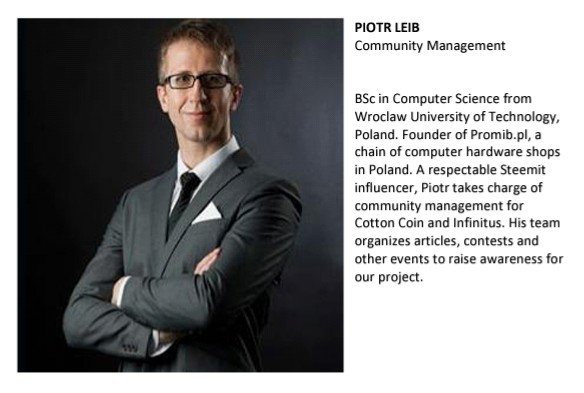 Image Source: Cotton Coin Whitepaper
---
More Information and Resources.