Staker Token Round 6 Post-Airdrop Community News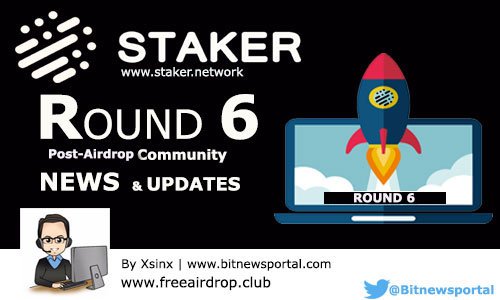 JOIN STAKER TOKEN AIRDROP
https://freeairdrop.club/staker-token-airdrop
Original Article
http://bitnewsportal.com/staker-token-round-6-post-airdrop-community-news/
Hello Everyone! Welcome to anther Article for Staker Token Project, Another week have passed and today we will discuss the post-airdrop updates of staker token project.
Its been another week and we have witness another sucessfull airdrop of staker token, 30,000 STR Tokens has been shared for this week and for Airdrop round #6, 318 Airdrop pariticpants has been recorded this number is 70 participants higher compare to last week and this is almost 35% growth of accepted airdrop participants.
Distribution of staker airdrop is based on Bitcointalk Rank and airdrop participants receive their airdrop as follows:
Newbie - 1 stake
Jr. Member - 2 stakes
Member - 2.5 Stakes
Full Member - 3 Stakes
Sr. Member – 4 Stake
Hero and Legendary - 5 stakes
Each stake receive 37.257 STR tokens for transparency purposes Staker Team provided a Sheet of all airdrop participant allocations.
(CLICK HERE FOR AIRDROP #6 SHEET)
https://docs.google.com/spreadsheets/d/1TiKSzmD40eKtxylD5iYjX5hQ41xhHq32hn_CYlDqSAE/edit#gid=0
318 Participants could be a little more higher because some participants failed to follow the instructions and rules for the airdrop. Always pay attention to Staker Airdrop Official Discord Channel to stay updated and to be aware of the latest happenings inside staker community.
Staker Airdrop Round 7 is now open and #Rules has been posted and make sure to follow them correctly. Visit #Rules and #Faq #Guide Channel in the official discord channel to know more about the new updated rules.
A new purchase contest has been announce yesterday and make sure to check them out @ #purchase-contest channel and participate for the chance to win some exciting and generous price from staker development team.
Currently Staker Token are available on
CREX24 https://crex24.com/exchange/STR-BTC
FORKDELTA
TOKENJAR https://tokenjar.io/STR0
Help STAKER Token get listed on FATBTC
Follow FAT BTC Twitter Account: https://twitter.com/FatBTC
Like & Retweet FAT BTC Tweet: https://twitter.com/FatBTC/status/1015485041026191360
Comment Staker twitter handle @StakerToken and add your best comment for staker token project.
Always remember that STR Token is still a brandnew community project and we can expect more community development and news along the way. The whole staker Development team are working very hard to give us a great opportunity and to make a difference in the whole crypto currency market.
That's all for this day and stay tuned for our daily news about STAKER project and Don't Forget to Re-Tweet, Like and share the article in different Social Media Channel a simple task but will have a great impact on STAKER Crypto Awareness Campaign.
FOLLOW ME ON TWITTER!
https://twitter.com/BitNewsPortal
CLAP THIS ARTICLE ON MEDIUM
https://medium.com/@xsinx2018/staker-token-round-6-post-airdrop-community-news-1c63ace6d63b