BitMart Lists MetaMorph (METM)
Dear BitMart Users,
We are going to list MetaMorph (METM) on our digital asset platform. The following trading pairs are available: METM/BTC, METM/ETH. More trading pairs will be announced soon. Please note the available dates for different functions below:
Deposit feature: 2018/10/18 6 PM (EDT)
Trading feature: 2018/10/19 6 PM (EDT)
Withdrawal feature: 2018/10/19 6 PM (EDT)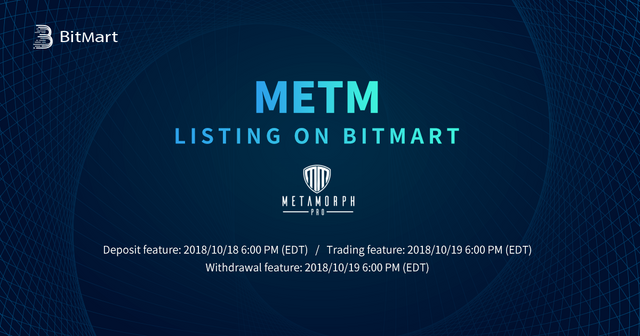 We are making this decision according to BitMart Listing Criteria and the local rules and regulations in areas where we operate. We have been strictly enforcing our listing criteria to make sure that the projects we introduce to all BitMart users are secure, compliant, and innovative. We are persuaded that NER meets these criteria of BitMart. We also took tremendous time and effort to develop our own compliance review system to make sure that our listings of certain tokens/coins do not run afoul of local laws. Our compliance team prudently reviewed all the materials we were provided on a case-by-case basis and reported that METM is structured and promoted as "Utility Token", and therefore, should be not categorized as "Security". We finally decided that listing METM is in compliance with local rules and regulations in areas where we operate.
Meanwhile, any inquiries, concerns, and questions with regard to our listing decision, either from authorities, social organizations, or individual users, are sincerely welcome, and we will re-visit our listing process on a fully-informed basis. You may submit the inquiry or email [email protected] and we will get back to you promptly.
ATTENTION: This announcement is only intended to be a legal disclosure to BitMart users. This is not an investment advice, or an endorsement by BitMart as to the intrinsic value of a digital asset, or a commitment by BitMart team to support any specific asset/token that the announcement pertains to.
For more informations, please visit our official website announcement: https://support.bitmart.com/hc/en-us/articles/360010717934-BitMart-Lists-MetaMorph-METM-