"Vote for Your Coin" — Round 5
Dear BitMart Users,
The fifth round of "Vote for Your Coin" will start on November 16 at 10:00 AM (EST).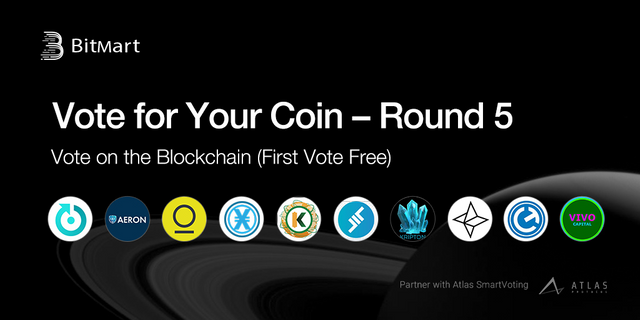 10 nominees for Round 5 are as follows (in no particular order):
1.Transcodium (TNS)
2.Aeron (ARN)
3.Omnitude (ECOM)
4.Nebulas (NAS)
5.Vivo Capital (VCT)
6.Amon (AMN)
7.Exhibit Token (EXBT)
8.ETHLEND (LEND)
9.Kripton (LPK)
10.KWHCoin (KWH)
BitMart will be cooperating with Atlas Protocol (ATP) to create a new voting campaign utilizing blockchain interaction.
Voting rules:
Voting time: 11/16/2018 10:00 AM - 11/30/2018 10:00 AM (EST)
BitMart users can use the voting system on ATP to participate in the voting campaign. Every day each user will have 1 free vote. Users can also use BMX to vote (1 BMX = 1 vote), up to 50 votes per day. So each user can vote a total of 51 votes (1 free vote + 50 paid votes) each day.
Projects are ranked based on the principle of "Number of Votes First, Number of Voters First, Time First". When the number of votes is the same, the project with a higher number of voters will win, etc.
After the voting is over, BitMart will not return any of the BMX earned from the winning project. Those BMX will be used as the marketing promotion fees for listing on BitMart.
After the voting is over, the BMX voted for those unlisted projects will be returned to users' accounts within 3 working days.
When the voting is over, the ATP voting system will analyze and investigate all the data. After ensuring the data is accurate, BitMart will publish the listing announcement for the winning project.
Note: BitMart reserves all rights to the final interpretation of the activity, including the handling of fraudulent voting.
For more details, please visit our official website announcement: https://support.bitmart.com/hc/en-us/articles/360012103773--Vote-for-Your-Coin-Round-5
Thank you for supporting BitMart!
BitMart Team
November 16, 2018