"Golden BitMartian Challenge": 10,000 BMX / BitMart Hoodies Giveaway!
Dear BitMart Users,
BitMart Exchange has officially launched for over eight months. It will be impossible for us to be where we are today without the support from all our users. We are now launching a "Golden BitMartian" Challenge for users who accompanied us along the way! Come and challenge our quiz, you'll have a chance to win 1,000 BMX or a limited edition BitMart hoodie!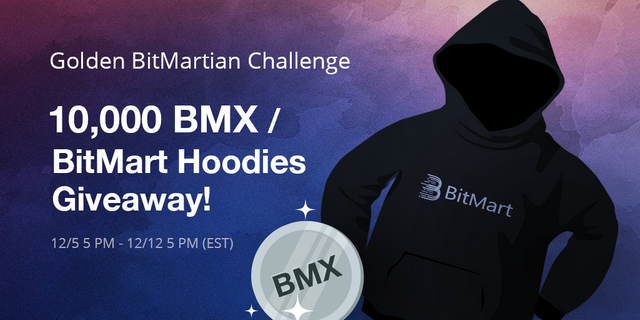 Period: December 5th 5:00 PM to December 12th 5:00 PM (EST)
Terms:
Participants have to finish the BitMart Quiz (click here to take the quiz) before December 12th 5:00 PM and get at least 8 questions right.
Share the quiz link to social media, and upload the screenshot of the post to our Google Form, you will earn 20 BMX!
All the participants will be eligible to enter a lottery. 10 lucky winners will win 1,000 BMX each or a limited edition BitMart hoodie (has to reside in the U.S.)!
Note:
Participant must have a registered BitMart account to participate.
Participant must fill out our Google Form after finishing the BitMart Quiz before December 12th 5:00 PM EST.
The BMX bonus will be issued to users' accounts within 7 business days after the campaign is over.
Anyone found to use multiple accounts to enter will be ineligible to win.
BitMart reserves all rights to this promotion.
If you have any questions, please email [email protected].
https://support.bitmart.com/hc/en-us/articles/360013145634--Golden-BitMartian-Challenge-10-000-BMX-BitMart-Hoodies-Giveaway-?utm_source=twitter&utm_medium=social&utm_campaign=Golden%20Bitmartian%20Challenge