BitMart Weekly Report [10/29/2018 - 11/04/2018]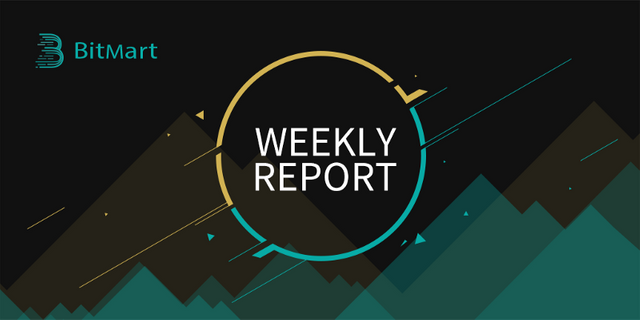 Website Ranking:
 •BitMart.com had a global rank of 100,757th this week among all websites.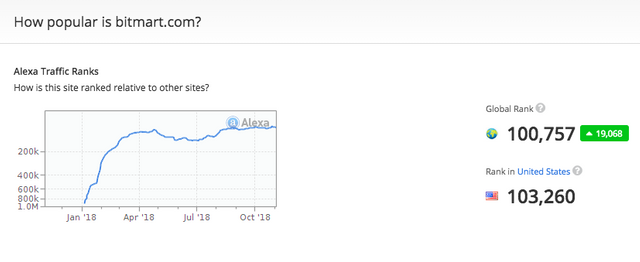 Trading Volume:
 •Highest 24 Hour Trading Volume: 125 million USD.

 •Highest rank of 18th this week among all exchanges at CoinMarketCap.com.

  Product:

 •Continued updating and optimizing webpage.

 •Continued the development of new listing projects.

 •Continued technical docking with GXS, APL, and others.

 •Continued function developments for the webpage including the novice guidance page, and price reminder function 
  etc.

Marketing Operation:
 •Daily operation of social media, forums, and communities.

 •Ended BitMart's time-limited Halloween Campaign "Trick or Treat".

 •Listed USD Coin (USDC), Japan Content Token (JCT), and NoFakeCoin (NFC) with new trading pairs: USDC/USDT, 
  JCT/BTC, JCT/ETH, NFC/BTC, and NFC/ETH.

 •Promoted the new listing coins and the trading competitions.

 •Continued business contact with projects such as BOB, SmartLand, and MGC etc.

 •Prepared the launch of "Thanksgiving Campaign".

 •Continued business contact with projects for the 5th Round of "Vote for Your Coin".

 •Continued further marketing cooperations with relevant individuals, agencies and institutes in Vietnam, Japan, 
  Korea, Russia, Turkey, and Nigeria. 

Business Development:
 •Last week, BitMart has used 20% of the income earned from trading fees from September 20th to October 19th to 
  repurchase and burn 6587452.88510853 BMX (approx. 197,624 USD). The Repurchase Mechanism will continue until 
  500 million BMX are burnt, thus reducing the total supply of BMX. Users can check the burn records via the 
  blockchain browser announced on our website.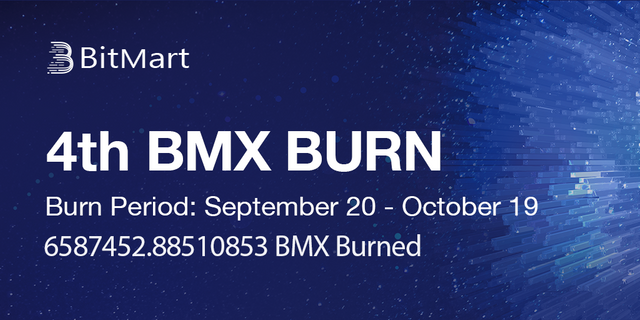 Social Media:
Twitter: https://twitter.com/BitMartExchange
Facebook: https://www.facebook.com/bitmartexchange
LinkedIn: https://www.linkedin.com/company/bitmart
Telegram: https://t.me/BitMartExchange
YouTube: https://www.youtube.com/c/BitMartExchange
Reddit: https://www.reddit.com/r/bitmartexchange
Medium: https://medium.com/@bitmart.exchange
Steemit: https://steemit.com/@bitmart
Instagram: https://www.instagram.com/bitmart_exchange/