BitMart Completes the 5th Monthly BMX Burn
Dear BitMart Users,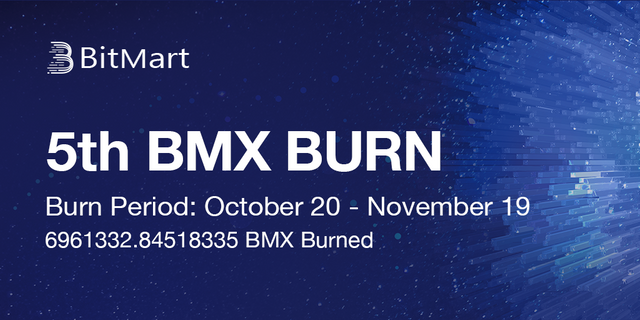 As stated the "Repurchase Mechanism" in our white paper, BitMart has used 20% of the income earned from trading fees from October 20th to November 19th to repurchase and burn 6,961,332.84518335 BMX (approx. 120,431.058221672 USD). The Repurchase Mechanism will continue until 500 million BMX are burnt, thus reducing the total supply of BMX.
You can check the burn records via the blockchain browser:
https://etherscan.io/tx/0xc2681d89a7a43ff08119a0248d7689ff5acc9209ba670cdd9e9a8c6ca190b760
Thank you for your support!
BitMart Team