Auxilium website improvements, and more to come
Last year we launched our website (https://auxilium.global) with Auxilium Global branding. Our goal was to create a website for our philanthropic cryptocurrency company that would both appeal to crypto enthusiasts and investors as people who want to help support and create philanthropic projects around the globe.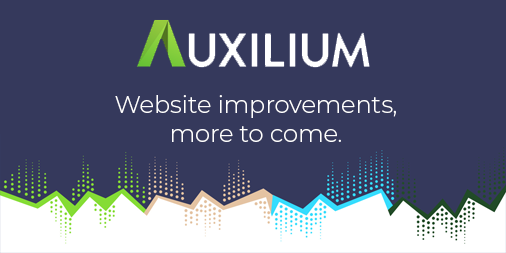 At first sight we were very happy with the results, but as we matured we also noted fair and constructive suggestions from community members. Last month we did a website analysis which made us conclude we needed to change.
One of the biggest misconceptions is that Auxilium might not be technologically advanced, or offer innovation, and would only focus on philanthropy (e.g. giving away money). In fact Auxilium is one of the most innovative cryptocurrencies on the market. Plus one of very few who focus on both technological evolution as socio-economical involvement and usability.
Like presented here for instance: https://auxilium.global/advantages-of-innovation
The analysis pointed out that the best practice (for us) would be to keep the website clean and functional using the branding colours we already had.
With this new web design, alteration of existing content and addition of new content, we hope to appeal to the broader public.
But what did we actually change?
List of improvements:
More tech-like design, without losing the option to showcase philanthropic projects;
More user activating buttons and links;
Less distractions for the reader from the actual content/text;
More use of bold text and subheadings to make it easy for the reader to extract crucial information;
Addition of pages that will be informative, thus helpful for people who are new to crypto;
Transition from charity to tech, without losing the identity of being philanthropic;
Improved website speed.
What can be expected from the website short-term?
To expect within a week:
We'll check the whole website on language;
Comparison page, comparing Auxilium to some major cryptocurrencies on essential coin performance aspects;
Re-design of philanthropic projects page;
More user-friendly functionality;
Extra detail in responsive design;
Extra pages for: statistical resources, partners/listings.
Translations:
We welcome everyone to comment website suggestions below.
Are you missing something?
Would you change something?
Do you have any positive thoughts?
Kind regards,
The Auxilium Global Team