Esax | THE FUTURE OF CRYPTO EXCHANGE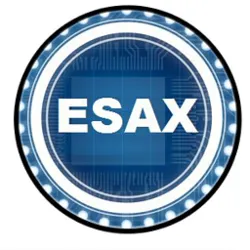 Good day guys, hope you'll are having a great day. Still back here to give you the best cryptocurrency/blockchain project to invest and watch out for. Today am bringing to you a project called Esax. The project is based on blockchain, and as we all know that the blockchain technology have come a long way in making the world a better place. The Blockchain technology has brought end to lots of problems in the world and turned this problems around into creating opportunities and development in every tasks it been used in. Today the world at large are very eager to use the blockchain in their business to provide adequate protection and maximum output. The Blockchain have also brought an end to slow transactions which was a very frustrating one, whereby people wait long time for transactions to go through. The Blockchain has also made transactions to be transparent and secure with even low fee compared to any payment method.
We can't talk about the blockchain technology without talking about cryptocurrency, the blockchain gave birth to the Cryptocurrency which is one of the world fastest growing digital currency right now and have also given the world a better opportunity through it advantages. Cryptocurrency have also grown along side the blockchain has it has also increased from just one into thousands today with each having different usecases. The Cryptocurrency is a digital asset based on blockchain and in other to make it have value they need to be on exchange and be trading.
Crypto exchange is where buying and selling of crytocurrencies takes place. Cryptocurrency exchange is a very important part of this space and it gives the Cryptocurrencies value, standards and also the user's to easily exchange their Cryptocurrency to whatever the want. As the Cryptocurrency has increased over the years so as the exchanges which we now have thousands of cryptocurrency exchanges today. Even with that lots of exchanges around there are still lots of problems in cryptoexchanges. The very first is the issue of insecurity, lots of exchanges today are designed and built of just weak security standards which makes hackers to get through the platform and steal users founds. Second is nontransparency, this is also very usual in most platforms, this has made many people to lose funds while trading and also have ruin many people's life's. Creating fake and false volume is also part of this problem and this has also given the crypto space a bad image with new investors not wanting to have any thing to do with the Cryptocurrency. Also slow transactions which is also a major problem which many exchanges have, with deposits and withdrawal taking longer time like hours and even days for some exchange which shouldn't be, all of this and more is due to lots of cryptocurrency exchanges was built on a weak foundation and every of it system breaks down in short term. Which is the reason why Esax is here to solve all of this problems and create a better and comfortable cryptocurrencies trading platform.
Esax exchange is a powerful cryptocurrency trading platform which is built to ensure the best trading experience for every cryptocurrency users. The platform is built with an advanced technology which provide real-time automatic trading to it users. The platform will fully be listed with crypto to crypto pairs and available for trade at every time.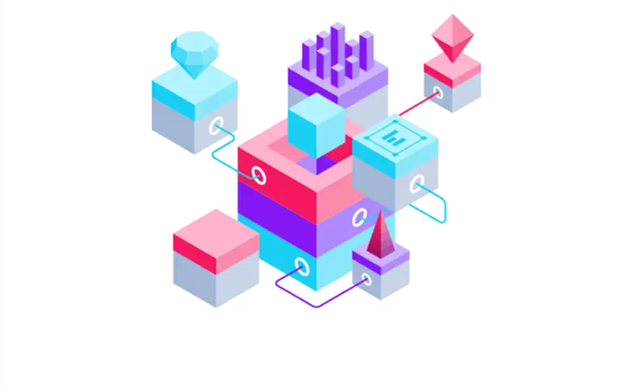 The Esax exchange platform has been designed and built on a solid foundation which prevents attacks from hackers and provide maximum security over it users data and funds. The exchange it self also features 2FA authentication security which users can enable for maximum security. As we all know that exchanges deals with funds, which is why Esax is using a cold storage system which is the best way secure and store cryptocurrency. This mean that users funds are fully secured. The exchange is also built to enable maximum transparency in every way and also with it inbuilt technologies the exchange is able to perform tons of transactions per second which will make deposits and withdrawal more faster and quicker than it is currently.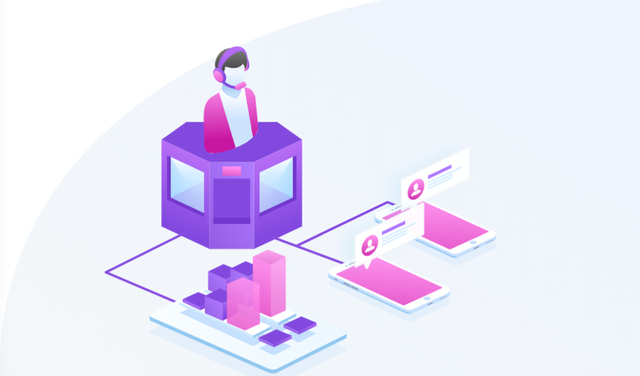 The Esax platform is also built with friendly user interface and UX which will give users those comfort at trading. This will also enable easy and flexible use of the platform. Every section of the platform is made understand and easy to navigate due to this implementation. The platform will also be able to run on different and multiple platform such as smartphones, laptops, pcs and notebooks which makes it comfortable for users to access their account anytime and everywhere they are.
Esax has also developed it own native cryptocurrency built on the Ethereum ERC20 blockchain standard called ESAX Token. The token will also be trading on the platform and users who hold the ESAX Token will be entitled to some benefits on the platform such as discount on fees. The token will also be a reward currency for users who invite new members to join the exchange. The sale of the token has already began and will end on the 31st of December 2019. The sale is currently on with huge discounts and bonuses when you purchase it so be among the first to get your hands on the ESAX Token.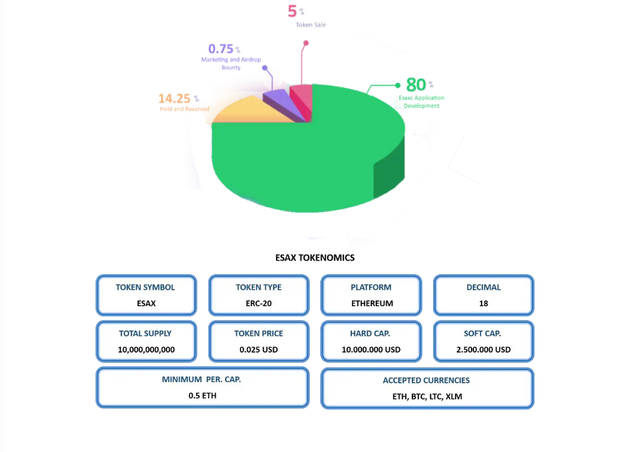 ROADMAP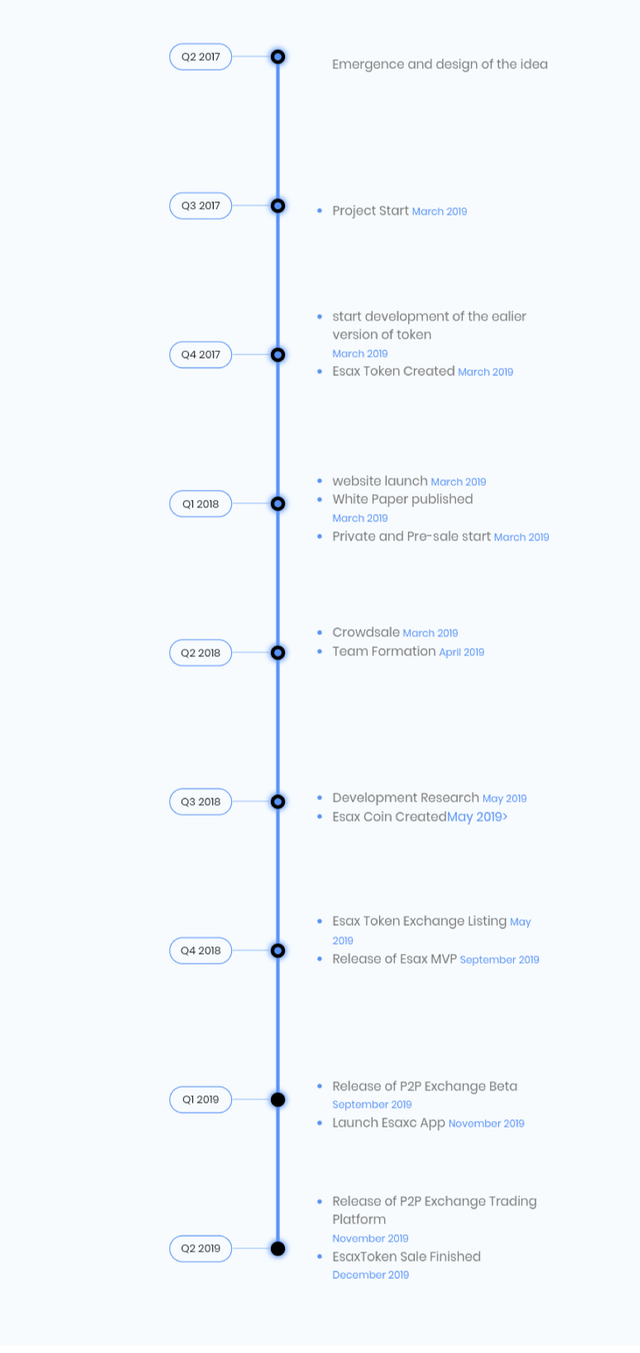 TEAM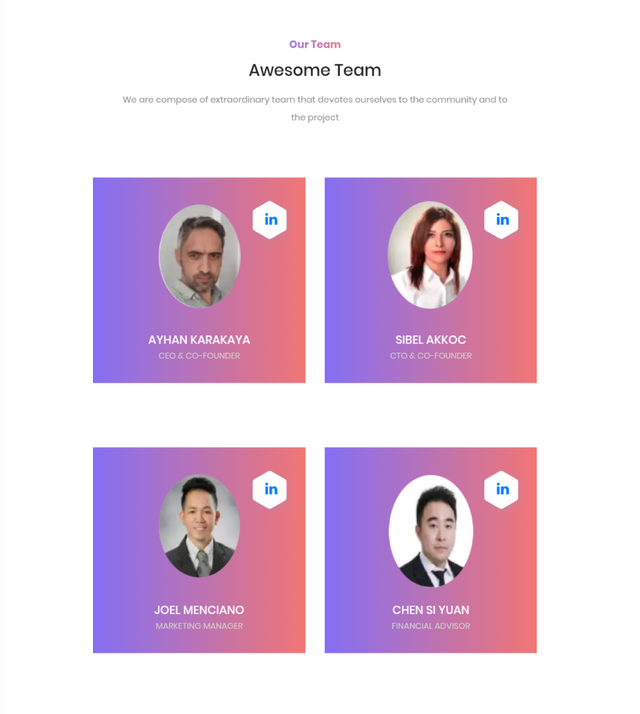 CONCLUSION
I believe Esax is here to change and get the cryptoexchange to a better place where every thing is pure, comfortable, transparent and faster. The team behind this massive project have experienced of over 10 years in this space and are very good at what they do. Esax also have other sections which includes payment systems and loan Applications and lots more.
For more information about Esax, kindly visit the links below;
Website: http://esax.tech//
Telegram: https://t.me/esaxPRICE
Twitter: https://twitter.com/ESAXTechnologi1
Facebook: https://www.facebook.com/ESAXTech//
Linkedln: https://www.linkedin.com/company/esax-technologies//
AUTHOR'S DETAILS
Bitcointalk Username: Oluwatimi
Bitcointalk profile URL: https://bitcointalk.org/index.php?action=profile;u=1916121