Introducing : ARK Docs — Articles, Guides, and Technical Documentation Gathered in One Place

Over the course of the last few weeks, the ARK crew + the amazing ARK community have been working on ARK documentation that spans the entirety of the ARK ecosystem. Everyone here at ARK is happy to announce the debut version of ARK Docs. We look forward to the hearing your input as we continue to improve and expand our documentation and technical guidance.
A great deal of work has gone into the re-write of our codebase for ARK Core v2. The development team has been hard at work for months writing brand new features and solidifying ARK as an industry leader in blockchain technology. While they were hard at work coding, the rest of the team set their sites on ensuring that the systems surrounding the ARK Core are of the same quality you have come to expect from our team.
With ARK Core v2, we identified Documentation as a key area to focus our efforts. Developers are a key piece of the ARK Ecosystem and providing proper, organized documentation was one of our top priorities. We feel that starting a new chapter in ARK's history (ARK Core) needs to have proper documentation readily available, all in one place and not spread throughout different sites, links, repositories, etc.
As such, we are happy to announce ARK Docs.
ARK Docs is available at : https://docs.ark.io
ARK Docs is a collaborative effort between the ARK crew and ARK community members that covers articles focused on the blockchain industry, the ARK network, ARK Guides, FAQs, the new plugin system and most importantly properly covering APIs starting with v1 and v2. This will give developers easy access to documentation for tools they need to start building on top of the ARK network.
Let's go over the website so you'll be able to get a grasp on how things are parcelled together.
ARK docs is segmented into 4 main subcategories: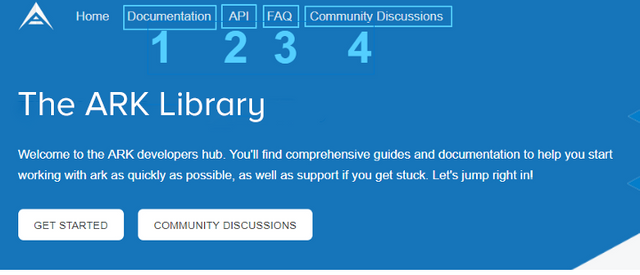 There is also an additional sections on the homepage of ARK Docs on the right side:
Search : you can search for specific keywords and the readme will query through documentation to present you with closest findings so finding something specific can take a matter of seconds.

Help Us Improve Our "Ark Library"

When a user opens an article in the documentation, a button will be available on the right side labeled "SUGGEST EDITS". Click on the button and write your improvements or corrections. After you are done, click on the button "Submit Suggested Edits" for a review by the ARK team.
ARK is a community focused project and is highly motivated by collaboration. In keeping with that theme, EVERYONE has an option to suggest edits. If you think something can be further improved or if you have found a mistake, don't hesitate to let us know.
As this is the debut version of ARK Docs, many of the articles are still being written or may be pending review. In the mean time, we would love to get your initial feedback, ideas on what we might have missed, and what we can improve to make ARK Docs the central home for all of our documentation. Please share your thoughts with us on Slack, Reddit and ARK Docs discussions. We want to hear from you!
Follow us on social media ( Twitter | Facebook | Reddit ) and stay tuned to our blog on Medium and here on Steemit.