The world we live in today is constantly changing as the day goes by, who would have thought that cryptocurrencies would gain grounds in the 21st century. This new means of trade was birthed during the financial crises of 2008.
THE WALLET STORY SO FAR
As at that time, very few people understood the bitcoin technology and they had no idea how it was going to revolutionize the financial sector and many few people keyed in, the few people who keyed in turned multi-millionaires in a decade.
Roughly 10years after the digital currency introduction, more people got aware of the blockchain, which is evident by the number of blockchain wallet users worldwide report. In the first quarter of 2018, it was estimated that over 25, 000,000 people owned a blockchain wallet; this figure was an astronomical growth when compared to less than 5,000,000 users recorded in the first quarter three years earlier. source
As the users increased, there aroused a lot of security issues with the wallets, the vulnerability of the wallets made it susceptible to hackers…
Coincheck holds the dubious title of the largest exchange theft to date. The Japanese exchange discovered that $534 million in NEM coins had disappeared from an exchange wallet on January 26, 2018source
These hacks were peculiar with hot wallets which were connected to the internet; this made it difficult for those who were sitting on the fence to embrace the bitcoin technology for fear of the unknown.
The peculiar wallet security challenge was its availability of private cryptocurrency keys to third-party users, hot wallets and cloud-based data storage which were prone to hackers.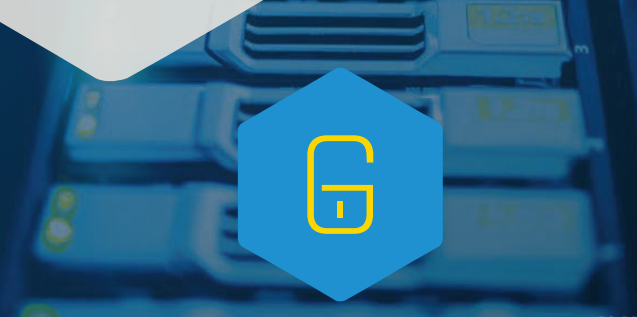 Goldilocks is revolutionizing the way data is stored on the internet by building an ecosystem to secure cryptocurrencies and digital assets for individuals and institutions.
Goldilocks having studied the predicament of wallet users decided to provide a lasting solution to these problems.
THE AIR-GAP MODEL.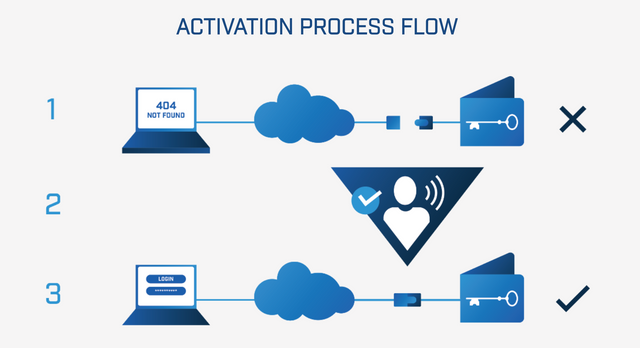 Goldilock proposed a secured air-gap technology, where computers are prevented from establishing a connection with an external server to prevent the exchange of sensitive data.
Financial institutions, banking sector, military faced similar security challenges with sensitive data of users and digital assets
AIR-GAP FOR SINGLE USERS.
The private key custody mechanism was proposed by Goldilocks' to assuage the challenges. It is an encrypted storage device with a vault acting as a secure data center. A user is made to use a non-IP command over a public switch telephony network (PSTN) to access his/her stored data over an encrypted channel. After the transaction is completed, the device goes offline with no trace or record of the private keys used for the transactions.
AIR-GAP FOR BIGGER INSTITUTIONS
The bigger institutions like the banks usually have a central regulatory body owned by the government which is responsible for monetary policy, formulation of rules and regulations and even acting as clearing houses for other banks. These institutions would be skeptical about adopting a crypto- investment for security purposes. They would prefer to store customer's physical assets in an inaccessible vault.
Goldilock has a tighter security for these institutions; there is an 'online-on-demand environment' mechanism which reduces the transaction processing time enabling better handling of traffic during peak market periods to prevent a security breach.
THE APPLICATION LAYER DESIGN
The Goldilocks' wallet designed by the team would be made to run over a secure SSL with an encrypted hardware wallet device that would be disconnected from the internet; it would be only connected to the internet over a non-IP-public switch telephony network (PSTN).

The Goldilocks' wallet would be used to store and transact NEO, GAS and NEP-5 tokens which would make NEO the most secured cryptocurrency in the crypto market.

The Goldilocks' API service would make it easy for collaborative applications to be built as with a privacy focus.
THE LOCK TOKEN.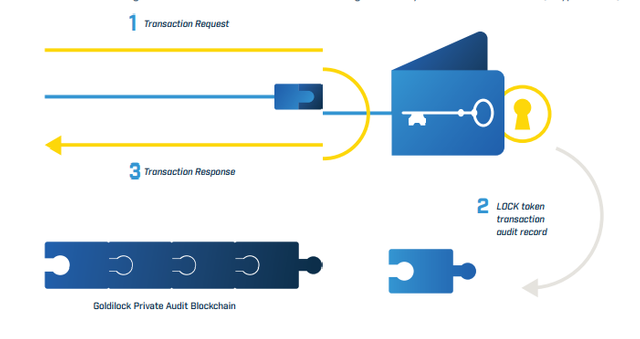 Users of the goldilocks wallet would need to purchase a lock token to enable storage of their private keys for cryptocurrencies and digital assets. This lock token would act as an audit to transactions on the goldilock audit blockchain. This would ensure an encryption of data of users with lock token even from the Goldilocks' team members, making sensitive details secure.
WHY CHOOSE NEO?
SMART CONTRACT PEER-TO PEER ECONOMY
Neo is a peer to peer decentralized Chinese cryptocurrency which allows the creation of smart contracts similar to ethereum with gas fees as an incentive. Its current market cap is approx. $1.8 billion. NEO would make use of public key infrastructure (PKI) x 509 to issue and confirm digital identities.
SUPERIOR CONSENSUS MECHANISM
NEO has an upgrade of the traditional proof of work (POW) and proof of stake mechanism called DELEGATED BYZANTINE FAULT TOLERANCE (dBFT) which is used by NEO users to vote for delegates to reach a consensus mechanism
FASTER TRANSACTION.
The dBFT does not need thousands of machines to verify transactions; rather the special design of the dBFT can execute 10,000s of transaction per second at no cost.
USE CASE 1.
Alfred was introduced to the crypto world by a friend who has been in the game for a while; Alfred started trading with a hot wallet and was making good profits until he had a phishing attack on his binance wallet. Luckily for him, he had moved most of his funds to cold storage. He has been reluctant to resume his forex trade for fear of another attack, last week he stumbles on an article on Twitter on goldilocks and picks an interest, he is certain that his security issues would soon be over when he gets a lock token.
USE CASE 2
Bank XYZ has been thinking of moving the digital database of its customers online, the management is still skeptical about the right choice to make for fear of security breach by hackers. They know the litigation that they could face if there is a breach of this vital information, and then the company secretary remembered she saw an article about goldilocks during the weekend, she shares this with the management and they all beam with a smile for they had found a solution to their problem.
CONCLUSION
The European Union General Data protection regulation (GDPR) put a fine of 20 million pounds for failure to protect consumer data.
The Goldilocks' wallet would finally put an end to the password and private keys security issues faced by individuals and big institutions on a daily basis. With the NEO platform backing, users would have an alternative to the vulnerable hot wallets that are prone to attacks and identity theft.
When cryptocurrencies can be freely exchanged among individuals without any security breach by hackers, there would be a global adoption for cryptocurrencies and wallet users by individuals and co-operation in the long run.
FOR MORE INFORMATION, WATCH THIS SHORT INTRO
If you need more materials, feel free to check out these useful ones.
MEET THE TEAM

ROADMAP

My twitter link
https://twitter.com/XAntigen/status/1026918372813008896
Disclaimer:
All images were gotten from the materials about goldilock.
This is my entry to a contest sponsored by @Originallworks. It is not a financial investment advice.
goldilock2018