Lattice Exchange: Opening New Solution-Oriented Imperatives For Decentralized Finance
Overview: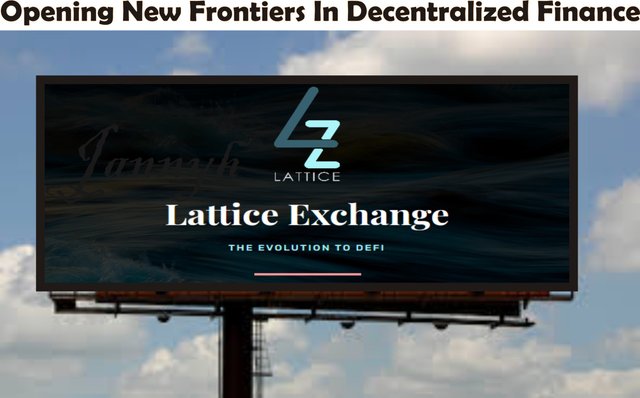 Like I promised the cross-section of my blog followers, I will continue to churn out value laded project for the benefits of my blog followers, Today I am going to engage us in a discourse about a revolutionary and fascinating financial infrastructure in the blockchain space called Lattice Exchange.
This innovative project is basically is a decentralized financial application that is conceptualized atop the Constellation Hypergraph Trader Protocol and Ethereum.
The developers of the lattice Exchange initiative has continued to venture into new grounds that is result and solution-oriented, by opening new and innovative frontiers. Only recently, the developers have ventured into a decentralised financial paradigm with a view to providing the critical solution to issues and challenges bedevilling the decentralised financial space and providing this alternative atop the renowned Hypergraph of Constellation Network and also has to do with FBG Capital and Alphabit Fund.
Taking a cursory look at the innovative Lattice exchange indicates that the architecture is an advancement of what we know as the prevailing decentralised financial solution globally. Lattice exchange has been consciously modelled and is poised to make available for its retinue of agreement users top-notch price and profitability.
Fundamental Imperatives To Achieving The Lattice Exchange Objective:

The Lattice exchange like I have said earlier has come out with a far-reaching value proposition in solving these global decentralised financial issues. Basically, Lattice exchange provides what those in the financial space refer to as aggregate liquidity collection, the ability to route for trade in the most well turned-out and intelligent way, and also has the ability to integrate multiple automatic market-making algorithms on constellation's scalable Hypergraph Network.
The Lattice Exchange has resorted to this innovative solution means following the fact that with the help of constellation network, in a crass comparison with other acclaimed decentralized financial outfits with platform atop the alternative blockchain infrastructure, the transactions are expected to be faster, cheaper and enviously more accurate.
The Lattice Exchange is exceptionally disruptive and is poised to make a difference and has fundamental functionality that is rich in contrast and compared to other decentralized financial solutions platforms leveraging on non-scalable structural solutions atop Ethereum, and known the world over for having the knack to bring about stagnations in networks and attracts astronomical transactional fees.
A cursory look at the conscious and sustained advancement of the technical savvy blockchain and cryptographic money space interestingly opens frontiers for a more trustless loan, and at the same time opens a new horizon in the financial space. The Lattice exchange system of decentralized Constellation and free and secure architecture will position it as the pioneer major application sitting comfortably atop the globally scalable protocol built on the constellation system.
Why Did Lattice Opt For The Constellation Model: See Also Strategic Partners:

In recognition of the challenges posed by the decentralized financial structure globally, the conceptualizers of the Lattice Exchange had opted for the Constellation process because constellation has turned out a vibrant system that is largely becoming the most trusted network globally, and their service is widely utilized to make available alternative highly protective communication protocols that have to do with TCP/IP with the basic of tokenization and high depth protection. Lattice and Constellation have a huge prospect to assume seamlessly the newest template of decentralized transactions. Basically, via the constellation hybrid map, this innovative infrastructure will mop up liquidity and churn out marketplace transaction at a far-reaching cheaper rate.
Token Distribution Information: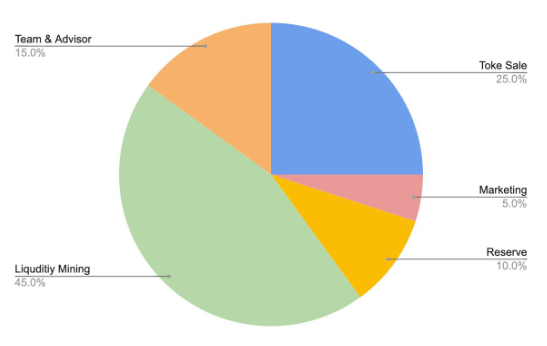 Below are the token distribution format for Lattice Exchange:
Private Sale Distribution: 15%
For Vesting For 24 Months and Reserving For Team and Advisors: 15%
For Marketing To Engage Users: 5%
Liquidity Mining For Daily Participant: 45%
Tokens Locked For 24 month Pending Governing Committee Determination Of Utility: 10%
Distributed For Users & Investors Via Public Sales :10% (The Unsold Will Be Burnt
Conclusion: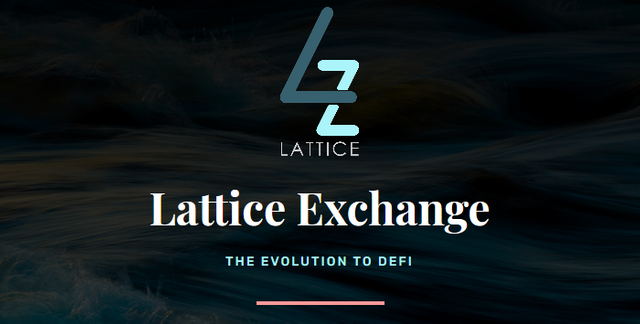 The Lattice Exchange decision to tow the constellation core has positioned the projects and infrastructure as the future of the global decentralized finance. In other words, following its strategic fundamentals, according to trusted experts, Lattice Exchange has been able to attract strategic partners to invest in the project. The reason for this is not far-fetched as gluts see their project as capable of providing a top-notch solution for the high transaction fees of Ethereum in decentralized finance.
For more information click below:
Website: https://lattice.exchange
Telegram: https://t,me/latticeexchange
Whitepaper: https://lattice.exchange/Lattice-Exchange-Official-Whitepaper-pdf
ANN Thread: https://bitcointalk.org/index.php?topic=5278016.0
Instagram: https://instagram.com/latticeexchange
Linkedin: https://www.linkedin.com/company/lattice-exchange
Facebook: https://www.facebook.com/LatticeExchange
Author's Bounty0x Username: Jannyh
Note:This Article Is Exclusively Written For Bounty Reward Purposes
My Article Plagiarism Check Link 100%: https://1text.com/plagiarismchecker/5f72036fd4b11