HOW WELL DO YOU KNOW THE CALLISTO (CLO) AIRDROP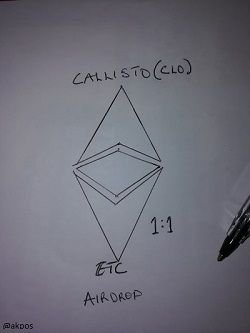 Ethereum Classic also referred to as Classic Ether is an open source, peer-to-peer (P2P), blockchain based cryptocurrency which is fully decentralized. It can handle EVM (Ethereum Virtual Machine) and Smart Contracts just like the Ethereum.
The Callisto: Callisto is a blockchain technology running on the Ethereum Classic Protocol which rewards ETC token holders for holding and this process is known as cold stake protocol. Cold staking protocol is a means rewarding callisto (CLO) token holders for not spending or for keeping CLO for a specific time frame. They are being rewarded by the ratio 1:1. it states that there will be a Callisto (CLO) airdrop planned for Ethereum Classic (ETC) holders. This project is the continuation of the Ethereum Commonwealth.
Is Callisto an Airdrop or a Fork?
Unlike a true fork, Callisto tokens are being distributed to Ethereum Classic holders. This is known as an "Airdrop".
Purpose of Callisto Airdrop
The CLO is being introduced to improve the scalability of Ethereum Classic along with the Callisto blockchains. It would also help in the implementation of a cross chain service as stated on its roadmap. The cross-chain would make it possible for ETC Smart contracts to run smoothly on Callisto blochchains and Callisto Smart Contracts to be used on the ETC blockchains.
How can you get CLO token?
Receiving CLO is very simple as long as you are an Ethereum Classic holder. However, you have to wait until the Callisto Network is launched or goes live. Then, any ETC account holder with available ETC balance on his/her wallet would receive the equivalent value of CLO.
What are the likely wallets that would support Callisto?
ClassicMask
ClassicEtherWallet
MyEtherWallet
NB: This airdrop might become real and also might end up not happening. Therefore, apply your discretion when investing on any token fork or airdrop.