VELAS : IMPROVING THE SCALABILITY, SECURITY AND GENERAL BASIS OF THE BLOCKCHAIN TECHNOLOGY SYSTEM

Decentralisation was the the starting point of blockchain technology system, whereby it countered the process of centralization of data, making data not readily available for all users. But with blockchain technology system brought about decentralised whereby users have total control of all their data unlike the centralised system. Also blockchain technology system also brought about the use of smart contracts which majorly handed issues of security, and in certain areas where it have been applied it has also triggered scalability as well as reduce expenses. But despites all these benefits there still exist certain loop holes or set backs in the current blockchain technology system which might still be the area of scalability, security and expense management and this is the main focus of the VELAS platform as the platform aims to offer a permanent solution to this already existing issues.
VELAS PLATFORM
Velas platform is a platform that will develop a self learning as well as an optimising blockchain technology platform that will enhance secured as well as interoperable highly scalable transactions and smart contracts. The platform will also make use of a neural network which is optimised by AI to enhance it's consensus algorithm while using this to address all the existing issues as well as challenges of the already existing blockchain technology system. With the incorporation of an AI-operated DPOS consensus algorithm, the velas platform will rule out all corruptible human dependencies which therefore will lead to a fault tolerance system and will in return handle all major issues facing the blockchain technology system. The velas platform's AIDPOS apart from handling or ruling out all corruptible human dependencies will also secure blockchain and thus allow processing of high volume transaction without compromising the security or stability in any way.
ESSENCE OF AI APPLICATION ON THE VELAS PLATFORM
The reason of incorporating AI into the velas platform's system is not far fetched as it will help reduce costs that are associated with consensus. It also encourages participants of the velas networks to be active and present in the network. Also it will block all irrelevant messages as well as false transactions on the network which will in return increase the resistance of the network to attacks as well as quality of messages. And it can also be used in optimally allocating rewards.
VLX INFORMATION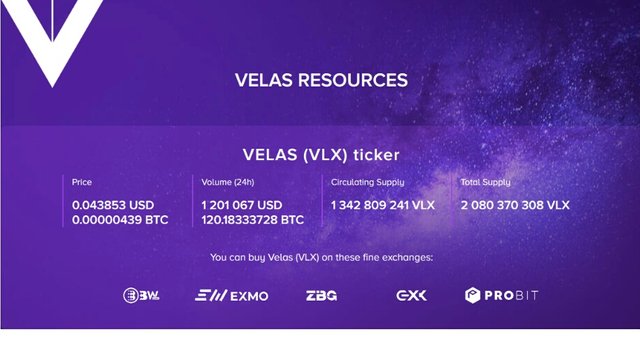 The VLX is the term that explains the utility token of the velas platform with a total supply of 2,080,223,171 and the token is already listed on exchanges and for users who are interested in getting the token please do well and access the links below;
-EXX: https://www.exx.com/tradeCoding/vlx_usdt
-PROBIT: https://www.probit.kr/app/exchange/VLX-USDT
-BW: https://www.bw.com/trade/vlx_btc
-EXMO: https://exmo.com/en/trade/VLX_BTC
-ZBG: https://www.zbg.com/trade/vlx_btc
FOR MORE DETAILED INFORMATION ABOUT VELAS
Twitter: https://www.twitter.com/VelasBlockchain/
Telegram: https://t.me/velascommunity
Facebook: https://www.facebook.com/velasblockchain/
Papers;
Website: https://velas.com/
LinkedIn: https://www.linkedin.com/company/velas-ag
Medium: https://medium.com/@VelasBlockchain
Discord: https://discord.gg/CTcKpPc
GitHub: https://github.com/velas
Nodes: https://velas.com/wallets-desktop.html#nodes
Partners: https://velas.com/#partners
Bitcointalk username: Aakay
Bitcointalk profile link: https://bitcointalk.org/index.php?action=profile;u=2351546