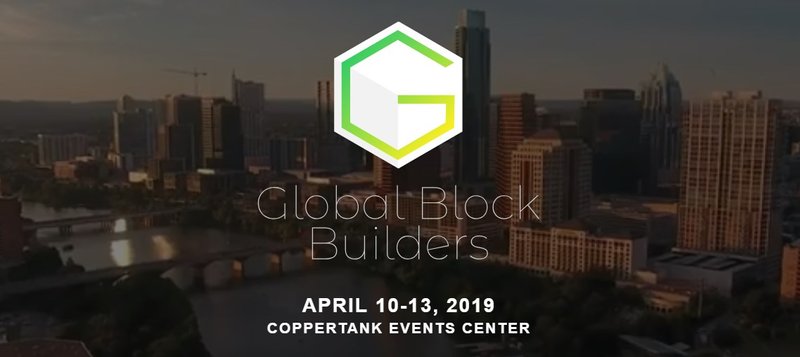 Continued from Global Block Builders Conference - Day One Overview (Part One)
A schedule of the speakers with their websites can be found partially completed here
I concluded the Day One overview at the lunch break, and we'll pick up from there.
Comments in italics are my thoughts on the notes
Aman Quadri, CEO of Amsys Blockchain and Amchart and CSO of Amsys Group
Crypto hedge fund
Provides a foundation for researching blockchain technology in the healthcare field
Provided a healthcare center in India where much of the technology could be tested outside of an over-intrusive (my point) regulatory system
MAJOR POINT - all patients should own their own data
One capability of blockchain tech can be seen in the tracking of blood shipments (blood is in short supply in India); there is a "blood mafia" that hijacks these shipments for black market resale.
Extremely informative presentation; when the videos come out, this is a good one to view
the "new government" is the big tech companies - scary but accurate
96% of searches are made on Google (whom we already knows manipulates results with political bias)
Presearch uses a referral program
gave examples of of companies pushed back several pages in search results by Google, etc, even when these companies were searched by their own name
rewards layered over searches
browser plugin
pretokens reward token
non-custodial
after the discussion, Colin noted that he was interested in incorporating Steem blockchain into the SE results
I will start using Presearch after I catch up on my to-do list...which may be a while
a worthy test would be a side by side comparison of Presearch versus Google results
David Johnston, the Managing Director of YGC & Yeoman's Capital
user is focused on benefits in the end result ( a point highlighted by IJ and Lea)
blockchain can help remove all market friction
currently 65 million crypto addresses in existence
last year, $700 million was expected to be spent in blockchain development
the growth rate for the above spending is estimated at over 90% over the next three years (sorry, I didn't catch whether that was over the 3 years or per year)
an example where blockchain could satisfy a use-case is in mortgage paperwork; currently, each mortgage costs up to $7000 in documentary fees
different blockchains should be used for different use-cases (there should not be ONLY ONE ;>
Chinese Supreme Court validated blockchain as a legal device
Chinese looking at putting yuan on blockchain (which should be scarier than credit card tracking)
Rick Miller, CEO of Freedomex.io
I didn't take a lot of notes on Rick's presentation, which delved into the legal requirements of establishing a crypto exchange. Most of the discussionwas above my head
Freedomex.io has partnered with Netcoins until they have qualified for some fiancial services
Rick Tumlinson, a founding partner of SpaceFund, the world's first space security token
I'm going to hold off and combine my notes of this presentation with my notes from the presentation of David Forman, co-founder of SpaceBridge Logistics...I was, in my freshman year of college, a member of the L5 society, and I believe that space is the key to long term human survival
Steven Buchko, the CEO and Co-Founder of Coin Clear
Looking at BTC as an Investment Asset
Advantages of BTC
42% of Millenials think that owning BTC is a good thing, but only 4% of them actually own BTC
What makes BTC "under owned"?

1st world ease in monetary systems, or a lack of problems

lack of merchant adaption

I don't remember whether Steve said this, or it was another presenter, but BTC also has high user fees and slow transactions. Even if he didn't say this, it's a good place to note this

BTC has outperformed the stock market
over the last 7 years, BTC has had 5 growth years and 2 loss years
annual return of BTC from 2013-2018 has been 319%
in Venezeual, the growth in BTC use has been 3000% over the last 6 months (hey, leftism is good for the growth of BTC, if not anything else ;>)
using Dollar Cost Averaging(DCA) in BTC investment
because we are

lacking the ability to predict the future

Coin Clear's DCA has gained in value since June 2018 by 9.45%, compared to a lump sum investment over the same period, which lost 15% in value.
Blake Rizzo (Blockchain and Digital Security Attorney), and Shehan Chandrasekera (Founder) JAG CPAs & Co
Again, this was legal and development territory regarding the development of cryptotokens, so I sat there drooling in ignorance...catch the vid when they are put online ;>
Daniel Arulraj, the CEO and Co-founder of Vault Wallet
Beyond Speculation: Accruing Value
friction reduces wealth
the industrial and tech revolutions both reduced friction, into creating wealth
we are looking at a blockchain revolution
Jonathan Chou, Co-Founder & CEO Bee Token and Beenest
Beenest is a decentralized AirB&B
Jonathan has started up several companies, and discussed starting up from scrath
Vision
Team
Legal/Accounting
Funding
Media
I may have messed up the order of these
The finance panel comprised of Shezad Kapadia, Bill Guida, Henry Liu, and Blake Richman
Starups, lockchain, and cryptos overlap
My thoughts digressed a bit from the panel discussion, which was more angel focused, but were generated from it:
This blockchain revolution goes beyond BTC
Beyond cryptotokens on blockchain
Beyond Steem value
The bigger the crypto market is as a whole, the greater value that Steem will accrue
Derek Jones, Co-Founder of UnitedCoin.org
decentralized banking system owned by our members
goal of making crypto accessible to 99%
currently, we pay too much for transactions that are too slow (HA, I knew this came from someone other than Steve above...that's OK, it bears repeating)
Solution? Make it easy for transactions (easy for mom)
Use a phone number or email as the recipient address
Very detailed layout of UnitedCoin's current viability
Already in partnership with Cleveland Browns
Steem Sisters Live Show
How to make the most of conferences
Good ideas come from networking
Networking
Attend the after hours socializing!
If you have read my writing on Steemit for any length of time, you realize I am SCREAMING inside now ;>
Pre-conference...find out who will be attending and network with them in advance
Post-conference...followup, followup, followup
All right, that wraps it up for the first day speakers. I did not attend the second day (thanks, insomnia...thanks, car), and I did not bring my own video camera. I still have a post to do on the space speakers, and since we're already at the 7 minutes of reading time mark, I'll post my impressions of the conference as a whole AFTER those dratted social networking opportunities today and tomorrow ;> I'm heading out for Lazarus in about an hour
---


My Books