Kí sự đầu tư . ( ngày 2) Investment note ( day 2 )
Sau ngày đầu tiên thất bại ê chề thì ngày hôm nay cũng vậy tôi bị cám dỗ bới chiếc giường thân yêu đi làm về là nằm vật ra hic hic . Cũng 1 phần tôi phải đi học tiếng trung nữa mới buồn chớ . hic hic .
Nhưng không sao đó cũng là bước đầu cho tôi kaka .
Diểm nhanh qua thông tin thị trường chứng khoán đặc biệt là những con hàng tôi đã và đang tìm hiểu nhá .
ROS đúng như dự đoán đã về 2.88 khá thơm
HPG vẫn giá đang rất cao
REE thì đang chuẩn bị vào vùng an toàn nói chung là khá ok các bồ ạ
VN-INDEX 855.08 (6.61 0.77%)
Quy chung theo nhận định cá nhân thì có lẽ các nhà đầu tư cá nhân đã đang chốt lời từ vụ 13/3 rồi . hehe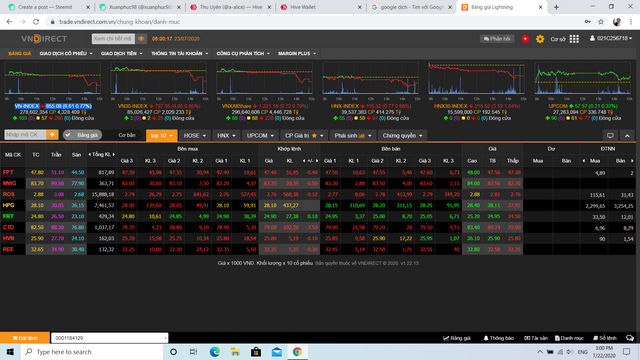 Không lan man nữa quay ra là nay còn
-100k tiền mặt
-200k thẻ
-419k app
tổng cộng 719k
After the first day of failure, so today I was tempted by the bed to return home and work hard. Also part of me had to study Chinese to be sad. cry .
But that's okay that's the first step for me kaka.
Quickly look through the stock market information especially the goods I have been researching.
ROS as expected has returned 2.88 quite fragrant
HPG price is still very high
REE is preparing to enter a safe area in general which is quite ok guys
VN-INDEX 855.08 (6.61 0.77%)
As a general rule, individual investors may have been taking profit since March 13. hehe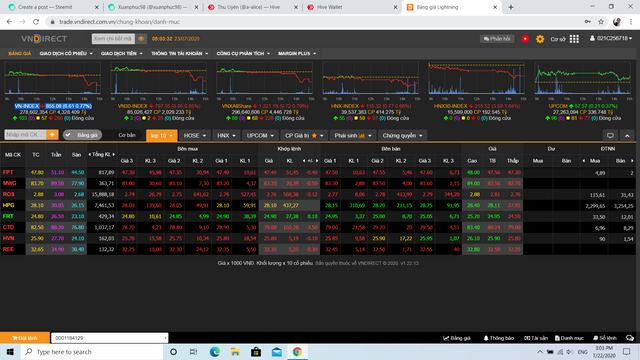 No more rambling, turning out now
-100k cash
-200k card
-419k app
Total 719k