Black History Month Event Calendar 2019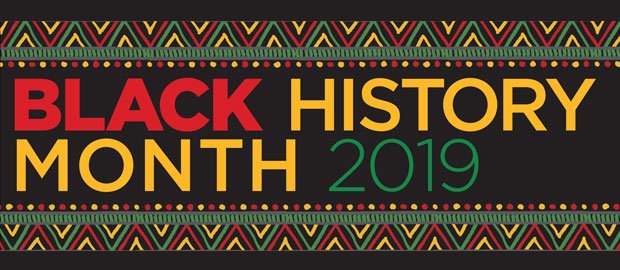 Did this last year and it really went down well. As many BHM events as I can find for you all in one place. In no particular order so scroll to the bottom. Updated daily.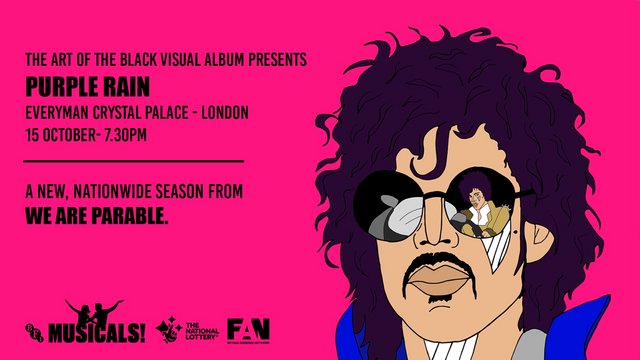 We Are Parable presents Purple Rain - Tuesday 15 October 2019, 7.30 pm, Everyman Crystal Palace
Join We Are Parable in celebrating one of the first visual albums created by a Black Musician. As part of a new, nationwide season, "The Art of the Visual Album" they'll screen 1984's Purple Rain at the Everyman Crystal Palace, complete with special live performances from Reel Deal Band providing the vibes for a post-screening afterparty.
https://www.everymancinema.com/film-info/we-are-parable-presents-purple-rain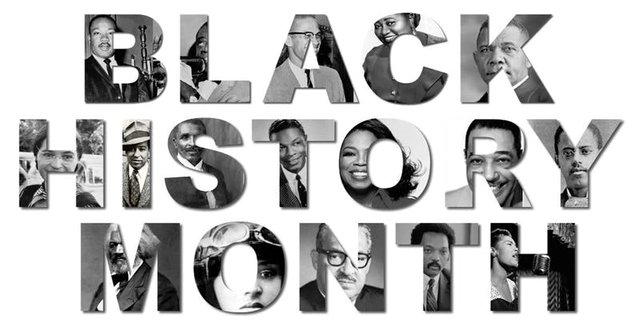 I can by Metro Bank - Wednesday 18th October - Delight, 2nd floor, Metro Bank
Metro Bank's BAME Committee will be hosting an AMAZING event on October 18th, celebrating a wide variety of black professionals and artists so that we can help to encourage professional and artistic growth amongst the black community.
https://www.eventbrite.co.uk/e/i-can-black-history-month-at-metro-bank-tickets-72387341487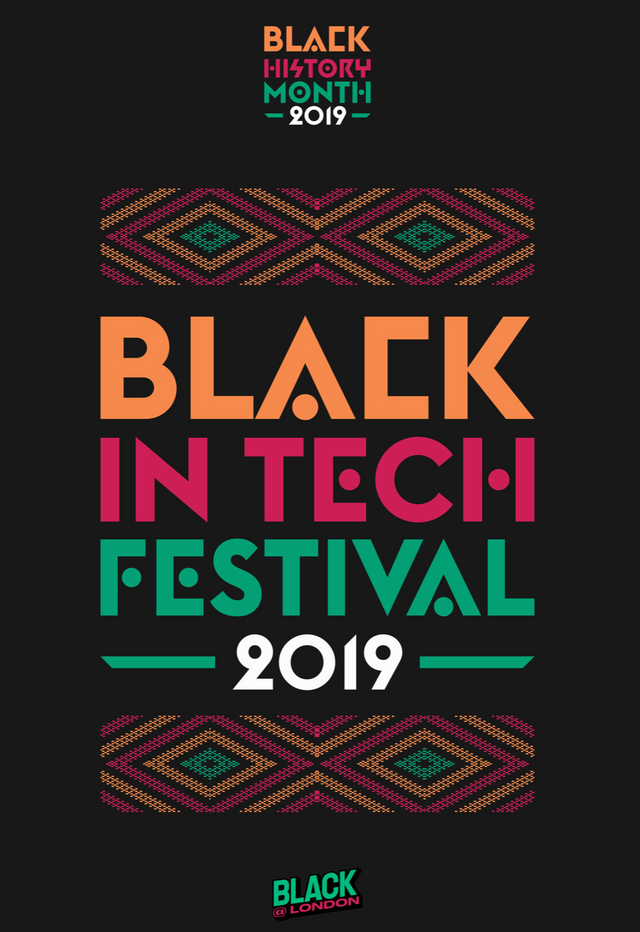 Black In Tech Festival 2019 @ Facebook - Wednesday 23rd October - at Facebook
Join over 300+ tech professionals, D&I leaders and cultural change-makers in a celebration of black excellence in all forms, discuss the importance of cultural and racial diversity in Tech
https://blackintech.splashthat.com/?gz=1fde7ea12531d607d23dcc37d1473561&pp=1&guest-access-hash=NDU3NDczMDg4fDI2MTU0OTMxM3wxNTcwMTk0MDI3OzkzYjY3ZDljZTRiZmQwZWYxMWY2N2Y3ZmJjODhjYjI0ZjM2Mjg4ODg4MzcyYTk2ZDgwYmRhMzgzYjJmNTJhNTA=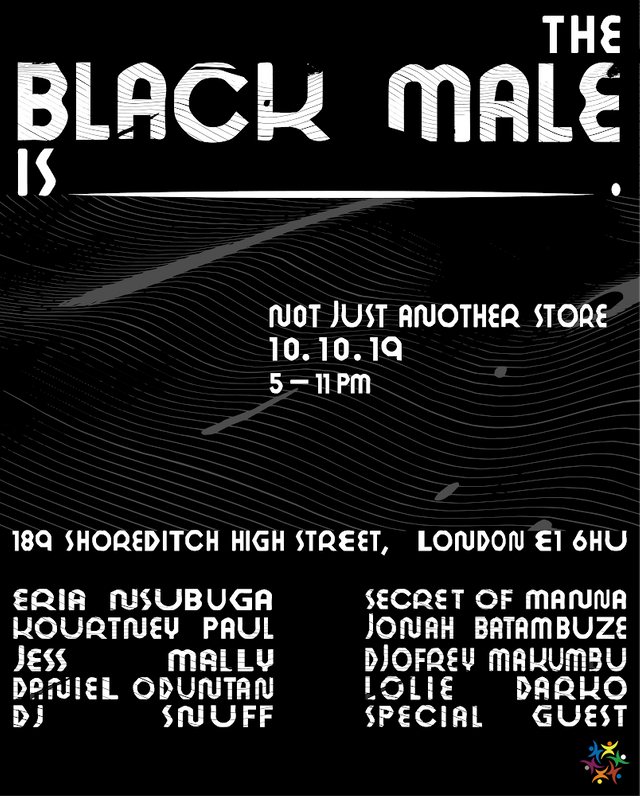 The Black Male is - Thursday 10th October - Not Just Another Store - Shoreditch
The goal of the exhibition is to expose people to more complex and authentic stories about Black males through art, panel discussions, and music. The exhibition is fully inclusive and will not only include Black artists, or be exclusive to men — instead, it will feature works created by a diverse group of artists.
https://www.facebook.com/events/2289065261405949/?active_tab=about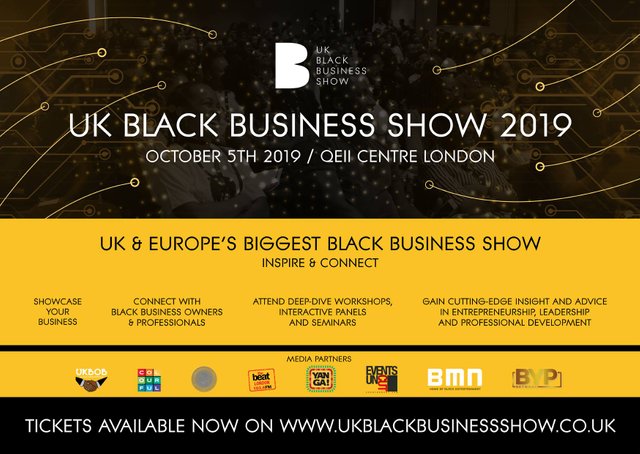 UK Black Business Show - Saturday 5th October - QEII Centre London
To celebrate UK Black History Month, The UK Black Business Show will be taking place in October. The show will highlight the achievements and contributions black businesses have made to the economy. Attendees will gain cutting-edge insight and advice in entrepreneurship, leadership, soft skills and cultural development from some of the UK's leading black business owners.
https://ukblackbusinessshow.co.uk/
YouTubeMusic Presents… Black, Female & Instrumental - Friday 4th October - YouTube Space
YouTubeMusic invites you to an evening celebrating the contributions and influences black women have made to the music industry, both on and off the mic.
https://youtube.secure.force.com/EventRegistration/EventRegistrationPage?Id=Q0hMRUFEK2EwNjJFMDAwMDFTY09pRVFBVg==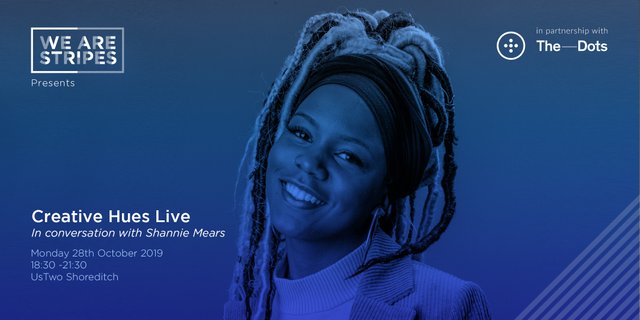 Creative Hues Live, In conversation with Shannie Mears - Monday 28th October - usTwo Shorditch
We've partnered with The Dots to bring to you the 1st 'Creative Hues Conversations With…' event.
We are excited to have a sit-down conversation with Shannie Mears.
We will talk to her about her career how she went from an intern at a Global Creative Advertising Agency to then leaving to set up The Elephant Room with the Former CEO.
https://the-dots.com/events/creative-hues-live-in-conversation-with-shannie-mears-422
Google & Facebook Present: An Evening of Sickle Cell Awareness - Monday 21st October - Google HQ
In association with October's UK Black History Month, Google & Facebook invite you to join us with friends, *family and colleagues for An Evening of Sickle Cell Awareness.
https://events.withgoogle.com/sickle-cell-awareness-day-2019/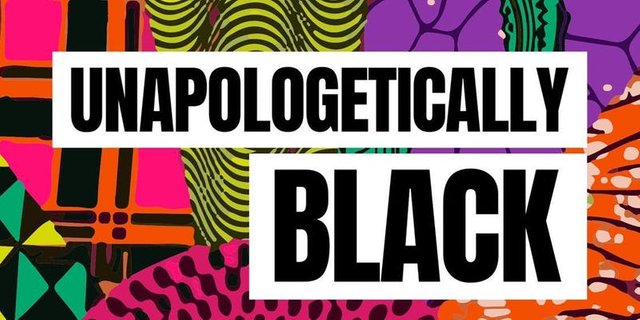 Black Creators Matter for BHM - Multiple events, various locations
Black Creators Matter has about 5 events across the month for BHM. Finishing up with Unapologetically Black Party at the Drop Yard.
https://linktr.ee/blackcreatorsmatter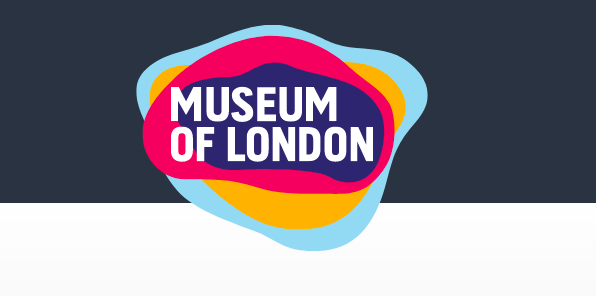 BHM at the Museum of London - Multiple events
MoL is marking Black History Month with a series of talks exploring the history of Black culture in London.
https://www.museumoflondon.org.uk/museum-london/whats-on/black-history-month-2019?id=239408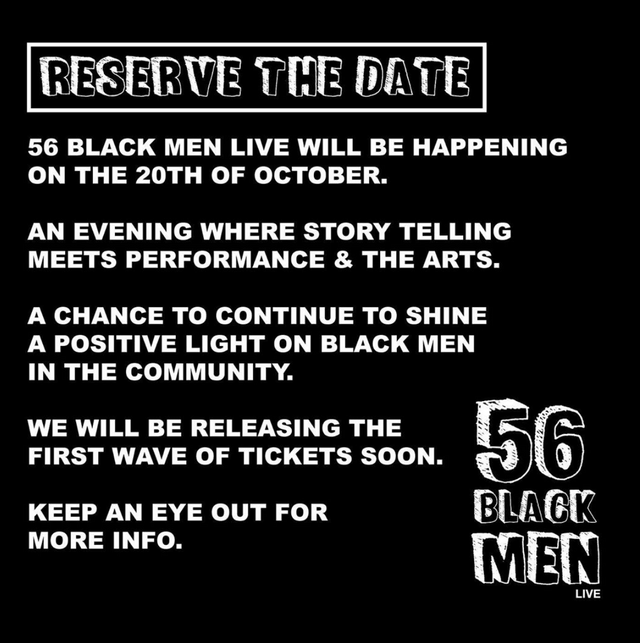 56 Black Men Live - Sunday 20th of October
An evening of storytelling, performance & the arts. Also, see the exhibition at M&C SAATCHI LONDON
https://www.56blackmen.com/live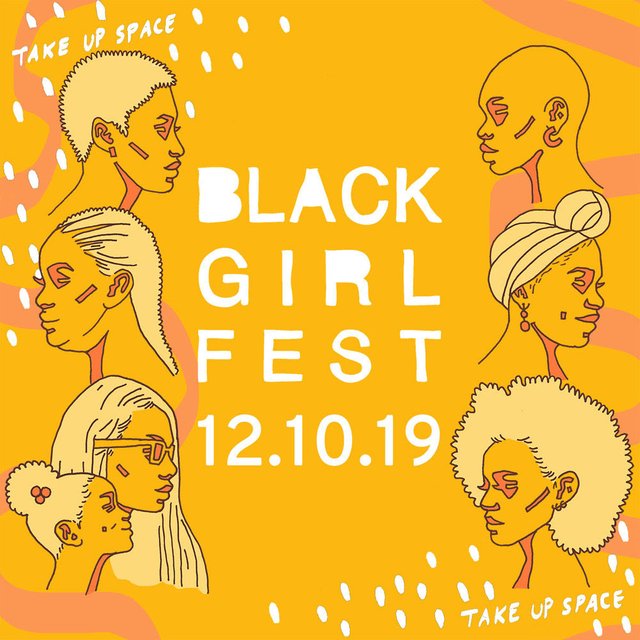 Black Girl Fest - Saturday 12th of October - Business Design Centre
The UK's first festival celebrating Black women and girls is back and better.
https://www.blackgirlfest.com/
Black Magic Awards, Women's Edition - Monday 7th of October - Criterion Theatre
We are excited to celebrate the brilliance of black women for the third year and empower future generations to pursue their dreams. Actress Letitia Wright, social media influencer Patricia Bright, singer Beverley Knight, Mobo awards founder Kanya King, activist Doreen Lawrence are just some of this year's amazing honourees.
https://www.criterion-theatre.co.uk/the-black-magic-awards?eventid=4801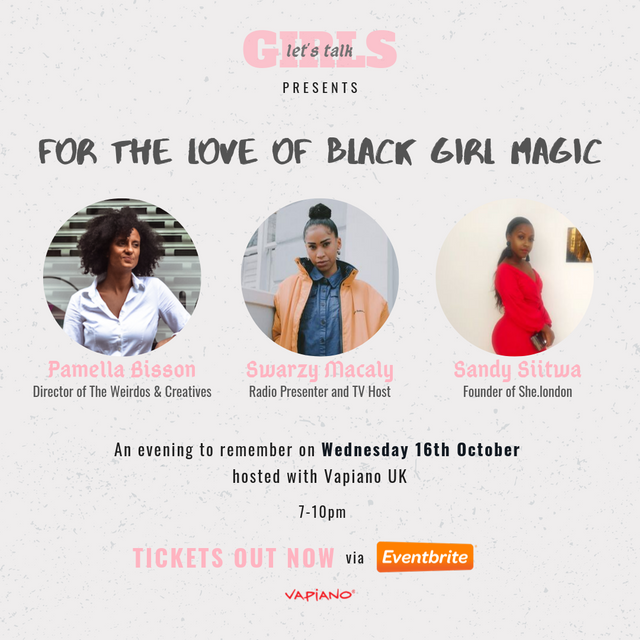 Girls, Let's Talk presents For the Love of Black Girl Magic - Wednesday 16th of October - Vapiano
For the Love of Black Girl Magic' in honour of our black queens for BHM, by hosting a dinner with @vapianouk and some very special speakers on the night. Panellists include Sandy Siitwa, Swarzy Macaly and Pamella Bisson.
https://www.eventbrite.co.uk/e/girls-lets-talk-for-the-love-of-black-girl-magic-tickets-73019923557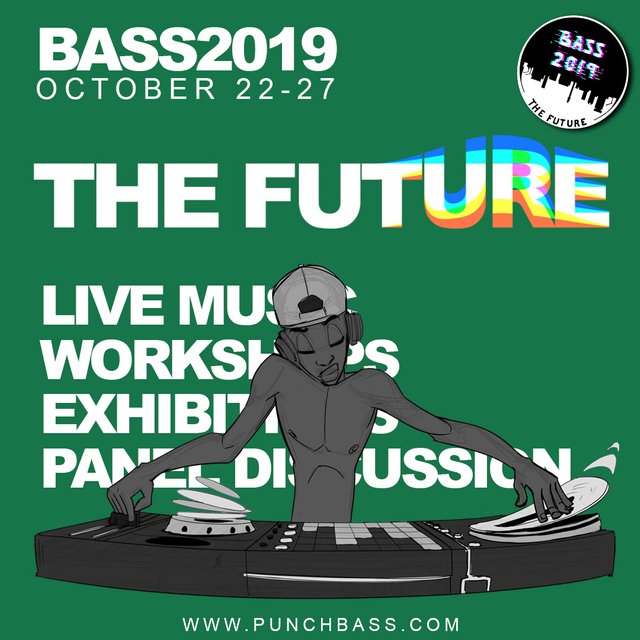 BASS Festival 2019: Six Days of Black Culture, Creativity, Music and Art in Birmingham - Multiple events
Bass Festival is back for October 2019 and this year, we're shining a spotlight on THE FUTURE. Now in its 13th year, Bass Festival has teamed up with two of Birmingham's brightest young creatives to curate the festival and leave a new legacy.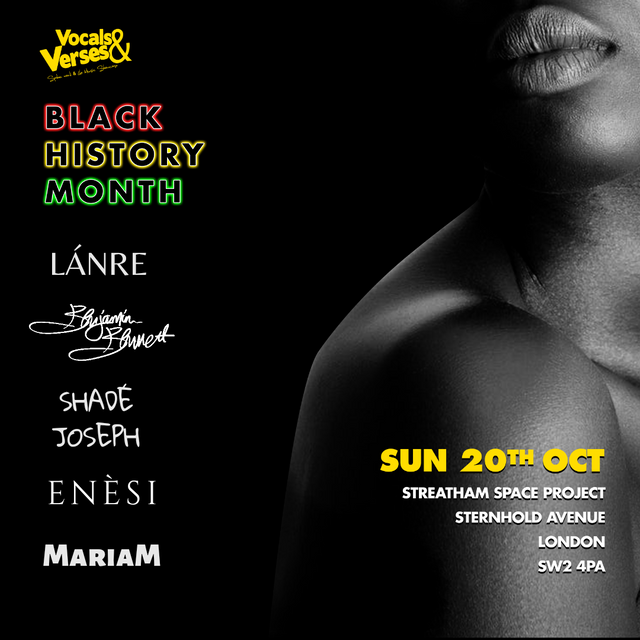 Vocals & Verses Black History Month Special - Sunday 20th October
Vocals & Verses presents its annual Black History Month Special on Sunday 20th October, with a night dedicated to celebrating black artistry in the UK. We have a superb set of artists who will be performing on the night! This is our biggest event of the year, with two of the last three being sold out before the event day!
https://www.tickettailor.com/events/vocalsverses/297455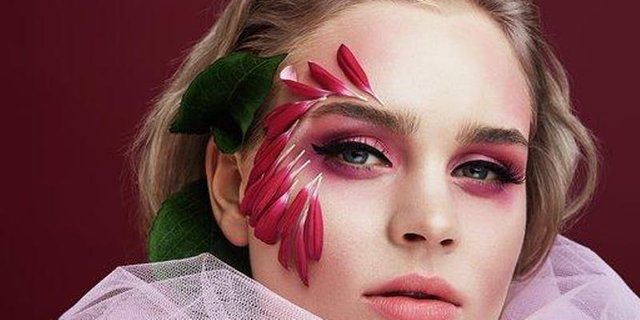 MUA CAREERS ROADSHOW presented by Lori Bee MUA - Friday 25th October
On the day, there will also be beauty entrepreneurs and indie makeup labels looking for makeup ambassadors, as well as big brands such as MAC, Smashbox and Clinique represented by Estée Lauder Cosmetics; and brands such as Fenty, No7, Morphe and NYX represented by Boots UK, all on the lookout for fresh talent.
https://www.eventbrite.co.uk/e/mua-careers-roadshow-tickets-57695851846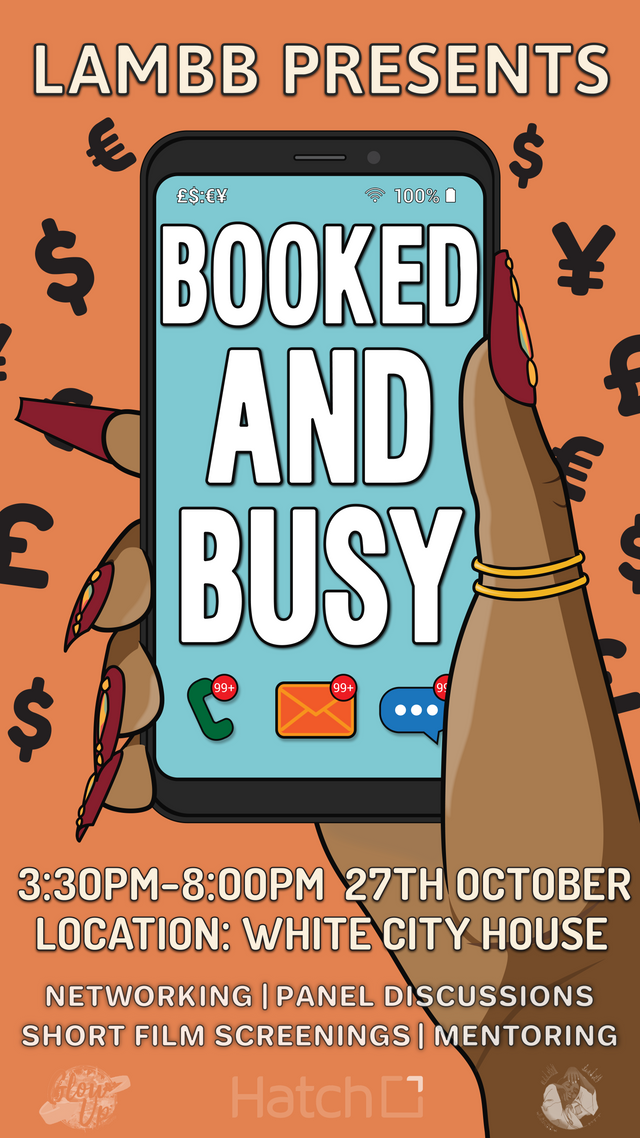 Booked and Busy | Celebrating entrepreneurial women - Presented by LAMBB - Sunday 27th October
The event will provide women with inspirational talks by leading women in the community, mentoring opportunities and the entertainment will be served by DJ's, performances and short film screenings by LAMBB.
https://www.eventbrite.co.uk/e/booked-and-busy-celebrating-entreprenuerial-women-tickets-75131184395?aff=ebdssbdestsearch