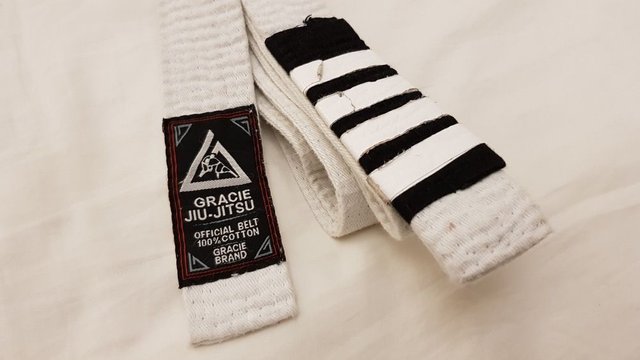 Five months ago this week I started training Brazilian Jiu-Jitsu. I'm fortunate to have one of the top gyms in the country less than a kilometre from my house, and since I signed up for the unlimited membership, I've been hitting it pretty hard.
Gracie Jiu-Jitsu
One of the things that make my gym one of the best in the country is the systematic training program for white belts. The gym is affiliated with Gracie Jiu-Jitsu out of Torrence, California. Rener and Ryron gracie, who run the gym, have created a 36-technique self-defense training program for beginners. Not only is it focused on how to defend yourself (and dominate) in a street-fight, but it also lays a solid foundation of skill upon which to advance to higher BJJ belts.
The instructors record each session on your training card, showing exactly how frequently you've trained the exact sessions you've attended. Here's the latest photo of my training card: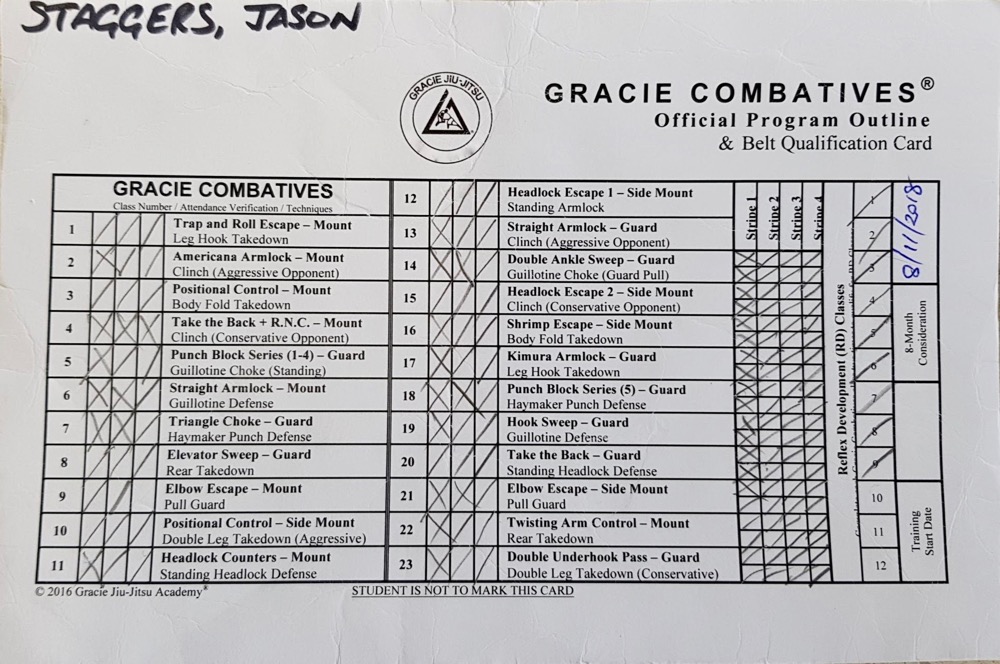 As you can see, over the past five months, I've attended 95 technique classes, plus 9 reflex development classes. That's a total of 104 hours of training over 20 weeks. That averages out to about 5 one-hour training sessions per week. This probably explains why my Steemit posts have been a bit scarce lately :)
Reflex Development
Once you attend each of the technique classes twice or get your third stripe on your white belt (whichever comes first) then you can attend the reflex development classes. The point is you gain a basic understanding of the techniques, then you start to learn how to piece it all together into a series of moves in a self-defense situation.

In a street-fight, there is no time to logically think through what to do, so the key is to develop the reflexes and muscle memory so that your responses to a threat are instant and automatic. This only comes through training time on the mat.
The reflex development program is broken down into five classes with specific drills on mount techniques, guard techniques, side mount techniques, and standing techniques. We also do some freestyle fight simulation / sparring at the end of the reflex development classes.
Combatives Belt
After eight months of consistent training, you qualify to test for the "Gracie Combatives Belt," which is essentially a glorified white belt. To pass the Combatives Belt test, you must show proficiency on all 36 of the Gracie self-defense techniques, and most importantly demonstrate effective reflexes in a fight simulation situation.
I'll qualify to take that test in mid-August, about three months from now. Between now and then, it's all about practice - mastering the basic techniques and developing the reflexes for the fight simulation.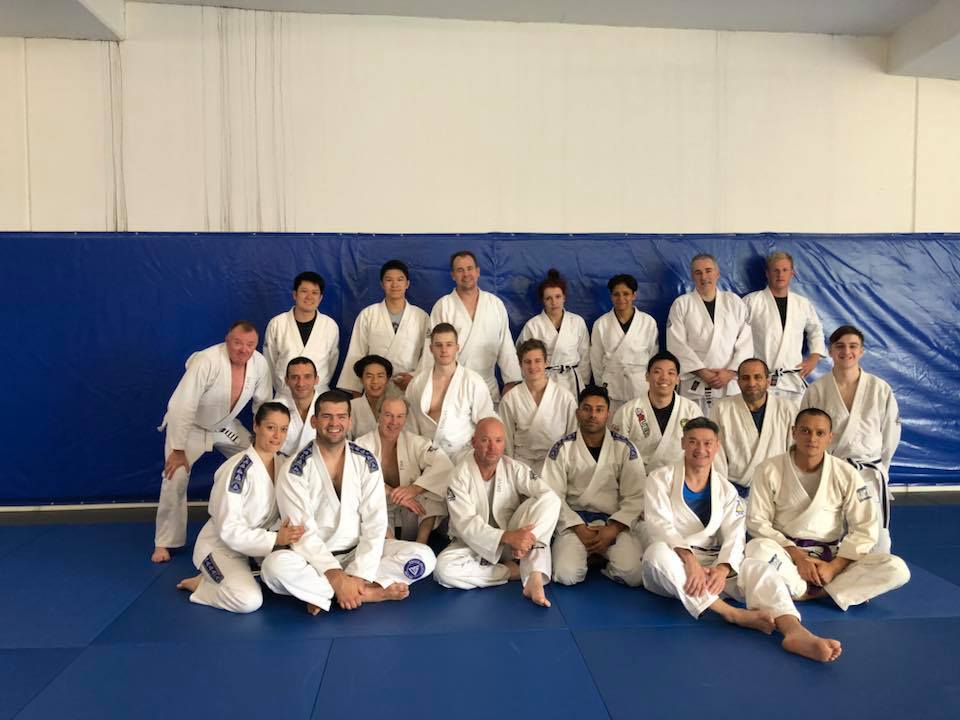 That's me in the back, just left of centre.
I'll keep you posted on my progress!
If you're training jiu-jitsu, what's your training journey been like?
If not, have you ever considered learning a martial art?