BTS's Love Yourself In Seoul Broke Records After Grossing $11.7 Million
It's that time again: BTS has broken even more records. The world's biggest boy band managed to smash sales records with their latest concert film, BTS World Tour: Love Yourself in Seoul. So, it's no surprise that their latest cinematic release will get another round of theater screenings soon.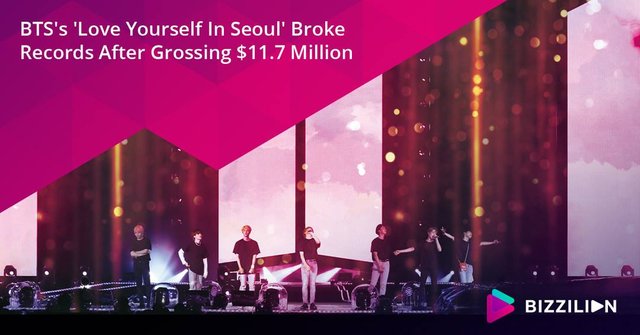 According to Big Hit Entertainment, Love Yourself in Seoul had the "biggest worldwide one-day box office ever for a cinema event." The film's one-day release on Jan. 26 attracted 1.2 million admissions, raking in $11.7 million worldwide.
The U.S. turnout was strong as it grossed $2.8 million at the box office across 1,002 cinemas.
There will be additional (and final) screenings on Feb. 9 and 10. The upcoming dates will be available in both 2D and ScreenX, and the ticketing links can be found here.
The initial release hit 4,100 cinemas across 102 territories -- in other words, it became the largest worldwide cinema event of all time. It also became the first concert film presented in ScreenX in 15 different regions.
Love Yourself in Seoul was shot on Aug. 26, 2018, at the Olympic Stadium in Seoul during the first leg of the septet's BTS World Tour: Love Yourself.
The film was released a mere two months after their previous record-smashing film, Burn the Stage. Their first cinematic release made $18.5 million at the gross box office and drew 2 million admissions worldwide. The initial run broke One Direction's record for the highest-grossing event cinema concert production.
You can JOIN HERE