Amazing Binance app assistant, a better all in one trading terminal BitUniverse
Hi, all steemians,
It's Jeremy here, the developer of BitUniverse. Binance is the biggest exchange in the world, which have attracted millions of traders. Lots of binance traders love to use binance app to trade and check their balance, while the user experience of binance app is not good enough.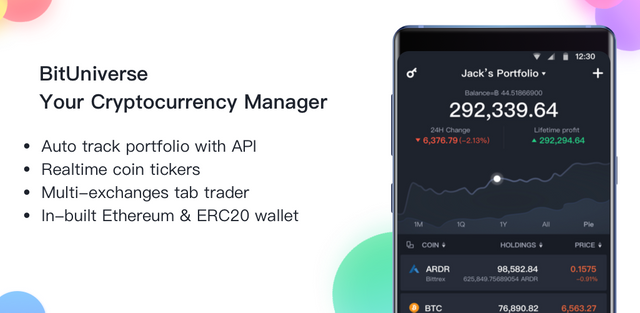 We BitUniverse team have developed for several months to build this all-in-one cryptocurrency trading terminal for binance. With this amazing assistant, it becomes much easier for you to trade with binance.
The secret we can create an easier way for trading is the all in one experience, that is, the combination of portfolio management, realtime market ticker, professional candlestick charts with TA indicators, and multi-exchange traders like TabTrader, which revolves all needs of one trader. And the special advantages of our features are they are almost all automatic.
1.Auto portfolio tracker
The biggest feature to be an amazing Binance app assistant is that we allow you to automatically import your Binance portfolios, and calculate your profit or loss. Besides Binance, we have supported more than 100 exchanges in the world and also bitcoin wallet and ethereum wallet to import, and track your portfolio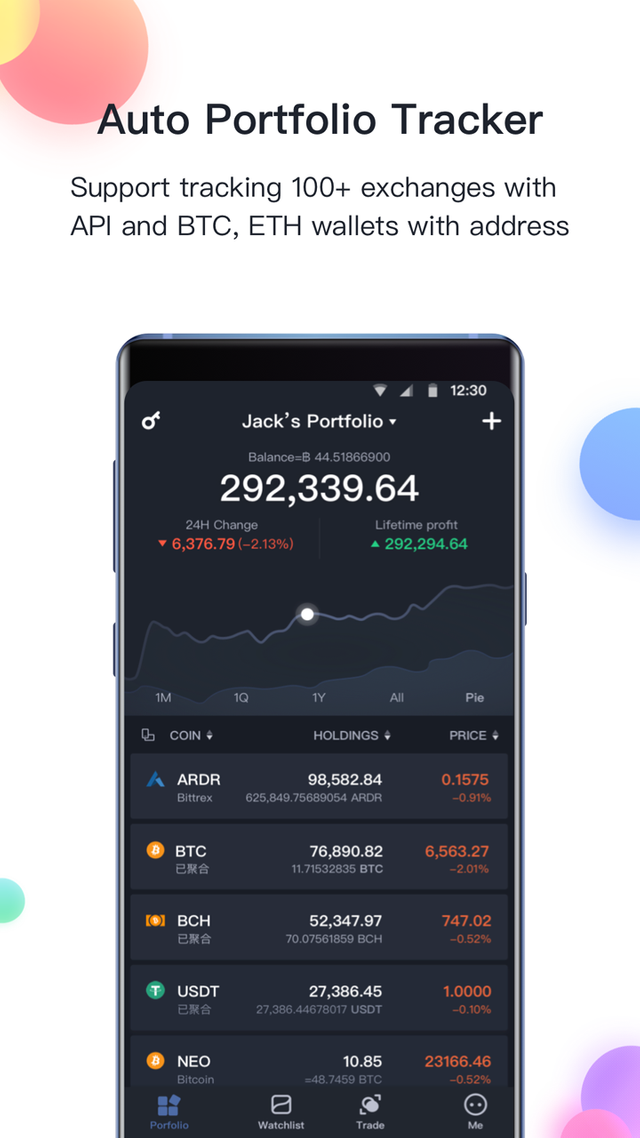 2.Professional candlestick charts with TA indicators
We used websocket tech to connect our server with Binance so that the market ticker is lightning fast and can be updated in every millisecond, which is the quickest among all other competitors. We also provide professional market data and other features, like TA tools, CoinPedia and Coin Ranks.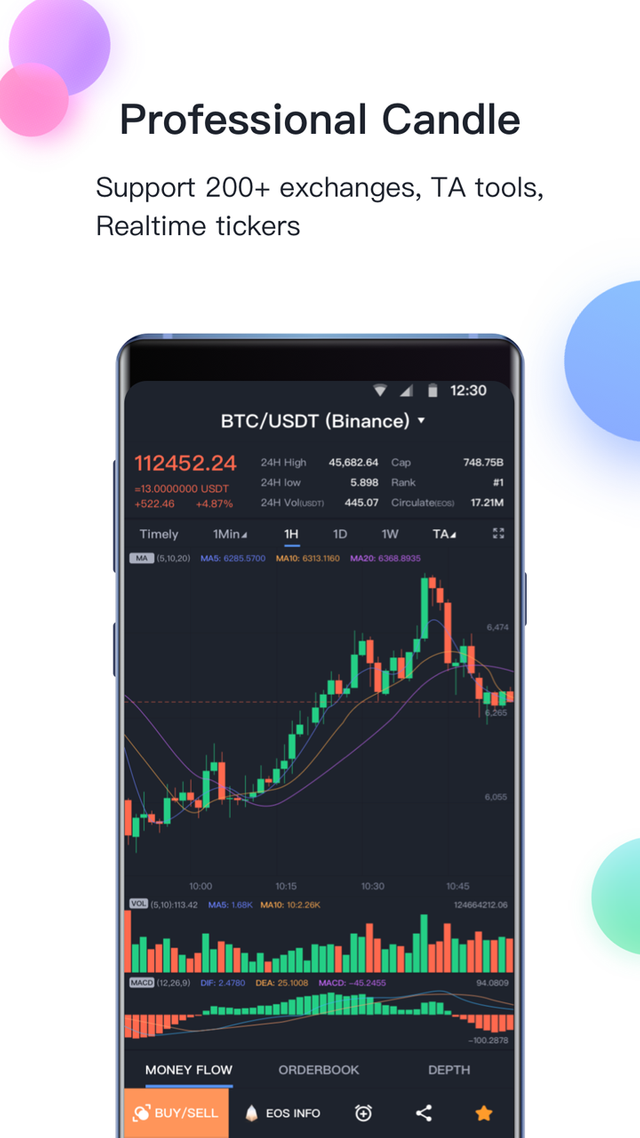 3.Multi-exchange Trader with coming auto TradingBot
If you have more than one exchange account, you must have known the inconvenience of switching from one exchange to another. Some apps like TabTrader have provided the features of traders for multiple exchanges to solve this pain point. While BitUniverse brings the user experience to a new level. We not only support the multiple-exchange trader for 14 exchanges like Binance, Bittrex, HitBTC, Huobi. We also provide easy way of checking your balance, orders, and easier way to make orders, which we called "Smart Ring". With Smart Ring, you can long press on the candlestick charts and then tap trade to buy or sell your coins in a faster way!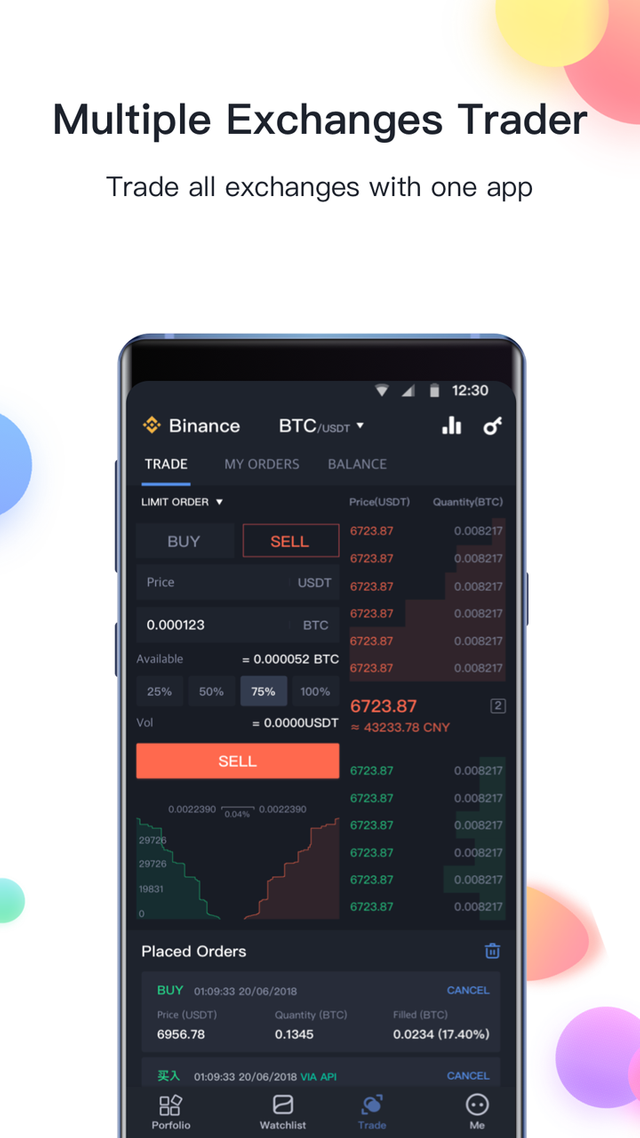 More surprisingly, we are developing the TradingBot feature which can allow a lot of the trade features be automatically executed. For example, the stop-loss orders, trailing stop-profit orders, arbitrage and etc.
Conclusion
Our vision is to provide the all in one trading terminal for traders, and we believe BitUniverse can be the amazing Binance app assistant and bring your trading life to a whole new level. We also believe that the automation of most trading operations will be the trend in the future, and our team is leading the way.
Download and communities
BitUniverse Binance app assistant is available both on Android and iOS. However, the iOS version hasn't included the Trade feature at present, while we are really working very hard to finish it.
Android & iOS: https://www.bituniverse.org/
Telegram: https://t.me/bituniverse/
Telegram for traders: https://t.me/butrader/
Keywords: Binance app, Binance android app, Binance iOS app, Binance API