4 NEW ways BitUniverse makes your crypto life easier
We haven't posted for a while, but that doesn't mean we've stopped working hard to make BitUniverse better and better every week.
Here are just a few of the major updates we've pushed recently which make BitUniverse the #1 tool you need for handling your cryptocurrencies.
1."CATEGORY" helps you understand a little bit about what each coin does
We classified the top 100 coins into 13 categories — DEX, IOT, Storage, Market Prediction, Social, Privacy Coin, IFO, Games, Exchange Token, Dapp Platform, Payment, Lightning Network, and Stable Currency. By just looking at the category you can get a general idea of the purpose of each coin. In this cryptocurrency world in which 80% of all projects end up being scams, we hope to empower you knowledge as much as we can.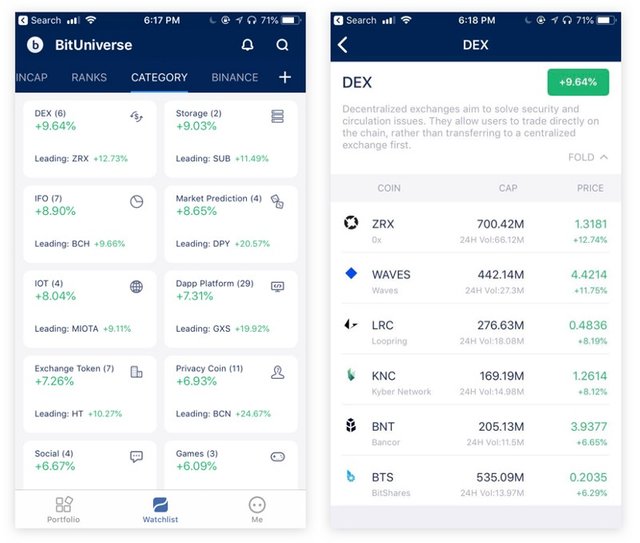 2."RANKS" allows you to find the biggest gainers and losers
You can now sort your coins by GAINERS (those that have had the highest percentage growth), LOSERS (those that have had the highest percentage loss), VOLUME (those with the largest volumes) and TURNOVER RATE (those with the largest turnover rate). This will help you save time when looking for the best and worst performaing coins of the day.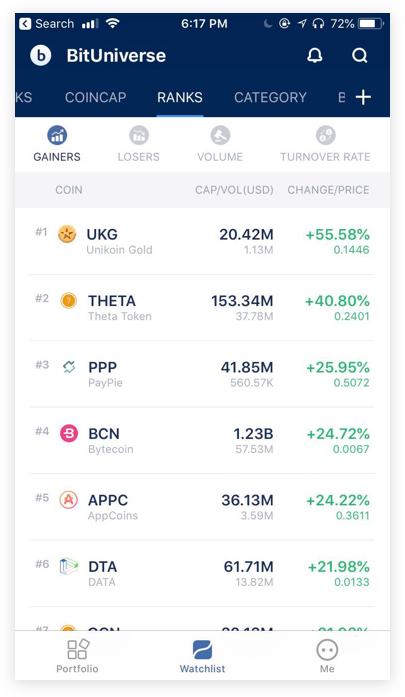 3."+" lets you bookmark your favorite exchanges to quickly find all the trading pairs on that exchange
We currently support 180+ exchanges, so now we've made it easier for you to easily get info on the exchanges that are relevant to you. You can then filter to find currency pairs you're interested in.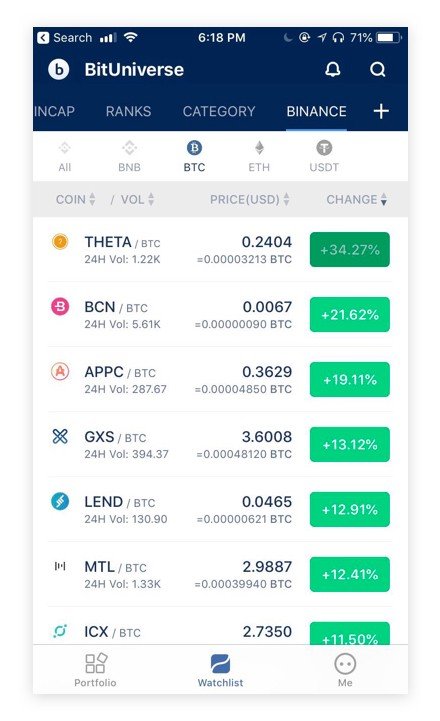 4.Much more professional candlestick charts and other graphs
We made our candlestick charts much more mobile friendly, which is no easy task on devices with very small screens. We also added CAPITAL FLOW, ORDERBOOK and DEPTH to give you different perspectives to analyze the performance of coins. In COINCAP you can now see a chart showing the average price of each coin across every exchange.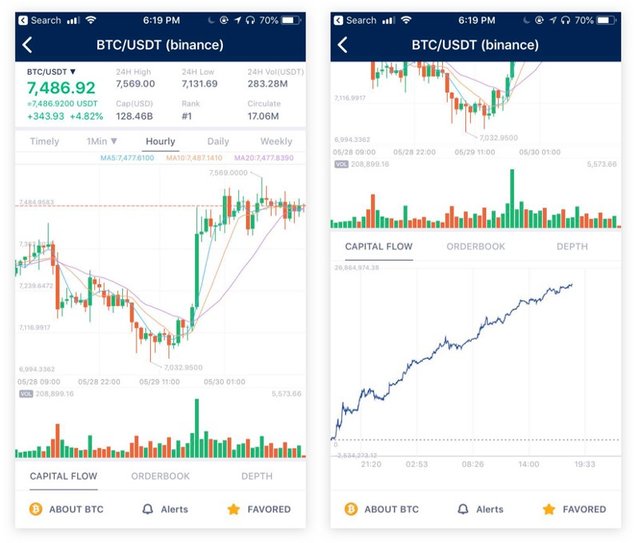 We are working on other new features which we hope will be great surprises for you. Stay tuned! See you soon!