BitUniverse iOS version 1.3 was released, which supported 6 more exchanges api import!
Hi, all steemians and traders,
We are team BitUniverse. BitUniverse is an all-in-one cryptocurrency portfolio app, blockfolio alternative, which includes realtime price tracking, manually adding portfolio or auto importing your portfolio from exchanges with api keys, and a in-built multi-assets wallet.
Our Android version was published on September 30th, and becomes very popular now, which hit 200k downloads several days ago. I believe in one day BitUniverse will be the #1 cryptocurrency portfolio app in the world.
You can download the Android version via this link: https://play.google.com/store/apps/details?id=com.bituniverse.portfolio&referrer=utm_source%3Dsteem
iOS version 1.3
With another week of development after version 1.2, we now support 6 more exchanges, including Bittrex, Cryptopia, Kucoin, Kraken, Poloniex & Huobi.pro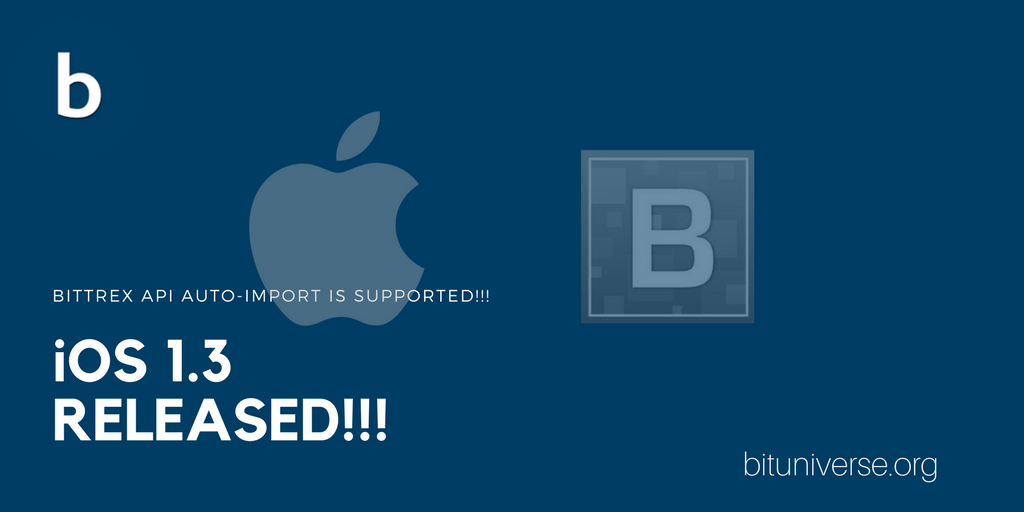 You can download the iOS version via this link: https://itunes.apple.com/app/bituniverse/id1329338902
Or just search "BitUniverse" on App Store.
Contact us:
Telegram: https://t.me/bituniverse
Twitter: https://twitter.com/bituniverse_org
Email: [email protected]
Official website: https://www.bituniverse.org/