Bitshares GUI release 2.0.160829
New GUI release with several important bug fixes, mobile improvements and new features.
Firefox backups working again
For the hosted wallets bitshares.org/wallet and Openledger this release fixes the "Invalid format" bug in Firefox that was preventing backups from being restored.
Scam accounts highlighted
There are several scam accounts created to profit from users trying to transfer their funds to exchanges like Bittrex and Polonium. These accounts use slightly misspelled versions of the account names for those exchanges, like polonie-wallet or bittrex-deopsit. The transfer dialog will now display a warning if you've entered one of those account names in the to field.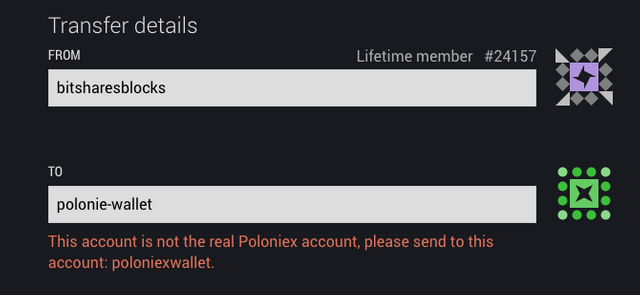 Better access to brain key restore
The Restore from brainkey functionality used to be hidden under the Create new wallet page. This release adds From brainkey as an option to the the restore options in the settings, making it far more intuitive to restore your wallet using a brain key.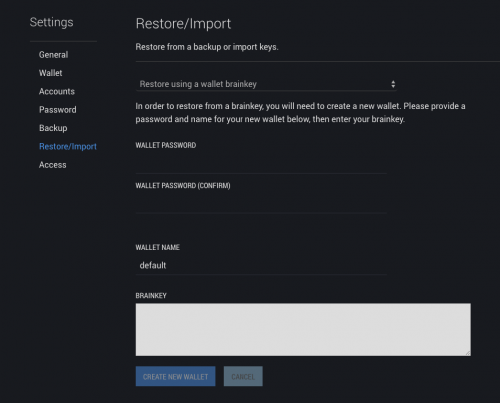 Deposit/Withdraw layout and copy button
The layout on mobile for the deposit/withdraw screen has been improved, and a Copy address button has been added that will let you easily copy the address to the clipboard.
A link has also been added to the mobile menu that lets you access the Deposit/Withdraw page more easily.

Notable bug fixes
A bug in the component responsible for translating Help content was preventing fallbacks to English when translation keys were missing. This caused the GUI to freeze and has been fixed.
Wallet creation with no valid inputs is no longer possible.
The last market price is now shown in the market pairs of the Dashboard page.
The Chat window can now be minimised properly and docked to the right side.
The binaries can be found on the release page. Full release notes can be found below:
New features
Hash checksums for all binaries
Add copy address/memo buttons to deposit, improve mobile layout
Improve transfer layout, add exchange scam account warnings
Add option to move BuySell below Orderbook
Add brainkey option to Settings Restore page
Add API selection to SyncError page, improve the error message
Bug fixes
Fix price display in MarketCards
Add proposed operation id to summary
Add deposit/withdraw to mobile menu
Fix hiding of disabled chat window
Fix WalletCreate submit with invalid inputs, close #860
Fix BackupBrainkey navigation
Hide input spinner in Firefox
Use newest version of node-libs-browser, fixes backups in Firefox close
Fix HelpContent 'en' locale fallback
Binary checksums
BitShares-light_2.0.160829.dmg
sha1: d5d352c4eadb0c6643f4f13b4c7c8e98ba2a1fb3
sha256: db4cebfdeddc7d0aa37746d78f1dd0b67f52e38acdb7d6ff4cb95c941aa55163
bitshares-light_2.0.160829_amd64.deb
sha1: 9229084e82c024dcf7692468a697a2fb33d1bdc8
sha256: de3c7a95e9f49af16c745a7756be7a6c4f8796cdbba8f185106ed709582fde4b
BitShares-light_2.0.160829.exe
sha1: 75ef6c3e1743858e7972b0acf1a96dee3a59e846
sha256: 5667057d1c1455e015a59e345d81fd65e9e867ccdab4959047ae071cd83aab8e