Bitshares GUI release 2.0.160514
New features and bug fixes summary
After rolling out the trollbox last week a few issues were discovered: a memory leak and some CPU issues, and lots of people requested a chat history. This release partially addresses those concerns, but CPU usage appears to remain quite high in some cases. If you find that the CPU usage is too high, you may disable the chat completely by going to the settings.
Two bugs that caused the GUI to freeze have also been fixed, in the settings and in the blocktrades tab of deposits/withdrawals.
The main features of this release are:
OPEN.DAO added to featured markets
Trollbox p2p chat history
Trollbox dockable to the right side
Deposit/Withdraw organised in Gateway/Bridge views
Better separation of volume and price data in the price chart
OPEN.DAO
You may now easily create and trade DAO tokens using the Openledger asset OPEN.DAO. OPEN.DAO tokens can be withdrawn to an Ethereum address once the DAO has launched. Until then, Bitshares/Openledger is the only place where you can not only create but also trade your DAO tokens!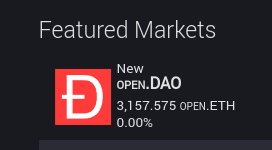 Chat history
Chat history has been added by allowing newly connected clients to ask other clients for their current chat history. If a peer has some chat history, that history is requested and sent as a simple message over the p2p connection.
Docking the trollbox
By clicking on the pin icon you can now dock the trollbox to the right side permanently, giving you more vertical space for messages.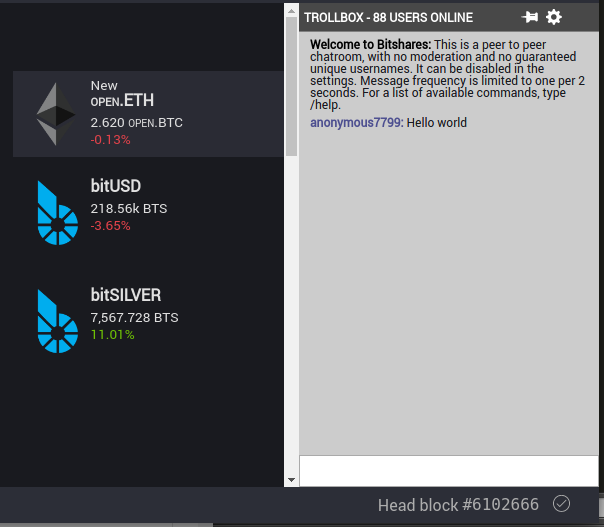 Deposit/Withdrawal refactor
Deposits and withdrawals have been further organised into separate views for Gateways, Bridges or Fiat. This should make it easier to find what you're looking for when making a deposit or withdrawal.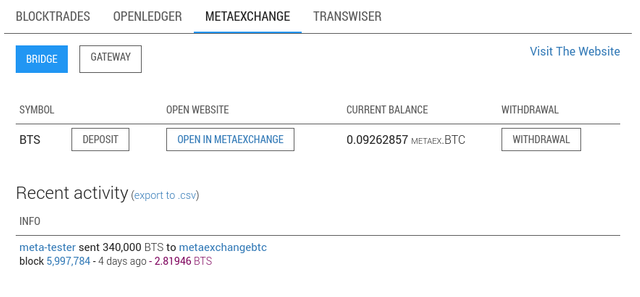 The full release notes can be found below, and the you can find the binaries here:
New features
--------
- Simple p2p chat history
- More improvements to the deposit/withdraw screens
- Make trollbox dockable on right side
- Use separate support addresses for OpenLedger and BlockTrades deposits
- Add OPEN.ETH:OPEN.DAO market to featured markets

Bug fixes
--------
- Fix Settings page issue with chat disable
- Fix settings page causing the GUI to freeze (#842)
- Improvements to trollbox server to ensure uptime
- Fix chatbox select box height (thanks to nmywn)
- Turkish translation updates
- Add some filtering to BlockTrades coins to prevent errors
- Separate price and volume slightly in PriceChart, adjust colors
- Improve depth chart zoom level
- Improve Footer hide behaviour
- Fix trollbox mem leak and connection counter, improve error handling #844
- Update packages: react to 15.0.2, react-highcharts, fix breaking changes
- Fix an AccountSelector bug causing name resets while typing

As always, feel free to ask questions here and I'll adress them as best I can!