Well, I'm sitting in a United lounge in Chicago with a weather-extended 12 hour (and counting) layover before the last leg home from China. It was a fantastic experience (China, not Chicago). My hosts somehow had me confused with a VIP (and I didn't tell them any different).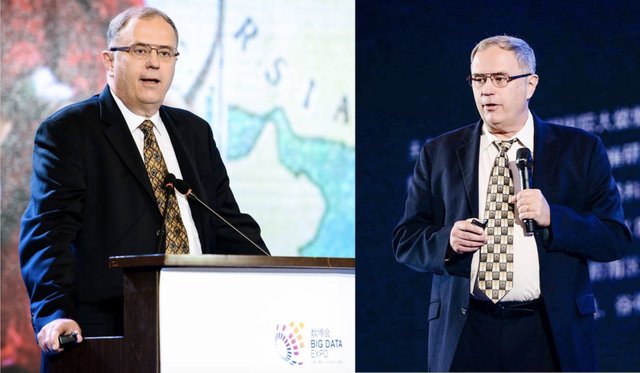 The Chinese press has given me the very dignified title of "BM Daddy" although I never once mentioned there was any family relationship. (BM stands for "Bytemaster" Dan's long-abandoned handle which it appears China loves and will never give up.)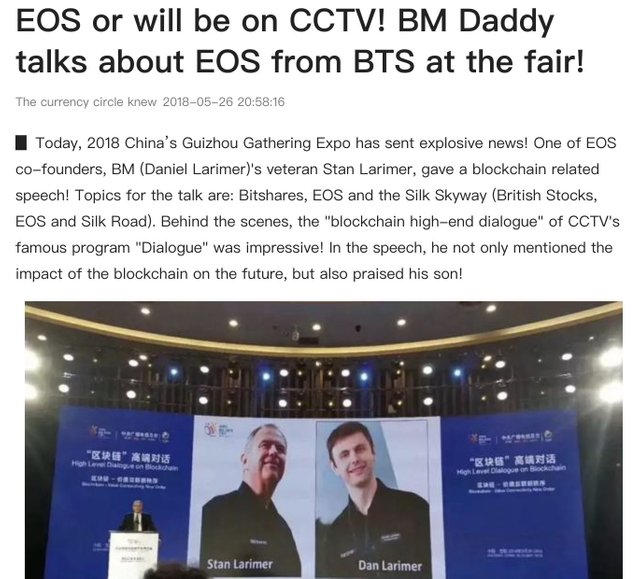 Here are the slides from my two presentations, for the record.
May 26, 2018
"High Level 15 Minute Briefing Suitable for Government Officials"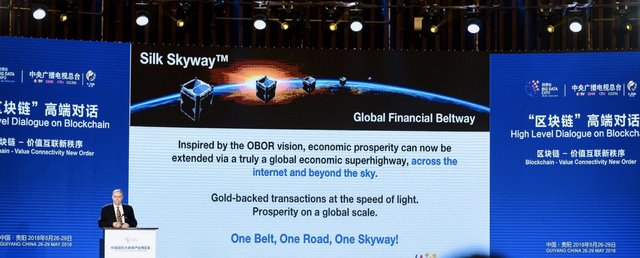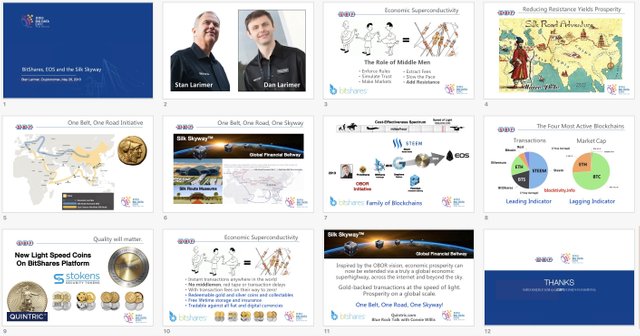 The main points of this presentation were brilliantly reconstructed by Michael Taggart from a very rough Chinese transcript in yesterday's post on Medium: Stan Larimer Discusses BitShares, Steem, EOS at China International Big Data Indurstry Expo 2018
I was delighted that my "Silk Skyway" extension to President Xi Jinping's Belt and Road Initiative turned out to be right on the mark. Afterward, I spotted this sign outside the main venue. Great minds think alike.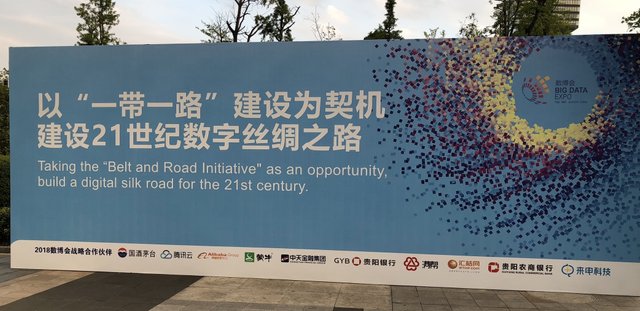 May 28, 2018
"More Detailed 20 Minute Briefing on the State of DPOS"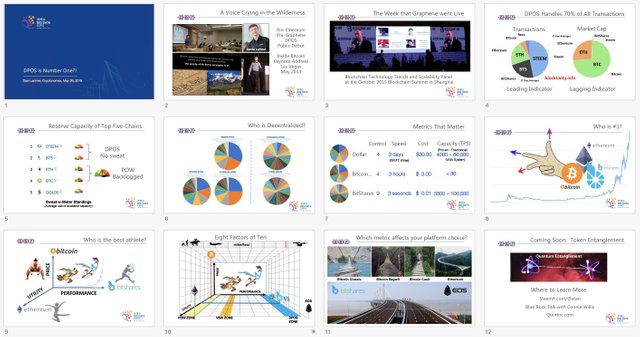 The main point of this briefing was that 4 years ago to the day, Dan Larimer gave a Keynote address at Inside Bitcoin in Las Vegas where he announced Delegated Proof of Stake (DPOS), an alternative to POW Mining, that would save the industry $300,000,000.00 or more a year in wasted electricity - enough to fund 100 startups with $3M every year. Crickets. Then, 30 months ago (the week DPOS started running on BitShares 2.0), I told a Shanghai Bitcoin Summit Scalability panel that the scalability problem had been solved and everyone should simply switch to DPOS. Crickets. Fast forward to today and DPOS now handles 70% of the world's public transactions. With the launch of EOS, that can't help but quickly become a much higher percentage. So it would not be accurate to say that the blockchain industry is based on mining any longer. Crickets.
You get the idea.
Lots of New Friends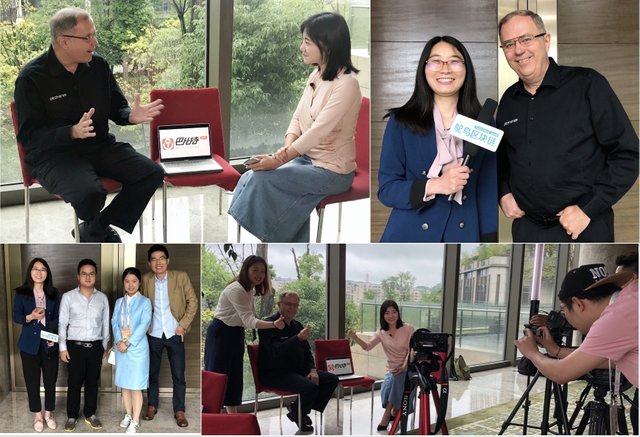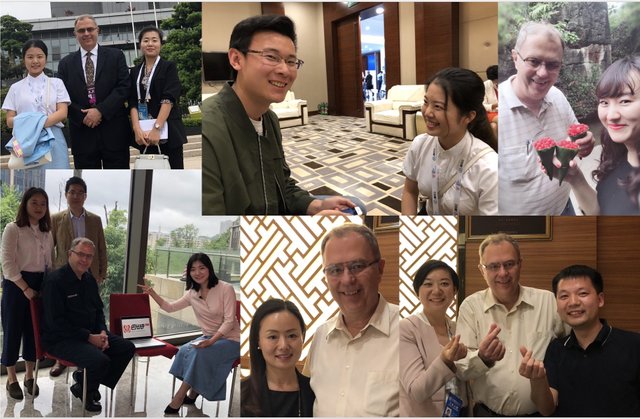 Chinese Hospitality
I was treated to some amazing Chinese food and even better company at a traditional business dinner gathering.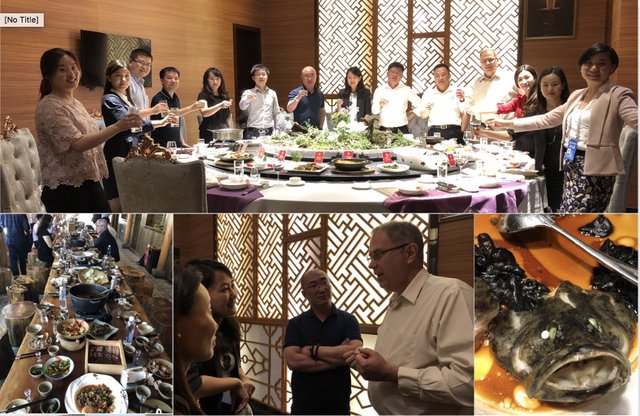 Final Day - Native Tour of the Chinese Hinterlands
Here's the furthest point I've explored in China - a waterfall two hours west of Guiyang, where the Big Data Expo was just completed and an incredible cave. Many thanks to Shan Shan of dCamp, who encouraged Jademont to invite me to attend and provided an all-day tour into the countryside. This was far "above and beyond the call of duty" and much appreciated. (I'll tell you about the "Creature from the Lost Lagoon" strategy we came up with ... in a year or two.)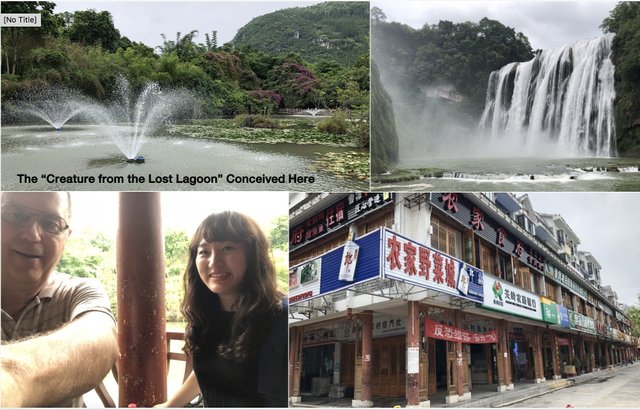 If you've never heard of Guiyang, you will. Here's a map for the geographically challenged.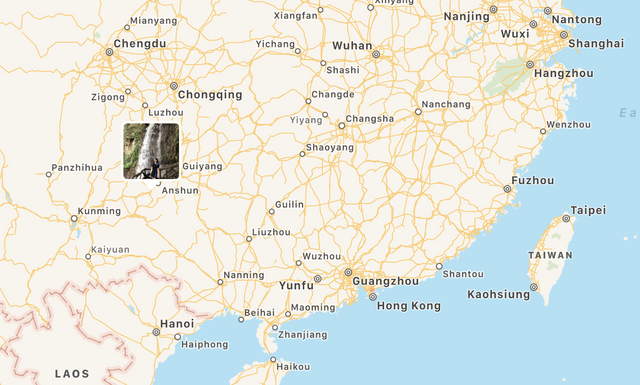 My hat is off to China. I felt right at home there. They made sure of it!