Hero Rejected by BitShares Committee after a Year in Operation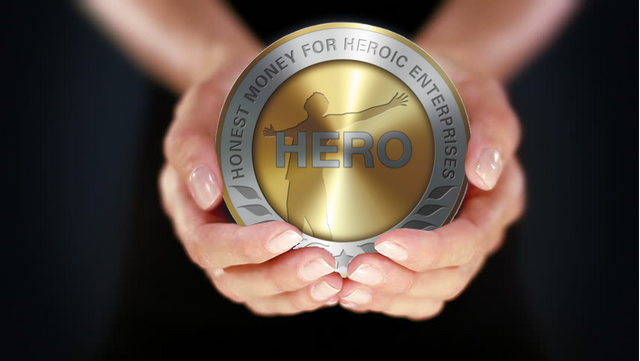 I noted with surprise and disappointment that all of the BitShares committee members except the three shown below have voted to reject the incorporation of the bitHero as a new bitAsset after it had been running in that mode for many months. The rationale used was apparently that we didn't ask formally enough when we handed it over to go public.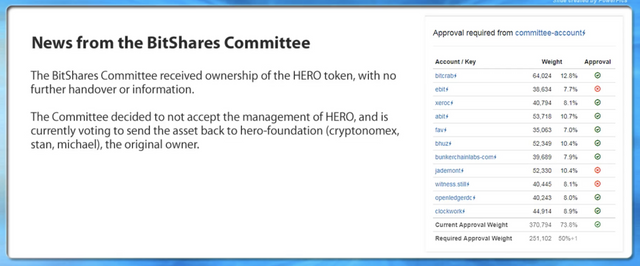 The HERO was, we thought, a small gesture of generosity and an attempt to continue contributing to the growth of BitShares while maintaining our long-standing policy to avoid centralizing anything on us after development is complete. We've supported this product's growth with over $1.2M in donated resources for the benefit of BitShares without asking for anything in return.
One would have expected that the company that developed BitShares and gave the it away for free to the world would have been given the courtesy of addressing the Committee before such a precipitous action was taken.
While we would have been happy to go through any more formal process, we did coordinate it via xeroc who is a high ranking trusted committee member with outstanding credentials. (That was the process as we understood it at the time.) We assumed that if there were any issues we would be contacted. None ensued for many months until this week.
There is really no imposition on the Committee or anyone else to sustain the Hero in that status. Independent feed producers were up for over a year without incident. The Hero had proven itself as a solid addition to the BitShares family of bitAssets and was configured by a highly credible and independent source, xeroc.
There was apparently some discussion about "managing regulatory risks". But once installed as a bitAsset, the Hero represented exactly the same regulatory risks as bitCNY, bitEUR, or bitUSD. They work exactly the same way. The fact that the Committee singled out the HERO for "special regulatory treatment" merely puts the whole concept of bitAssets at further risk of regulatory misunderstanding.
Clearly, there was no additional risk involved. BitAssets are as decentralized as possible, representing merely a built-in smart contract that anyone can engage in with anyone else. There is no central issuer, we just provided a product definition that anyone can use. The only continuing function for the supervising account is quality control on the block producers, something that the Committee was designed to do (by us) in the first place.
Given these considerations, I am asking the Committee to reconsider. I'll be happy to provide whatever formal paperwork may be deemed necessary and am always willing to appear before the Committee if there are questions.
In the mean time, functioning of the Hero is not effected as long as we have at least 7 feed data stream producers. I encourage those wishing to make a positive technical contribution to BitShares consider becoming a feed data producer. Xeroc has documentation that shows how easy it is.
Respectfully,
Stan Larimer