Bitshares worker to enable BTS On Wirex
There is currently a Bitshares worker, 1.14.183, that will cover costs to make Wirex integrate BTS to their trading platform.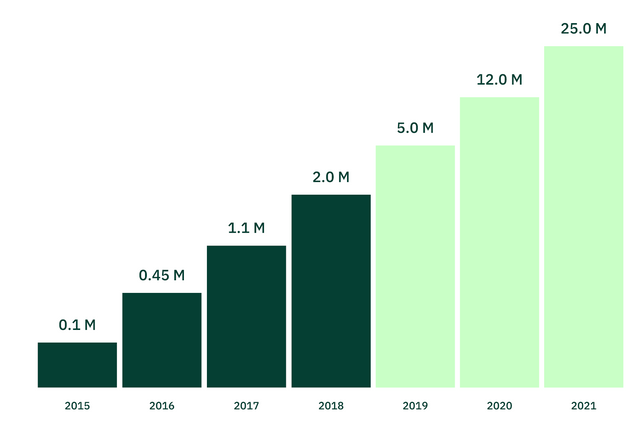 Wirex is a fast growing company, currently with 2 million users. Plans are to launch in APAC, North America (US and Canada) and Japan later this year, and India and the rest of Asia in 2020. With a platform for VISA debit cards connected to a bank account that you can use anywhere that VISA is accepted will mean that a lot of people will be able to easily transfer cryptocurrency, exchange and add to a card directly without having to withdraw to any bank.
Any relation with Wirex would greatly enhance the availability of BTS for many million of users. The company has a large resume of usability already, and is not short being done on that field.
Wirex boasts the only mobile banking app that combines digital wallets
(9 cryptocurrencies) with multi-currency bank accounts (11 traditional
currencies) that support multiple in/out funding options (crypto transfers,
ACH, SEPA, SWIFT, Faster Payments and debit/credit cards).
Wirex is integrated with 3 exchanges, 3 OTC brokers and 2 FX brokers. At
any point in time, Wirex can provide the best exchange rate regardless of
currency pairing.
They also offer a good deal with what they call "CryptoBack" on card purchases in stores, beginning with 0.5% back on your purchase. Their future plans include for example P2P and cross-border payments, Spending analytics and budgeting, Saving accounts, Crypto-backed loans and Merchants offers.
Recently they also created a utility token that enables large discounts on fees, from 25% up to 100% as well as up to 1.5% CryptoBack on purchases.
Much more can be read in their Whitepaper in English, Chinese or Russian.
Wirex Utility token, WXT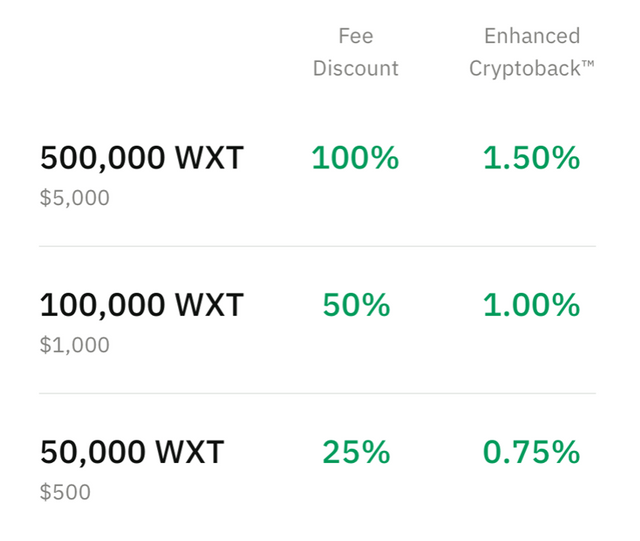 WXT is a universal fee and reward unit designed to help customers save on fees and access unique rewards:
Up to 100% discount on fees, including: exchange fees, bank transfer fees, withdrawal fees, credit/debit card top-up fees, monthly management fees, ATM fees and SWIFT charges**
Enhanced Cryptoback‌™: up to 1.5% in WXT every time you use your Wirex Visa card in-store.**
Super-charged rewards, including:
Free access to Wirex Premium
Free Wirex Premium card
Exclusive merchant offers
Airport lounge access
Travel insurance
Bitshares Integration in Phase 2
On May 7:th there was an official announcement that work was underway to make Wirex list BTS. Last month another follow up announced that a down payment was made and that legal paperwork and board approval at Wirex was initiated.
My own Experience
Once the announcement of the worker was made I ordered a card from Wirex, which arrived just about 7 days after. Verification of the account was quick and without problems.
So far I've had no direct problem with them at all. Crypto currency transfers quick and usually only requires 1 confirm. Exchange rates are fair, and with 100,000 WXT utility tokens I receive a nice 50% discount.
Unfortunately there is a larger exchange fee from the EUR in the card balance and my local currency, roughly 3%, that VISA takes out, I don't use the card in stores much, but the few I've done has been quick and without problems. Any online payment that I've done has been flawless so far as well, something I've done much more.
Bank to Bank transfers are very quick and costs nothing. They also have a very good Fiat exchange rate from EUR to my local currency, much better than places like Coinbase has, which I've used for the last year.
My own experience is that Wirex does a good job, and has a potential bright future. They are in the middle of a very expansive phase, which probably surprised them a little. Support is not as quick as you may wish. Standard issues can be quick to just a few hours, while specific issues and questions can take up to a few days or more.
With Bitshares enabled on Wirex we will be able to see quick transfers of funds to and from this very good exchange and card payment platform. So far I see only benefits to having Bitshares added to Wirex.