The long-awaited release of Autonio 1.2 is finally here!
.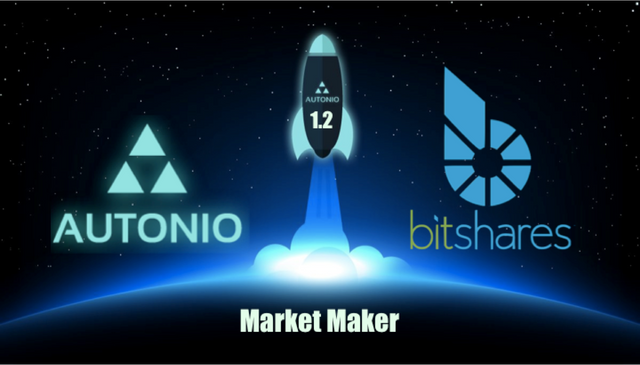 We are proud to present our latest development in the trading tools and services industry. With the help of 20+ indicators at its side and 5 of the top tier centralized exchanges available as a playground, what more could have one asked? Well we managed to overcome all expectations and integrate the very first decentralized exchange market making module in our mobile app! So, from now on, anyone will have the possibility to make automated trades, whether on the centralized exchanges, like Bittrex, Bitfinex or Kraken, to mention a few of the available ones, or on the decentralized exchange of BitShares, with many more of the BitShares ecosystem to follow suit. Below you can find the excerpt from Autonio's whitepaper that is covering the market maker bot's unique features.
The Market Maker module
During Q4 2017 and Q1 2018, Autonio dedicated half of its operating budget to integrating the BitShares DEX's API into the algorithmic trading platform. The result is a state-of-the-art market making bot that can exponentially increase liquidity. Through innovative algorithms, complex calculations, and thousands of data points gathered from the DEX, the Autonio Market Making Bot can make faster and more precise trades. For example, an algorithm that uses parabolic and stochastic with Bollinger Bands can ensure the trader will exit in case of a black swan event, which sways the market into one-way flow trade. The trader immediately places a sell limit order and exits the trade when the market is crashing with very high volatility, allowing the trader the opportunity to exit with minimal loss.
This makes the combination of data analytics from time tested algorithms feed into the market maker, making it much more customizable. Creating a sophisticated HFT market maker gives the trader a chance to make much greater profits in the long run and protects them from one-way flow trade in a black swan event. Much of development has already been completed for Bitshares DEX. Autonio will also add the ability for users to buy and sell market making customizations within the app. All within an existing framework that has been developed, one that gamifies trading and creates a social environment between a large group of traders.
Autonio is building this easy to use and highly customizable GUI, on top of a smart and powerful market maker and complements it with social trading features. Working together this system will serve to protect the trader and increase their opportunities in the market.
The market maker bot is in continuous development, with some finishing touches being added to ensure it can handle high-speed market marking (35,000 orders in a day). The market maker will have multiple strategies. This will include a selection of smart market makers. There will be a variety of strategies to suit the market makers where they can build liquidity on multiple levels, with low-speed market making the orders stay on the books for a long time. The orders adjust so that traders are not caught up on the wrong side of the trade from a one-way, high volatility, trade movement. The orders constantly adjust to the fair middle price of the order book, so your orders always stay on top and on par with your desired market making spread. The long-term plan is to merge algorithmic signals with market makers. This will help to protect market makers not get caught in a one-way flow, such as the trending and highly volatile market situation, often known as a black swan occurrence.
The market maker will have three strategies which the user can implement that will suit any trade style. More variations will be likely added in the future.
Nonstop market making:
This setting will keep making market as per your setting without taking into consideration any of the price swings. Ideal for a very choppy 2-way market.
Straight shooter:
This is ideal for a slightly trending market where you see 5 to 10% swings in a day as normal.
Smart market maker:
This is ideal for market making in extreme conditions, where swings are high in volatility, for example, 20% swings within five minutes. This will increase your probability of a return in an extreme market and could also be used on less volatile conditions.
There will be three types of orders the Market Maker can use:
Flat orders:
In this current order type, the user specifies an amount of base and asset, thus market making is based solely on that amount.
Asset pegged orders:
This type will only get input of the asset value for market making and the base for market making is dynamically calculated as per the specified asset value. The base value used in market making is pegged to a user specified asset amount.
Portfolio percentage orders:
This type of order is where the user specifies a percentage of their portfolio that they would like to use. This percentage will be used for both the asset and base value when placing market making orders.
Giving more room for customization enables the users to make the best of market making on any integrated centralized or decentralized exchange.
The Algorithm Marketplace is now live!
Meet the new Algorithm Marketplace module! It complements the Trading module by allowing successful algos to be sold by their owners to whoever is interested in following the steps of great traders.
This whole past period the Algorithmic Trading module was quite the single attraction of our platform. Anyone who designed a great trading algorithm with the help of the 20 indicators, could only use it for its sole benefit by having it trade on the available centralized exchanges. But this thing has changed. Now, if any of your designed algos passes 10% in Profit over Buy and Hold, you will automatically have the option to buy your algo on the marketplace that is available inside the trading app.
June Dream Redeem
Along with this new BitShares module launch for the Android platforms, we have prepared a special celebration. During June, all the traders that use Autonio, no matter the platform, will have the amounts sent to the burn address reimbursed in the originating wallets. So, anyone who will send a tx transaction showing the amount burned for their Autonio subscription will receive back in the sending address, the same amount of NIO they have burned.
About Autonio Foundation and its products
Autonio stands for Automated Nexus of Intelligent Operations and it represents the trading platform that integrates the relevant tools and services to meet the values of Crowdocracy and Prosperism. We aim to empower the community by providing the tools for financial independence, health, responsibility and security, and we are striving to give the ordinary person everything it needs to have an edge in the competition with the pros, our products being built by the people, for the people and of the people.
This is a trading system that makes crypto-trading easy, rewarding, competitive and fun, by allowing traders to design their own investment strategies and compete with peers. Traders can learn, take profit and win. For more information, please visit auton.io.
Join our community on Telegram: https://t.me/Autonio
Trade #NIO at following exchanges:
Exrates.me (USD & BTC)
IDEX.market (ETH)
Etherdelta.com (ETH)
Mercatox.com (BTC)
Nebula Exchange
Chinese CEX FUBT
Appreciate your support with follow, upvote and resteem.
THANK YOU 😀