Today LocalBitcoins the most known site for F2F bitcoin exchange deciced to do KYC/AML checks aka ID verification.


You cannot even delete the account without giving them ID right now.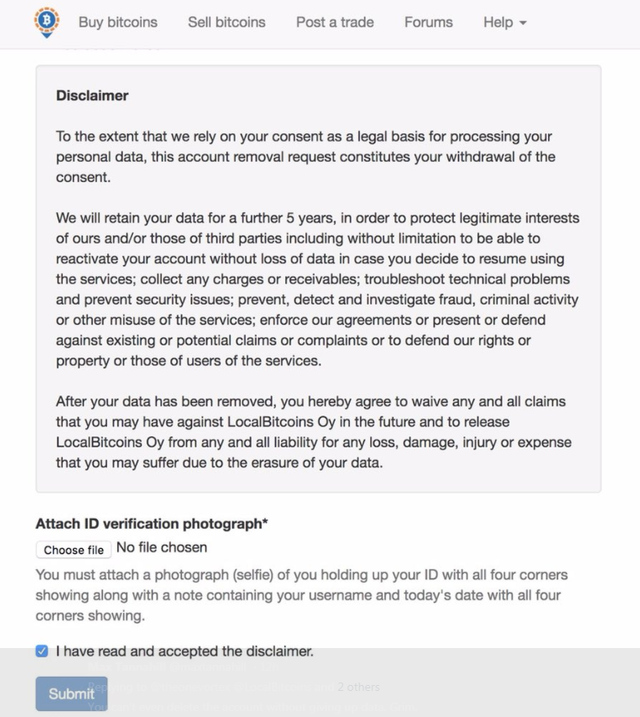 Lately, F2F exchanges on LocalBitcoins were really getting volumes.


Due to the KYC/AML we can expect decentralized exchanges will have another round. And Bitshares (the older brother of STEEM) is on top of it.
Bitshares has its DEX but also others build exchanges on top of it that share parts of volumes on native tokens.


The most known and oldest (about native DEX per se). I mostly look here for nice offers on BTS, EOS, STEEM, EXCL and CNY pairs of those vs USD. Often arbitrage works.


Newcomers but with expanding database. I trade here mostly SMART, LTC and EXCL.
Other Chains to Work?
Ethereum has exchanges on its chain and NEO is coming with one too. WAVES, LISK also have something in the pocket. Bitcoin also has some decentralized spots but currently, only Bitshares has volumes on decentralized spots and good working system. Try their DEX and see yourself as registration is free and easy. Also BTS is based on similar code as STEEM so us Steemians should support it.
Centralized NoID Exchanges
Of course, for now, we cannot live without centralized spots and these ones work and don't need verifications.
BiBox - Another Chinese spot with some unique ICOs and popular tokens [FIRST TIME MENTIONED BY ME AFTER TESTING - TRY NOW]
CoinExchange - many ETH tokens and anon coins
Binance - the obvious top vol exchange, has STEEM
HitBTC - adds ETH ICOs really fast, has SBD
COSS - many deals on ETH tokens for arbitrages
Cryptopia - they have some decent coins that others dont