Hi, all traders,
I'm happy to announce that BitUniverse just released a new version 1.3.0, which allows you to manually record your portfolios. It's time to say goodbye to Blockfolio or Delta or other portfolio apps.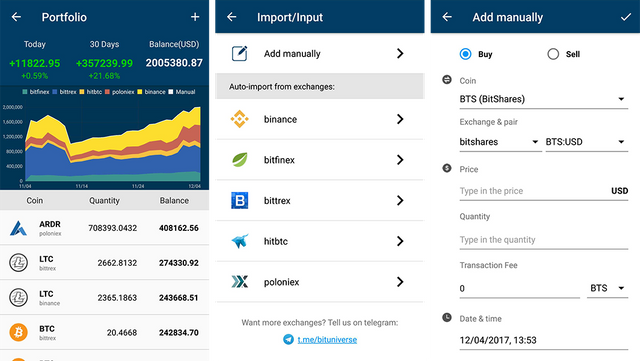 So far BitUniverse has become the world's first and best app for recording your portfolio in BitShares DEX.
Why only BitUniverse supports BTS DEX?
Our team has developed BitShares Wallet, beginning with which we researched a lot in BitShares. Other teams usually get the data from coinmarketcap.com or some other sources, and they don't have the ability to provide realtime, correct data by themselves.
What's the roadmap of BitUniverse ?
BitUniverse is an all in one app, which is like your multi-assets manager. That's why we have provided portfolio & wallet features already. In the future, we will also provide trading & news features.
How to get BitUniverse?
Android version: https://play.google.com/store/apps/details?id=com.bituniverse.portfolio
iOS version: Still in development. We have started several days ago.
Our telegram group: https://t.me/bituniverse
Our official twitter: https://twitter.com/bituniverse_org