Run your own decentralised exchange
You can now run your own decentralised exchange node and trade STEEM with:
#BTS #BTC #LTC #DOGE #DASH PPC #ETH NXT #MUSE NSR NBT EMC EGH #GOLD #SILVER #USD #EUR #CNY #GBP ...
all using a Light Wallet with built-in deposit/withdraw and FIAT gateway.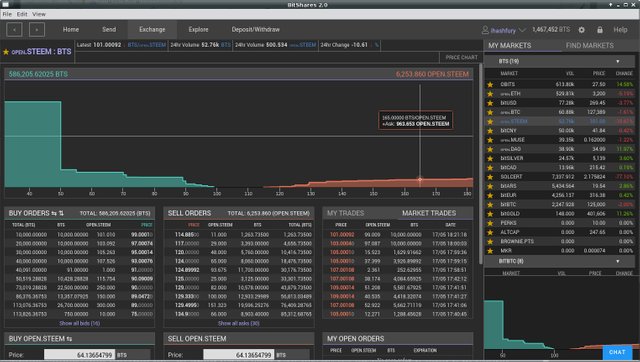 A few steps will have you up and running. The system uses a Light Wallet which can connect to trusted secure servers or your own local blockchain (run from the command line).
P2P Decentralised Exchange Node setup for Ubuntu x64 - ( copy and paste to your terminal )
You can run on your own computer, a local server, VPS or VirtualBox.
### 1. Download the software to build for Ubuntu Linux x64 using git:

# update your system and install ntp
sudo apt-get update && sudo apt-get -y upgrade
sudo apt-get install ntp
sudo dpkg-reconfigure tzdata # to set your time zone

# Install the build tools
sudo apt-get install gcc g++ cmake make libbz2-dev libdb++-dev libdb-dev libssl-dev openssl libreadline-dev autoconf libtool git libncurses-dev build-essential kernel-package libncurses-dev doxygen libboost-all-dev autotools-dev automake

# you may have to run this on a fresh install and reboot
#sudo dpkg --configure -a
#sudo reboot

# download the P2P node software
git clone https://github.com/bitshares/bitshares-2.git

# build the P2P node software
cd bitshares-2
git checkout bitshares
git describe --tags
git submodule update --init --recursive
cmake -D CMAKE_BUILD_TYPE=Release .
make witness_node cli_wallet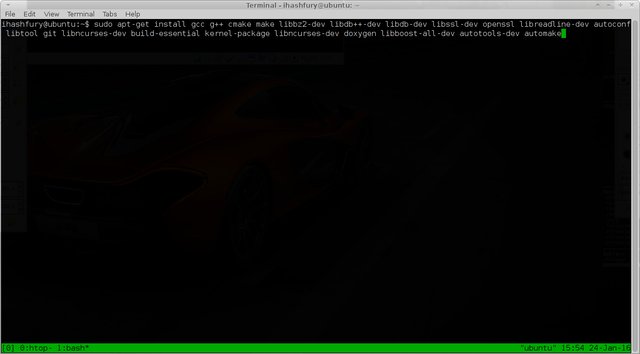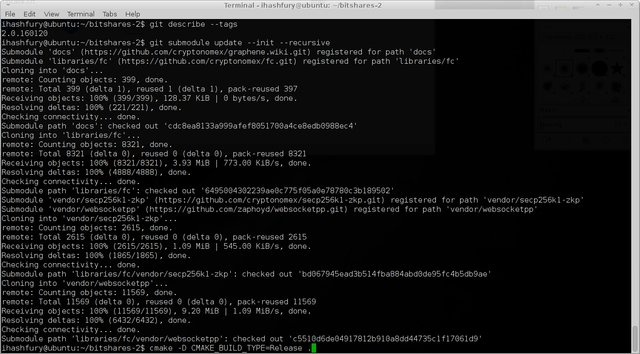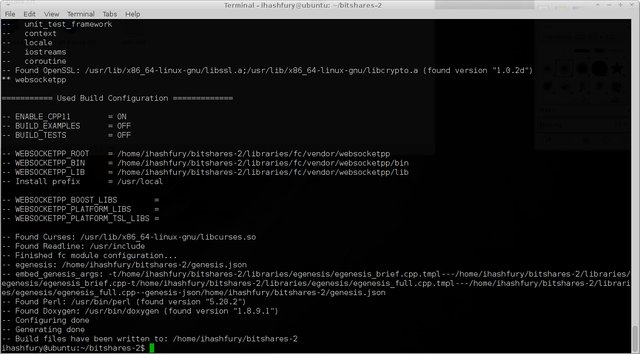 ### 2. Run your new P2P Decentralised Exchange Node

~/bitshares-2/programs/witness_node/witness_node --rpc-endpoint "127.0.0.1:8090" # will allow only your computer's wallet to connect to the blockchain
# ~/bitshares-2/programs/witness_node/witness_node --rpc-endpoint "0.0.0.0:8090" # will allow anyone to connect their wallet to your copy of the blockchain

# you can also strip and copy witness_node to your bin folder for easy blockchain startup

mkdir ~/bin
strip ./programs/witness_node/witness_node
strip ./programs/cli_wallet/cli_wallet
cp ./programs/witness_node/witness_node ~/bin
cp ./programs/cli_wallet/cli_wallet ~/bin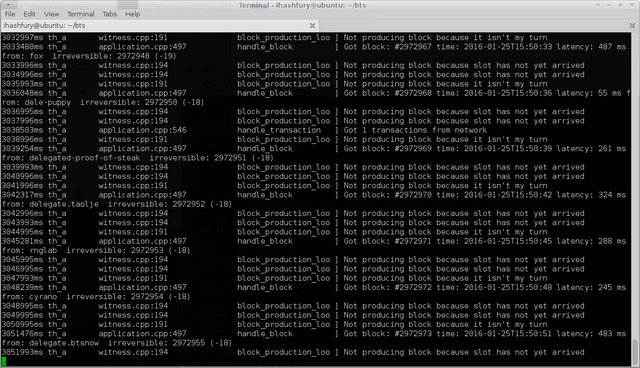 Check the block explorer for the latest block https://cryptofresh.com/
I have used VirtualBox to run the blockchain on Ubuntu.
Remember to install openssh and forward ports in VirtualBox host
Network settings then ssh in (you can use putty on windoze).
# ssh [email protected] -p 3022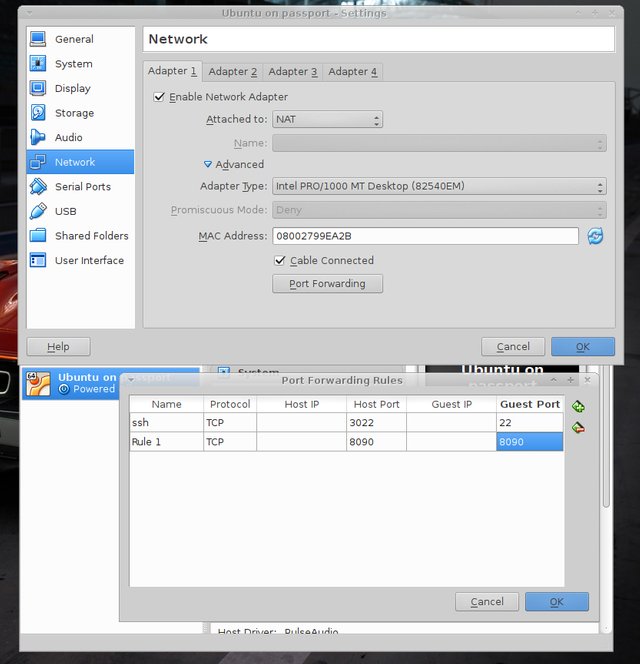 3. The fun part - download the Light Wallet software for your OS
Download the Light Wallet here:
BitShares Light Wallet
Tutorial
https://bitshares.org/register/
Set your user name and password (if you found the post useful, you could add by24seven as your Referrer and get a few Free PERKS too)
Connect to your local chain after it has synchronised
In the Light Wallet under settings * API CONNECTION click on wss://bitshares.openledger.info/ws and change it to your own blockchain node from part 2
linux
ws://127.0.0.1:8090
or
ws://localhost:8090
VirtualBox linux
ws://localhost:3022
or server ip
ws://localserverip:8090
Then click CONFIRM
If you are using a VPS it is recommended you use ssh to connect to the API eg:
ssh -L 6080:localhost:8090 [email protected]
then connect to the API with
ws://localhost:6080
in the Light Wallet
Welcome to your own Decentralised Exchange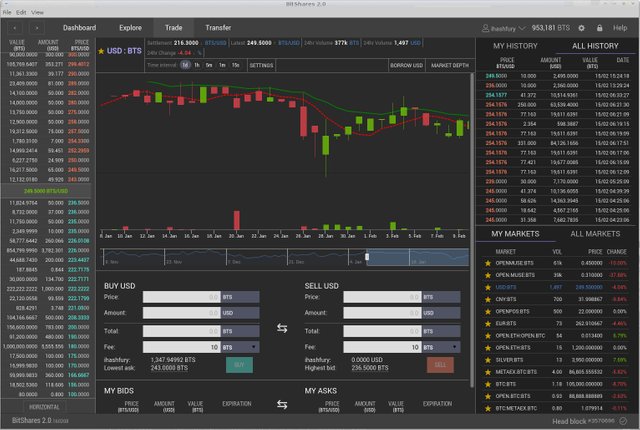 More help can be found here:
https://docs.bitshares.eu/
https://bitsharestalk.org/index.php/board,45.0.html
Enjoy!
if you are lazy you can use these Decentralised Exchanges in your chromium browser! (no need to install software and a few Free PERKS too)
Remember to back-up your wallet, as only you have the private keys to access your funds to trade on all these Decentralised Exchanges.