Guide to borrowing bitUSD
A lot of people are asking about borrowing on the bitshares DEX, so I decided to explain in a simple post how to do it, and what the pros and cons are.
The short summary is:
It's risky, but it's also basically a free loan.
Assuming you already have a bitshares account with some bts on it and are logged in, then go to the EXCHANGE tab and press any market where one of the currencies is bitUSD. For example bts/bitUSD.
Then press 'borrow bitUSD' as you can see in the bottom right corner of this screenshot.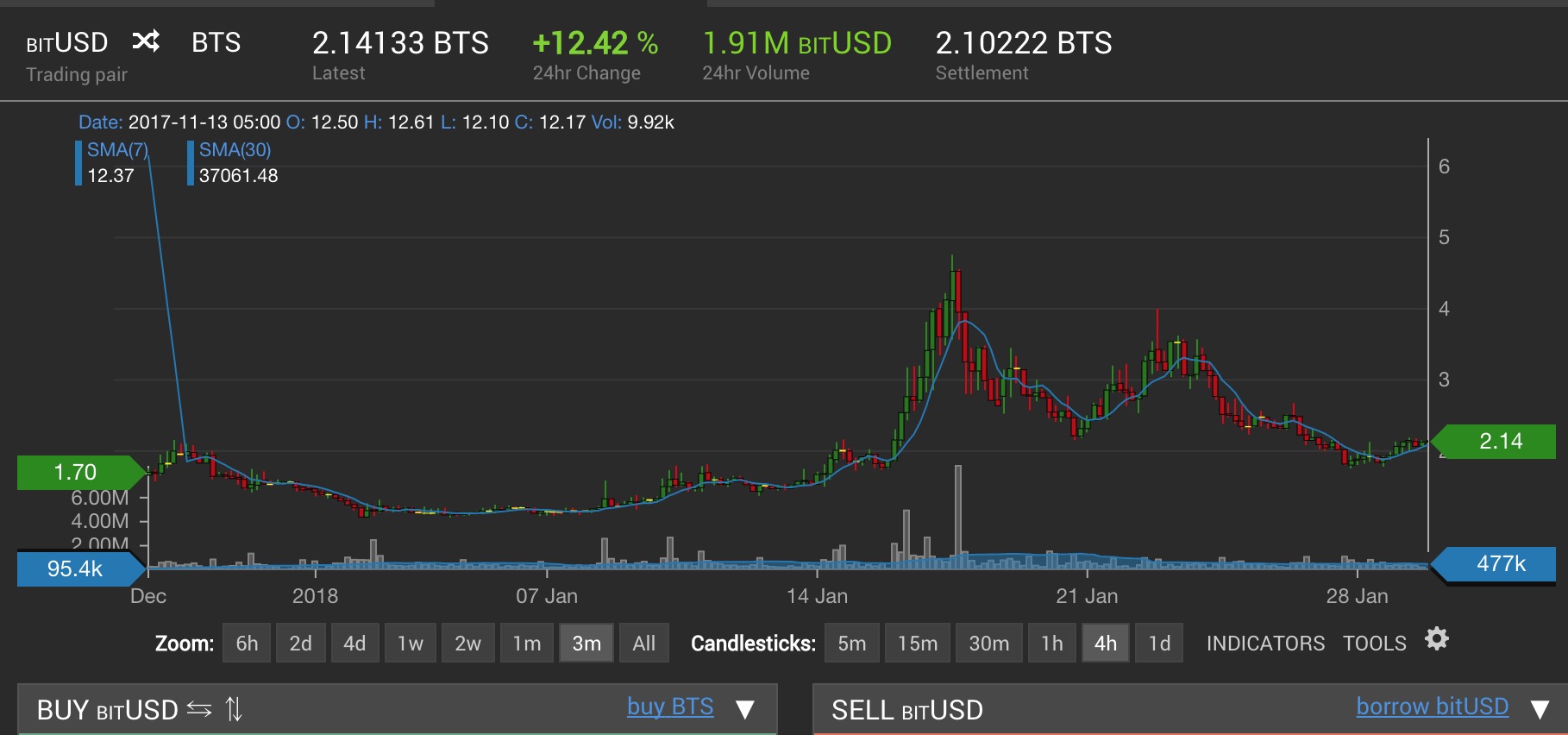 Then you will get to a window that looks like this: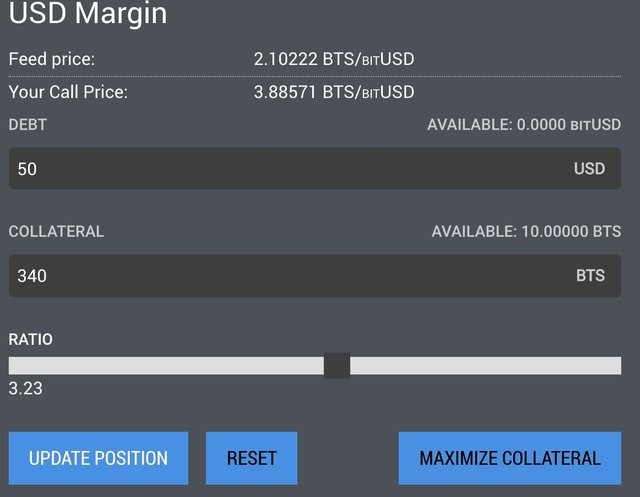 If you have bitshares (bts) then you can lock them as collateral and borrow bitUSD for them, which is equivalent to normal USD. All you have to do is put up at least 1.75 times the value of the USD.
So to explain it really simply, if bitshares is worth 1USD then you need to lock 175bts to borrow 100bitUSD.
So you type how many usd you want to borrow and how many of your available bts you want to lock up. Then you can also see how low the bts price can go before you will be forced to sell them at a bad rate and possible lose all of them.
In the example in the screen shot, I'm borrowing 50bitUSD and locking up up 340bts. That gives a ratio of 3.23. And I would be margin called (i.e. forced to sell) if bitshares would fall to 3.88 for a dollar.
I advise to you lock up a lot more than 1.75 times the value. Because anytime the bts/bitUSD exchange rate drops and your bts are worth less than 1.75x the value of bitUSD you will be forced to sell at a bad rate.
In essence, you can lose the bts you have locked.
That's why it's risky. So I advise to always lock up at least 5x times the value of the bitUSD. Recently there was a crazy dip, and a user called aloha had locked up 54,000,000bts for 11,000,000bitUSD.
He lost more than 40million bts in a few hours because he wasn't careful enough!
So always be sure to have a good cushion protecting yourself. And check in on bitshares regularly if you have borrowed money to be sure you are safe.
But here's the pro: You can borrow money for free.
That's right: 0% interest rate.
Try to find that anywhere else.
That's why everybody thinks bts will rise steady but surely. Because as more and more people find out about it, more and more bts will be locked as collateral. And since they are taken off the market it should create and upwards trend for the price if the demand increases or stays the same.
And if you want to pay back the loan, you can just press borrow bitUSD again. Then type 0 in the USD field and then press update position. Then the bitUSD will be taken from your account and the bts will be unlocked again.
It should be noted that locking up bts for borrowed smartcoins is only a good strategy for those who believe the bts price will go up. If you believe it will fall, then it's probably better to sell them now and buy back when they're down.
Hope this guide helps, and please let me know if something in the text is unclear.