Hope you guys are familiar with Bitshares
https://bitcointalk.org/index.php?topic=1949828.0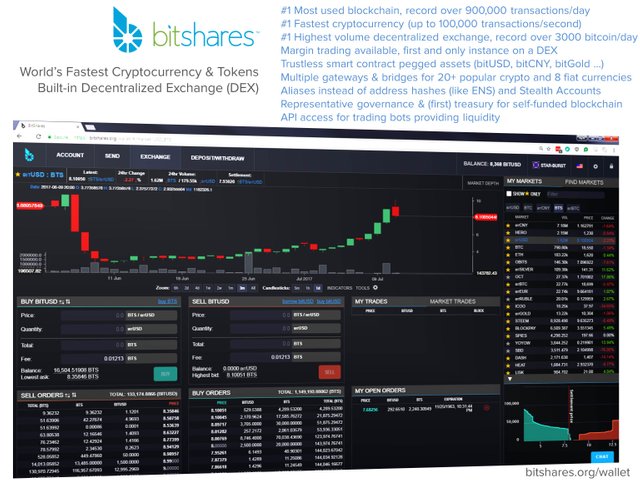 On the Bitshares DEX you have trustless assets like bitUSD, bitCNY, bitBTC
The reason they are trustless is no matter how you got them, you can always hit settle and get exactly that much worth of BTS out of them as they are backed by collateral in BTS smart contracts.
You can margin long BTS by borrowing bitUSD (locking up BTS) and buying more BTS with it.
You have to put up more than minimum liquidation 1.75:1 collateral to BTS to do so, so lets say we use 2:1 ratio below which you shouldn't really go. At 2:1 ratio, you effectively have 1.5x leverage on your BTS long (locked BTS + new BTS from selling borrowed bitUSD).
You can re-use that new BTS to borrow bitUSD again and then sell that again with same ratio. Below is a table showing how you can quickly reach 1.98x leverage in 6 steps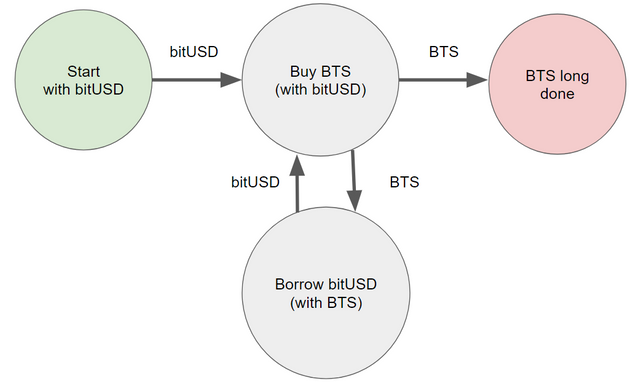 Just be careful, if that position is liquidated at 1.75:1 collateral ratio by 12% price drop at 1.98x leverage or as the least collateralized, it will settle your debt by taking it out of the collateral and return the rest of the BTS to you.
Increasing collateral to 2.3:1 collateral to debt ratio, makes the leverage ~1.75x after 6 steps.
For those interested in seeing an comparison between spot position and leveraged position at 1.98x, example here.
So for any collateral:debt ratio you pick in the dex, you can repeat the steps in diagram to get higher effective leverage. Layering magnifies risk and reward but doesn't change tolerance for % drop to liquidation.
Layering effectively allows you to sometimes get same leverage with higher collateral ratio and tolerance for larger % drop in price as riskier lower collateral (e.g circled leverage).

I've also written up a proposal to how a decentralized lending market could be used to achieve the same thing with any pair on the DEX: https://bitsharestalk.org/index.php/topic,24890.0.html - please review it and let me know
That could become useful after they add trustless btc gateway through the witness system to the DEX and even allow margin trading with even higher leverage.
Credit to Permie to introducing me to this concept originally.