Houston we have lift-off! - Mainnet is LIVE!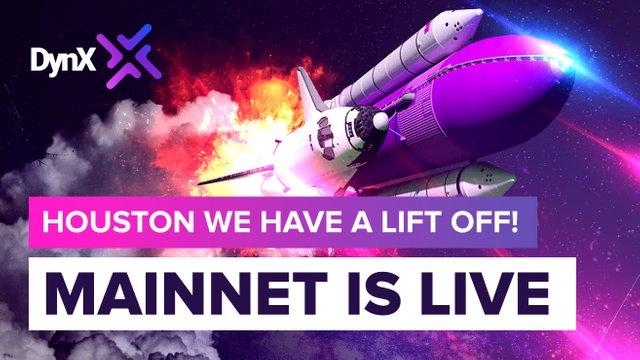 Today we are taking another important step in DynX history. After months of developing and testing, we are finally ready to launch DynX platform in Bitshares mainnet blockchain.
This is it. Are you ready to join us in this adventure?
We want to start by sharing the list of assets available on DynX:
Base pairs:
Bitcoin
DigiByte
Polis
Litecoin Cash - Winner of the base pair competition.
BTS
Regular assets:
Litecoin
Verge
Snowgem
Vertcoin
Ravencoin
Doge
Dash
Myriad
Bitcoin Gold
Reddcoin
Bitcoin cash
Pivx
Zcoin
Smartcash
Zcash
Groestlcoin
Note: We will continue to add new markets to the list based in our community requests, and applications sent by coin developers.
Listing process:
To get to know more about the listing process, please click here. Be aware that we do not ask for any payment for listing assets.
Projects will be listed in DynX based in meritocracy and community.
Trading fees:
As you already know, we believe that trading fees should be fair, that's why we have defined all market fees at 0.1%.
This will not change until we launch our innovative fee structure, that is designed to benefit the communities of each project. But one thing is certain, the fees will not be higher than 0.1%.
Feedback and suggestions:
DynX is a project 100% focused on the community, therefore, if you have any suggestions or feedback to share with us, feel free to join our Discord or Telegram group and chat directly with our team. Our roadmap is not set in stone and will be adapted if the community feedback point us in that direction.
Come meet us.
Next developments:
Now that the DEX phase 1 development is finished, we already started to develop the support for ETH and ERC20 tokens. This will give us the capability to support many tokens that will improve our ecosystem. (AKA - Cryptosphere)
Check our entire roadmap here.
Giveback to the community
To say that we are 100% community oriented it's not just about fair fees, it's also about giving back to the community.
After the ETH/ERC20 development, we will develop a tool that will allow us to airdrop a percentage of our profits back to the community.
The more we earn, the more you earn!
More info about this soon.
What makes DynX unique?
Funding: No ICO. Self funded.
We are a lean team of 3 members that started to work in Crypto in late 2017 with the launch of the mining pool service multipools.club. In this short amount of time we had more than 18000 registered miners, a happy community and a top notch service with 99% uptime. Now we are committed to take our community to the next level with the launch of DynX. All the costs are 100% funded by the team, without any ICO or any other funding method.
Our competitive advantage.
Our vast knowledge of the blockchain space is a great asset and its fundamental for the success of this project. We have grown in the PoW altcoin space and from there we were able to get the technical skills necessary to develop a project of this magnitude. Our team is in constant communication with several communities, which allow us to understand their needs and act accordingly.
Our main goal is, and will always be, to deliver value to all communities where we are involved.
Long term vision:
To create an integrated ecosystem where traders, miners and stakers have common benefits that will help them take their business to the next level.
How can you support DynX?
If you like what you are reading, you can spare 2 minutes of your time to join our live chats and follow our social media.
Social media and chats:
Telegram
Discord
Twitter
Facebook
Instagram
If you are loving it, you can go 1 step further and register a new account on BitShares using DynX platform and use that account to trade your favorite altcoins.
Full disclosure: If you use an account registered on DynX, you will give us a percentage of the fees paid in BTS to the network.
This can be your indirect way to support our team without spending any extra money.
Is there any other way to help the community at the moment?
The time has come to suggest/apply ERC20 tokens. This feature is under development but you can start sending your
suggestions, or if you are a developer, apply!!
Suggest/apply new assets to list on the DEX now.
New account on Bitshares and trade
Give us your feedback/ideas that you would like to see developed.