This post is a bounty claim for the post https://steemit.com/bitshares/@billbutler/bounty-for-a-detailed-explanation-of-everything-going-on-with-bts-bitusd-market by @billbutler.
I will be explaining the recent events happening in the leveraged trading world of smart coins (BitAssets) on the bitshares network. I will be using examples that everyone is familiar with to try to achieve the purpose serving as a teaching aid to complement existing financial documentation. For an official link of said documentations, check out https://bitshares.org/technology/price-stable-cryptocurrencies/
My main focus will be the following terms and their related theories (see screenshot for reference):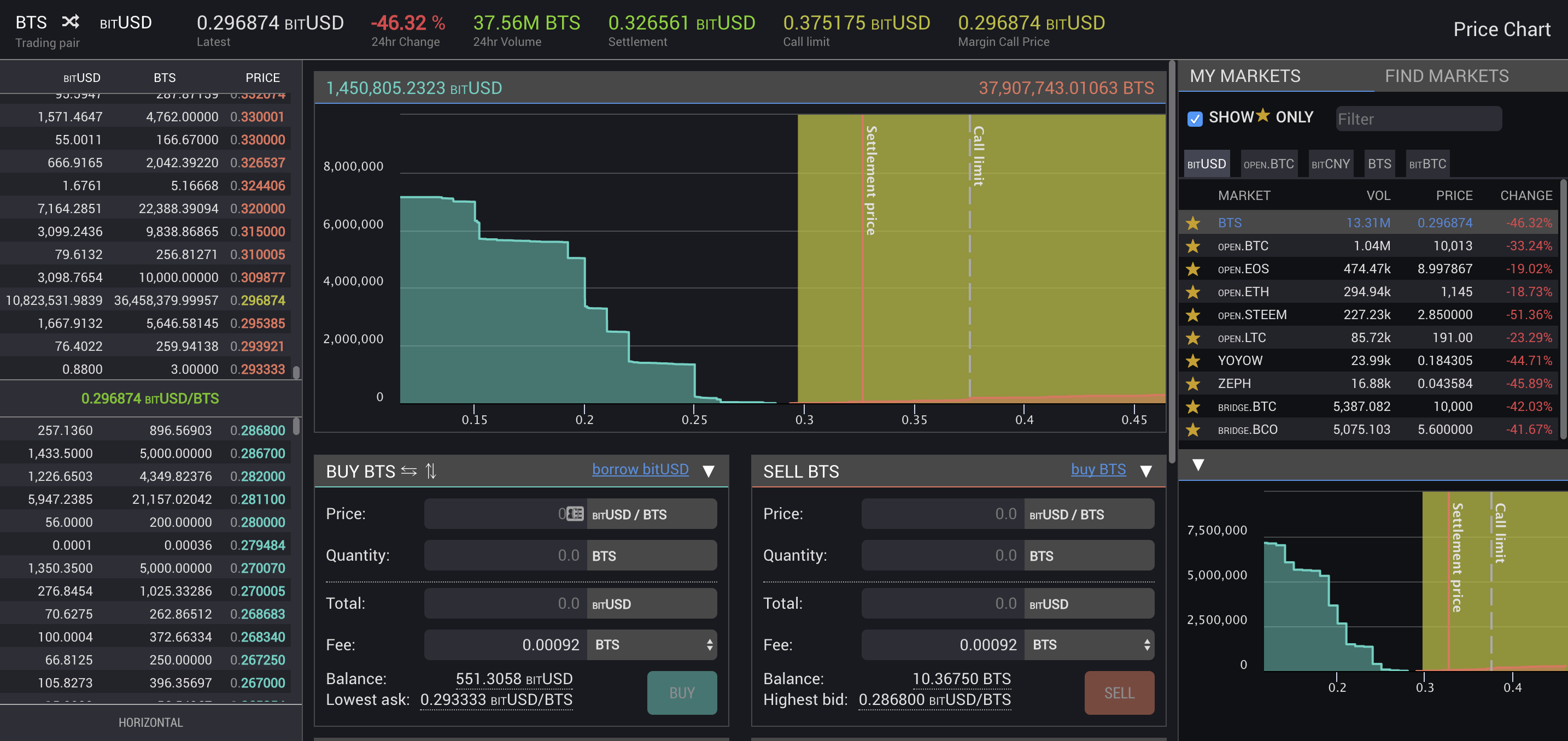 Settlement
Call Limit
Margin Price
Purpose of the Yellow Shaded Area
Explanation of the yellow colored order on the books (under the price column)
Particular strategies you might employ in this market scenario!
So to understand the current situation, we need a quick analogy of how leveraged trading works.
Imagine you have a house worth about $100,000 USD. You've taken out a loan to pay for it because you have a stable job but did not have the lump sum to pay it off outright. You've currently paid 50% or $50,000 USD of that loan so you have 50k worth of equity in the form of a house as your asset.
Now comes a unexpected medical procedure that you need in order to save your life if you do it within the week. the procedure costs 15k but again you have no cash so you have to decide between dying or selling your house to pay for the costs. the problem with selling the house is that you can't sell it in time so you take a refinance on your mortgage to get the 15k out and put your house as the collateral. since your house is worth 50k in equity under your name, you have put up about 3 times the value of your loan which is required by the bank.
Then the 2008 real estate crash happens overnight and your house is now worth 70K usd and thus your equity is only 35k. that is 10k short of your required 3 times loan's value of 45k. your house is now repossessed and sold cheaply for max speed to repay your debt.
This analogy is pretty much what happened in the last few days in the leverage trading of BTS. I will now explain the key terms mentioned above and tie it to our analogy.
settlement price is the average price of bts traded on all exchanges. you can think of this as the Zillow's price listings of homes.
call limit is the least collateralized loan (one that has the least amount of support/backing). you can think of this loan is the first in line to be defaulted and thus having the house to be repossessed.
margin call price is the price that your collateral will be forced to be sold at. you can think of this as the price your home was auctioned off to the highest bidder at the pawn shop of real estate.
Purpose of the Yellow Shaded Area is to show you the volume (height) of orders that are forced to be sold. normally this is only a thin line that can be distinguished from unforced (orange) sell orders. you can think of this as the countless for sale posts on lawns with the stamp of "repossessed" in red.
Explanation of the yellow colored order on the books (under the price column) is a list of calls to be made in a certain period of time from now. these are initiated from those who loaned out assets and want their money back. you can think of this as the bank is also insolvent and are asking to terminate the loan early. In the BTS network, this will be done 24 hours from the time you initiated a forced settlement.
Particular strategies you might employ in this market scenario is to buy up margin calls or initiate force settlements if you can. the official link from bitshares I posted above has an overview of optimal strategies. you can think of this as warren buffet coming to buy up all the houses for pennies on the dollar and then either waiting or renovating it for a profitable flip later.
TLDR: you definitely should read this and also dig into leverage trading before doing any of it.
I hope you learned something from this post and that it was as much fun for you to read it as it was for me to make up those analogies. see ya around!
-Dan