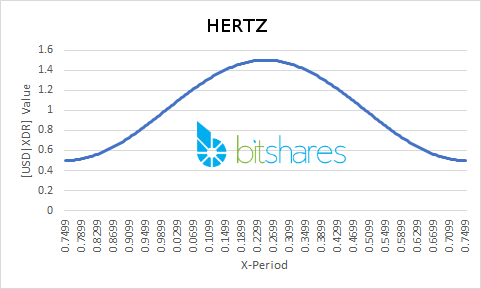 What is Hertz?
Hertz is a Formula Based Asset (FBA) which is pegged against the [USD|XDR] and modified to oscillate between rising the price feed and decreasing it in a predictable manner, thus we create phases of buying and selling pressure constantly back and forth forever.
---
Formula price feed script:
Haskell script
---
Surrendered FBA settings
Disable confidential transactions:
Require holders to be white-listed:
Issuer may transfer asset back to himself:
Issuer must approve all transfers
---
TODO
We need to create a reliable implementation of the above pseudocode into the witness price feed scripts.
We need 7 witnesses to commit to publishing the price feed.
We need to decide upon the Amplitude value, is 0.5 (50%) acceptable?
We need to decide upon a the BlockPeriod (quantity of blocks representing 1 full oscillation).
Discuss optimal Smartcoin settings.
Links
CRYPTOFRESH HERTZ details
Openledger HERTZ details
Bitsharestalk thread
Original Steemit thread
Consider voting for Customminer as proxy!
Best regards,
Customminer.