Bitshares NFT Issuance Tool updates! UX improvements, new features & bug fixes! June 2023
Since recently creating the Bitshares Airdrop Tool, I've had some inspiration to update the NFT issuance tool!
Version 1.6.1 is now available for download on windows, linux and mac os!
So let's get to the changes!
More NFT file formats supported!
The app now supports the following file formats, up from just supporting 4 image formats!
These files data is stored on IPFS, so the file sizes can potentially be quite large!
Images
PNG, JPEG, GIF, TIFF and BMP!
Audio
MP3, MP4, M4A, OGG, FLAC, WAV, WMA and ACC!
Videos
WEBM, MOV, QT, AVI, WMV, MPEG
Documents
PDF, DOCX, ODT, XLSX, ODS, PPTX, TXT
3D
OBJ, FBX, GLTF, 3DS, STL, COLLADA, 3MF, BLEND, SKP and VOX.
Alternative manual methods provided
Previously when you chose not to link with a Beet account, but rather look up an account manually, you were forced to use QR code, now you've got the option to download a json file for local upload as well as to copy/paste the json directly.
UX improvements and bug fixes
Submit URLs on enter key depress
Show many file formats in format categories using accordion elements
Only store multihashes in the nft_object if multiple files are provided, avoiding duplicate data storage.
Show NFT image details in a table instead of text rows
Move asset details & core exchange rate into 2 columns in the one row
Move permissions and flags into 2 columns in the one row
If a permission is disabled, disable and unselect the associated flag
Move 'back' buttons to a common location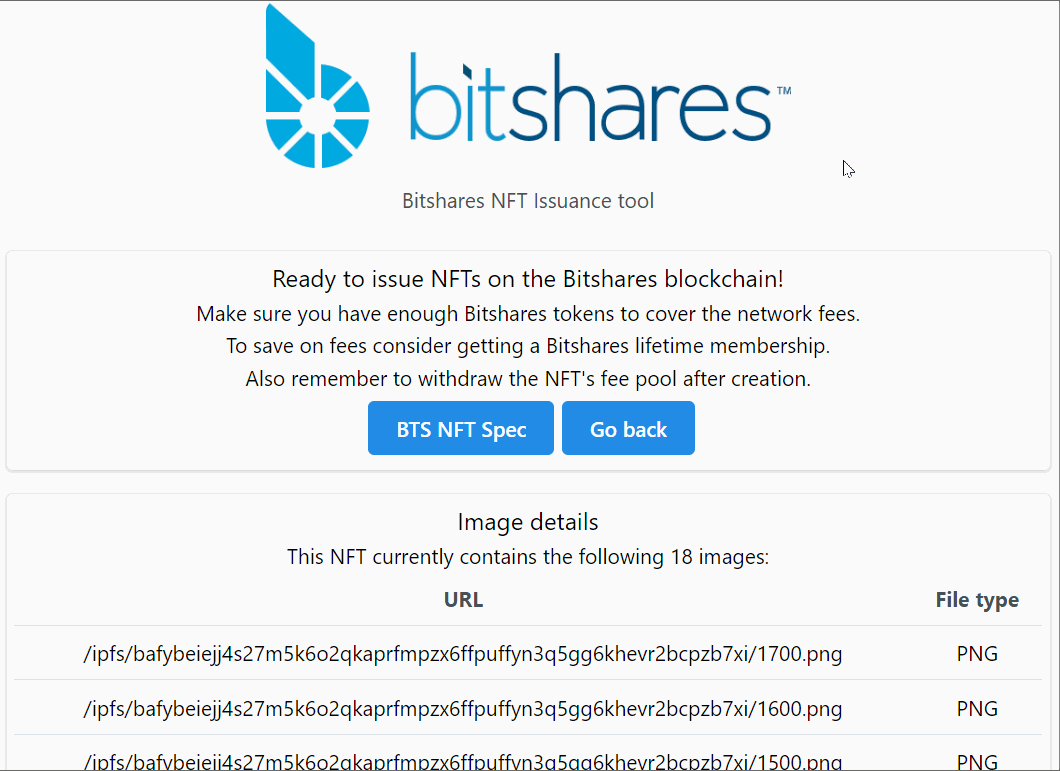 ---
What are your thoughts on these recent changes?
Any other feature requests you have for the Bitshares NFT issuance tool?
Are you planning to release an NFT collection on the Bitshares blockchain? Do tell!
These changes have been brought to you by the NFTEA Gallery
Check out the current NFTEA NFT collection now for sale on the Bitshares DEX!