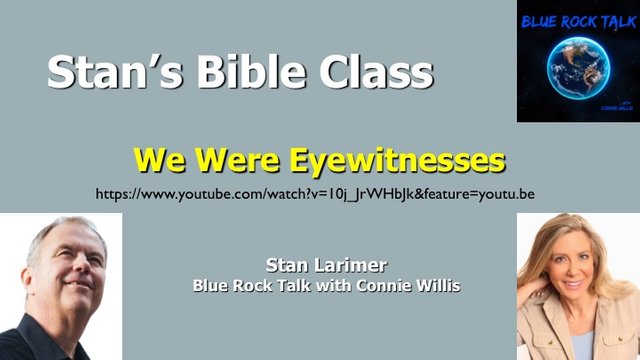 Blue Rock Talk with Connie Willis presents:
Stan's Bible Lecture Series! "We Were EyeWitnesses" continuing the series "THINGS WE KNOW THAT JUST AIN'T SO" from Stan Larimer!
@Stan was full of energy and conviction today exclaiming, "These are Gods Words and should be Passed on Intact!" from his enormous upgraded cabin upon the Atlantic Seas!
What a beautiful background for us to view as he taught his class, the wake of a Royal Carribean Cruise ship from a 2 story cabin-wow!
His followers had more comments than questions today concerning believing in what is written was by God or did man step in..?
Learn here:
This ain't your daddy's Bible Class!
College level study held TODAY with Stan Larimer, the Godfather of BitShares.
Stan teaches his college level Bible Class every Sunday at the Floyd United Methodist Church, in Floyd VA., then teaches it again to Blue Rockers here on Blue Rock Talk.
Thank you to those that participated in our live show.
Share this broadcast with others today and join us weekly.
Bring someone with you next time! :)
Stan Larimer:
https://steemit.com/@stan
https://cryptonomex.com/
EMAIL: stan.larimer@me.com
🌎 Just Another Interesting Program on Blue Rock Talk with Connie Willis
🖖 Subscribe and LIKE for more Interesting Conversations:
https://www.youtube.com/c/BlueRockTalkwithConnieWillis
🖖 BLUE ROCK TALK with Connie Willis
Earth's Most Interesting Conversations!
After 25 years of a successful national broadcast TV and Radio career I walk the walk meeting interesting people, visiting interesting places and investigating interesting "things".
🖖More about Connie:
~ FOUNDER/DIGITAL HOST of BLUE ROCK TALK with Connie Willis
~ WEEKEND HOST on COAST TO COAST AM
~ TV HOST/ANCHOR/REPORTER: UPN, ESPN, SPEED, TNN Motorsports, FOX Sports DISNEY, OXYGEN, QVC, HSN, TSC...
~ RADIO HOST/PERSONALITY: COAST TO COAST, WHAS, WWKA, WDBO, WVEZ, WSRZ, WMGB, KISS, KOOL, WAKY, WPHT, KEX, KOA
🖖 Keep Blue Rock Talk Alive, Support in Crypto!
(BTS, STEEM, SBD, PPY, EOS, BTC, LTC, ETH, THETA, Quint, QuintS, QuintX, IQuint, IQuintS)
BTS: connie-willis
PPY: connie-willis
THETA: 0x91f8267Cf4DC1a25dd32D28e678630E6Dc39F8df
BTC: 1Hv1UoFWF3TjwQjBxoAKGybJ1vWtdGQ5hU
BCH: qpftku7ygs44408p2xh3kfzup3m7pcrnquuy9u3wu5
ETH: 0x4c450513d8AC69C9B0e1F3AF32AfAca4ab953324
LTC: LhwHRSisn2Gpy4qgyM6U6LDZcnoBrvj1zt
🖖Subscribe to be an Official Blue Rocker, someone "in the know"!
https://www.youtube.com/c/BlueRockTalkwithConnieWillis
🖖 JOIN THE JOURNEY:
https://www.youtube.com/c/BlueRockTalkwithConnieWillis
http://www.coasttocoastam.com/article/meet-connie-willis
https://steemit.com/@bluerocktalk
https://dmania.lol/profile/bluerocktalk
https://d.tube/#!/c/bluerocktalk
https://www.dlive.io/#/user/bluerocktalk
https://www.facebook.com/BlueRockTalkwithConnieWillis/
https://www.facebook.com/ConnieWillisPublicFigure/
https://twitter.com/bluerocktalk
https://twitter.com/conniewillisusa
https://www.instagram.com/bluerocktalk/
https://www.instagram.com/conniewillisusa/
https://www.patreon.com/bluerocktalk
http://www.conniewillis.com/
http://BlueRockTalk.com
https://www.amazon.com/shop/bluerocktalkwithconniewillis
...The very First Blue Rocker and The Official Blue Rock Talker,
~ Connie Willis🖖