APAsia.Tech annual retreat for Thai New Years 2019 *Buddhist Year 2562*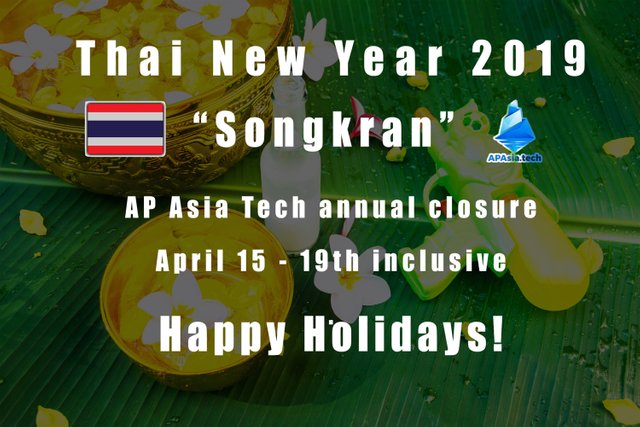 Happy New Year!
The traditional Thai New Year (สงกรานต์, Songkran) celebrations (13–15 April) are upon us, and are a public holiday in Thailand.
APT are taking the opportunity for an annual break and retreat to refresh our minds and souls, and will return the following week. Our offices will be closed from Monday 15th through Friday 19th and availability for anything other than emergencies will be highly limited.
A big thanks to all our friends, collaborators, supporters and clients. Note that we may also be taking certain services offline for the period in order to have them upgraded for the next level.
Wishing ourselves and you success and good luck in the B.E. New Year!
---
Thailand mainly uses the Buddhist calendar which is 543 years ahead of the Gregorian calendar. The year 2019 CE is indicated as 2562 BE in Thailand.