BITNATION Yearly Summary 2017-2018: The Most Productive Year Yet
BITNATION Yearly Summary 2017-2018: The Most Productive Year Yet
The year from July 2017-July 2018 has been the most transformative year for Bitnation since its foundation.
In previous years we had very little funding, we were driven by volunteers, and we struggled to realise our vision of the Pangea Web 3.0 Jurisdiction. Now we have raised over $3.5M, we've released our token XPAT on exchanges, we have a team of 30+ full-time persons, and we've gone from a 'waterfall development methodology' to a lightweight adaptation of the Agile/ scrum methodology with releases of Pangea every 3 weeks straight onto main net and to the app stores. This enables high-velocity engineering development which calibrates to high-response marketing, relative to citizen need.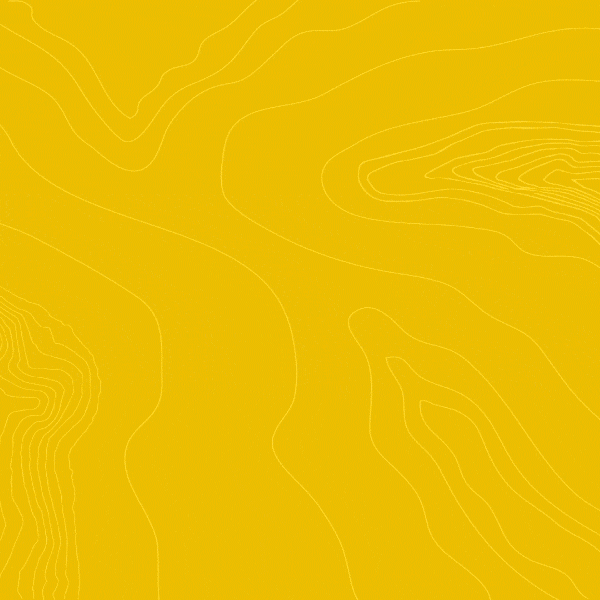 The year ahead 2018-2019 will be equally full of both challenges and opportunities. Until end of 2018 our focus will be to build all the core infrastructure needed to launch Pangea to mainstream non-crypto audiences, including the ID and reputation system, dispute resolution system, encrypted group chats, desktop client and much more.
Once all core infrastructure has been built, beginning of 2019, the focus will shift to hard line market acquisition work, through a mixture of conventional marketing strategies, as well as the empowerment of different types of intentional communities, both virtual and geographical. The goal is to have +1M users in 2019.
Organisation wise, we intend to expand our team significantly, especially when it comes to Pangea engineers and researchers. The Phase III: Slow Release of the ICO will launch in September, our goal is to raise an additional $30M operating funds over the next 12 months to fund our DBVN and DApp ecosystem, do an effective go-to-market campaign, and secure continuous software development funds for the next years ahead.
In 2018, we'll add transaction fees on Pangea, and we expect to be revenue positive in 2019 from the platform income (transaction fees), at our current burn rate (around $100k - $150k per month). In a year from now, we expect XPAT to be available on top 5 exchanges (in terms of trading volume) and the price to start stabilising, with a daily trading volume of +$1M.
Highlights of the past year:
Pangea Jurisdiction Development
XPAT, Tokennomics and Fundraising
Organizational restructuring
Challenges and mitigation measures
Goals for the year ahead: All Work, No Play
Pangea Roadmap
Pangea Go-To-Market Strategy
XPAT, Wallets and Exchanges
ICO Phase III: Slow Release
Organisational Infrastructure
Key documents and links:
*Install Pangea on Android
*Install Pangea on iOS
*Pangea Whitepaper 2018
*Pangea Presentation deck 2018
*Bitnation documentation including translation in different languages
*Bitnation website
Summary of previous years, for those of you who are new to Bitnation: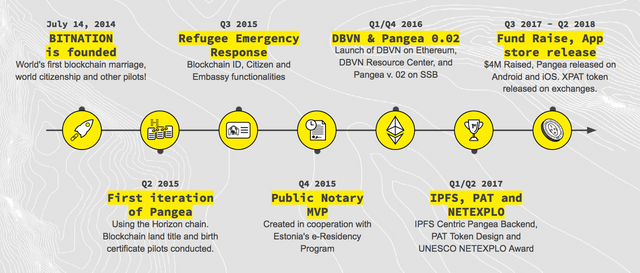 Year 1 - 2014-2015: Bitnation was launched on 14th of July 2014, and the first Whitepaper was published in October 2014. The first few months we focused on conducting various pilots, including the world's first blockchain marriage, world citizenship ID, land title and birth certificate. By July 2015 we had released the first version of the Pangea Jurisdiction on the NXT testnet. We built a worldwide Ambassador Network consisting of +50 individuals organising meet ups and hangouts and hundreds of volunteer developers and technologists. Read detailed yearly summary for Year 1 on Medium.
Year 2 - 2015-2016: We created the Bitnation Refugee Emergency Response (BRER), pioneering Emergency IDs on the blockchain. We also gave away Bitcoin debit cards to refugees in Europe. In December 2015 we launched our Public Notary together with the Estonia Government e-Residency program, used by people for everything from marriages to freelance agreements, company notarizations and more. We also released a proof-of-concept implementation of Citizen, Embassy and Partner registration on the website which included very basic social and reputation functions. Nearly 15,000 people have registered as Bitnation Citizens to date, and about 5,000 documents been notarised on the Public Notary on the website. In 2015 Bitnation also implemented its constitution on Ethereum with the help of Alex Van De Sande. Read detailed yearly summary for Year 2 on Steemit.
Year 3 - 2016-2017: We launched the second version of Pangea in 2016, this time using Secure Scuttlebutt technology, but later on switched to IPFS (libp2p) for the backend. The first version of the Pangea Jurisdiction white paper was released in April 2017, and the process of restructuring Bitnation to prepare for our token creation and sale, and software development restructuring began. We were also won the prestigious UNESCO NETExplo Grand Prix Award 2017 for our work with refugees, previously awarded to startups including Spotify, Kazaam and Twitter. I (Susanne Tarkowski Tempelhof) was listed by WIRED as one of the top 10 entrepreneurs in the world fighting for your online privacy, along with people like Pavlov Durov (CEO of Telegram), Vitalik Buterin (founder of Ethereum) and Andy Yen (CEO of Protonmail). As we were going through a significant organisational restructuring at the time, we did not write a yearly summary last year.
Highlights of the past year:
Pangea Jurisdiction Development v.03 - v.05
The core functions on Pangea are making smart contracts, resolve disputes and create nations. Pangea is live on Android and iOS (via TestFlight).
We went through a 100% restructuring of both the backend and the frontend from the previous v. 02 and 0.1 releases.
The backend is a blockchain agnostic mesh network, using Protocol Laboratories libp2p code. It's currently connected with Ethereum (you can choose to use main net or testnet on the app) but we plan to integrate more chains soon, including Bitcoin (via Rootstock), EOS and Lisk.
The frontend is a user-friendly end-to-end encrypted chat application, optimised for mobile first markets, because people increasingly make business using chat applications (WeChat, WhatsApp, Telegram etc), and a contractual agreement always starts with a conversation between two or more parties.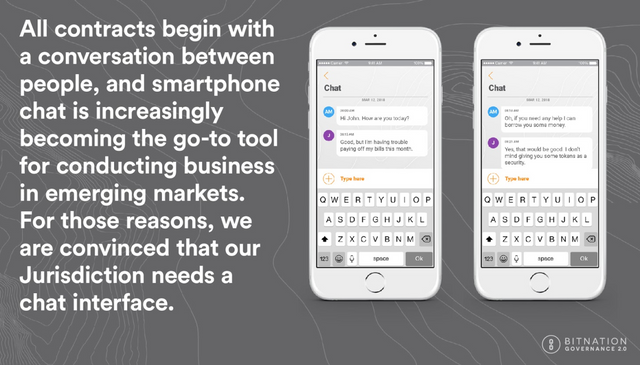 As usual all our code is 100% open source, under the MIT license, and we welcome everyone to participate on our development on GitHub.
Current functionalities on Pangea:
Identification and Reputation: You're identified by your Public Key on Pangea. In the future you'll be able to use a username instead of your Public Key. Pangea allows you to create multiple identities on the chat, to ensure pseudo-anonymity. For instance, if you're gay in Iran where it's illegal, you might want to have one identity for your private and social life, and a separate one for work. You can choose either a passphrase or a numeric one with 6-8 numbers. Do not forget to write down your private key to backup your account!
The reputation system driven by our AI Lucy has been in the works for nearly a year, and the first version of it will be live end of Q3 this year (end of September).
Encrypted smart contract chats: Private chat conversations between two persons on Bitnation are always end-to-end encrypted (using the Signal protocol). Currently, all group chats are unencrypted and public, but end of Q3 encrypted group chats will be added.
In the private chat conversation you can create smart contracts which gets executed directly on chain. Simply choose the function from the menu (payment, escrow, etc) and drop it into the chat. You don't need any prior knowledge about smart contracts or coding to create a smart contract. You can also add your own contracts as DApps, whether it's a marriage contract, freelance contract, rental contract, or anything else you might want.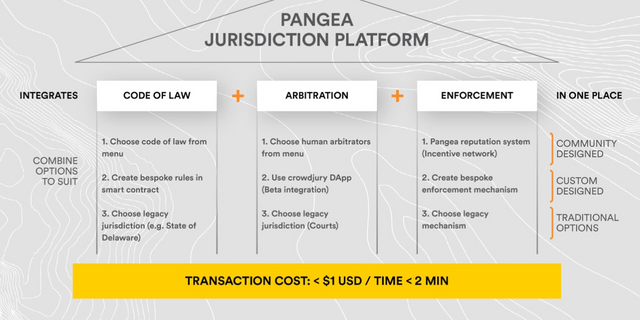 Nation and community creation: You can create your own nation on Pangea, which currently includes choosing your legal code, law enforcement mechanism, decision making mechanism, what category of services you offer and more. Once the constitution outlining the above aspects is created, it gets deployed on the Ethereum chain. You can chat with the Citizens of any nation in the group chat of the nation, to coordinate direction and services. In Q3 the nation functionalities will be upgraded to include significantly more sophisticated features, including the ability to create and manage your own nation currency, appoint officials, package custom dapps for governance services, etc.
Wallet and ERC20 tokens: Currently the Pangea wallet supports ETH and XPAT. In the v. 0.5.7 due in late July we'll be able to add other ERC20 tokens as well. If you want to add your ERC20 token to our wallet, please contact [email protected] for prices and timelines. There are currently no transaction fees on the wallet, other than the Ethereum gas fees. You can choose your own gas fee.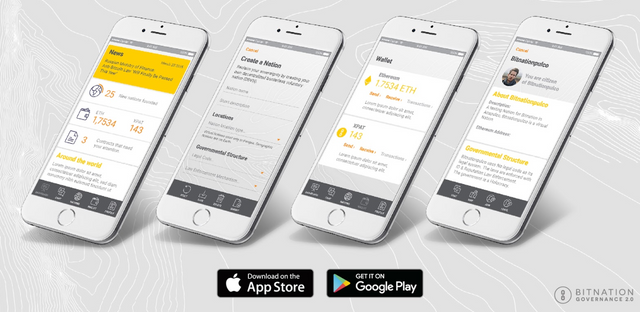 DApp Engine, SDKs and API: Our DApp engine was released on June 30, along with SDKs and our API. We intend to build a few in-house DApps including Notary and document storage, but the main bulk of the DApps will be built by 3rd Party Developers including individual developers, startups, or other forms of organisations. 3rd Party DApp ideas which people have started to plan and develop on includes peer-to-peer security, basic income, land registry, marriage and midwife applications. The DApp store will be launched on Pangea in August.
XPAT, Tokenomics and Fundraising
The Pangea Arbitration Token (XPAT) was released on April 25, after six months of fundraising. It's currently trading on a range of exchanges, including LAToken, Bancor, TokenJar, ForkDelta, Komodo, Citowise and Chainrift. More information on high-volume exchanges will be added in the next few weeks on the website.
XPAT is an Ethereum based ERC20 token used to power the Pangea software through providing incentives to uphold agreements you have voluntarily entered into. When you create a contract, complete a contract or solve a dispute added to a contract, you get rewarded with non-tradable sub-tokens called proof-of-agreement, through the Lucy bot. The reason they're non-tradable is because reputation shouldn't be bought, sold, or gained through popularity or attention. Once users collect enough non-tradable reputation tokens, they get awarded with XPAT by Lucy. There are two additional non-tradable reputation tokens - proof-of-collective (for nation builders) and proof-of-nomic (for smart contract and dapp creators).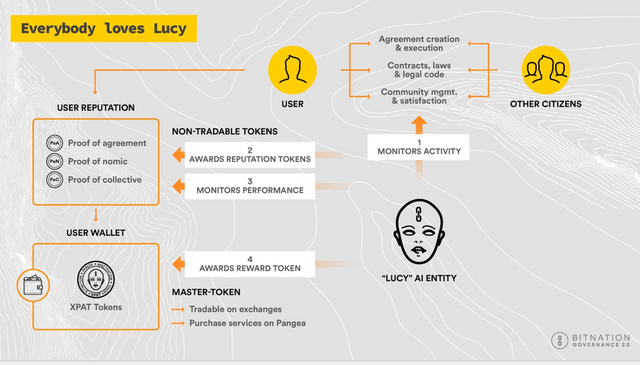 Phase III of the ICO (the slow release phase) will start in September, read more in the 2018-2019 section for further information on how to participate.
Organisational restructuring
A year ago we did a significant restructuring of Bitnation, to raise more funds to be able to develop and take Pangea to market more effectively. We expanded to a currently +30 full-time paid core team, re-organized the ambassador network to hold regular meetups, and incorporated formal administrative procedures. As in every organisational restructuring, some people used to our prior very 'open-ended' work environment mainly driven by volunteers, could not understand or adopt to the new structures. We wish them all the best in their new endeavours.
Although we're against corporate incorporation from a philosophical perspective (it adds central points of failure) we had to incorporate in order to approach institutional investors. Because the regulatory landscape changed quickly while we were doing fundraising, we had to incorporate in different places, including Singapore, Switzerland, Estonia, Belize and Netherlands. Team members are from Sweden, Denmark, Germany, France, Spain, Croatia, Ukraine, UK, US, Canada, Mexico, Brazil, Argentina, China, Hong Kong, Israel, Nigeria, Lebanon, South Africa, and the Netherlands. Amsterdam is the central meeting point and where several of the core team members are based.

This year we also started working on two separate branches complementary to the main software development branch, Bitnation Governance Alliance (consultancy), and Bitnation Future Governance Expedition (Research), led by Carin Ism, the former Director of the Global Challenge Foundation. More about that in the coming months!
Media , Meetups and Events
As usual this year has been full of media attention, with articles and mentions in places like Huffington Post, CoinTelegraph, TNW, VISE, The Economist, Business Insider, Bitnovosti, El Pais, Le Monde, Le Figaro, Crypto Insider, Frankfurter Allgemeine Zeitung and many others. The documentary Down the Deep Dark Web was released in 2017, and we've also been part of two documentaries, which will air later this year. In addition, Jamie Bartlett wrote a chapter about Bitnation and Liberland in his book Radicals: Outsiders Changing The World.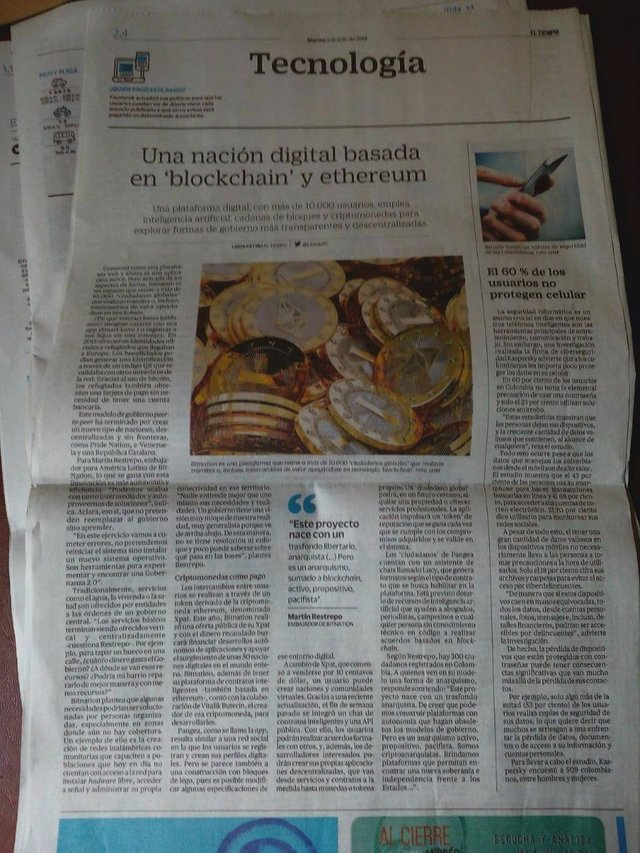 We've organised two team wide get togethers, one in Amsterdam, Netherlands in October 2017, and one in Acapulco, Mexico in February 2018. The next one is scheduled for early December 2018 in Rio de Janeiro, Brazil. Even though team meet ups are primarily intended for the team and community to meet and work together IRL, other technology and governance enthusiasts are welcome to participate as well.
High-profile public appearances include EuroDig in Tbilisi, Georgia, DBX Summit in Dubai, Alternative Investment Summit in Abu Dhabi, Blockshow in Barcelona, EU Parliament in Brussels, Belgium, Codex World's Top 50 Innovators London, UK to name a few.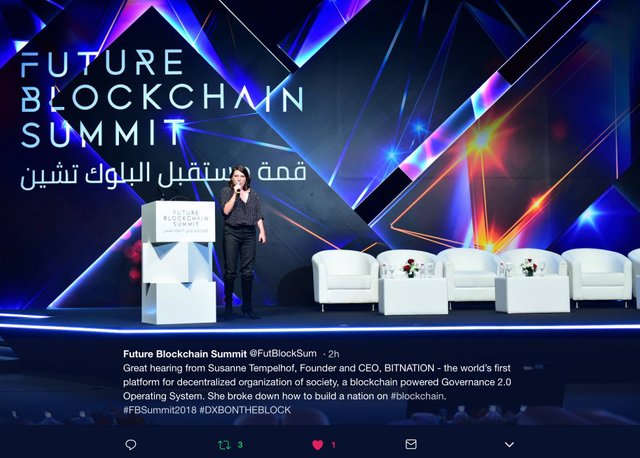 Local meet ups has boomed over the last year, and we now have regular meetups in over 20 cities around the world, primarily in Latin America, North America, Europe and West Africa. We would like to help people organise more meetups in Asia. If you are interested in hosting a Bitnation meet up there, or elsewhere for that matter, let us know!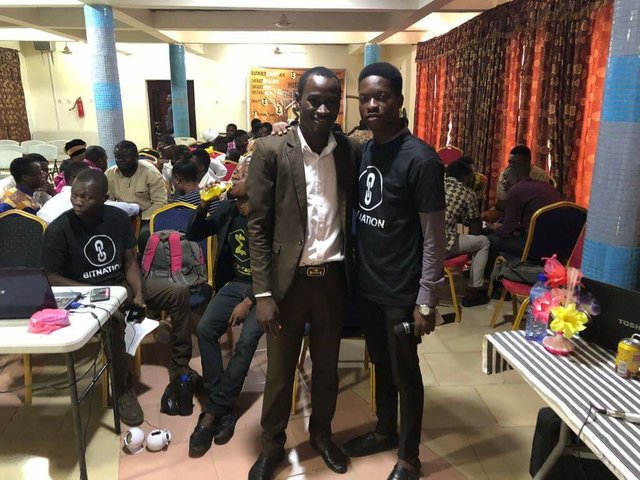 Challenges and mitigation measures
Spam attacks, phishing schemes and trolls: Spam often comes in the form of people posting messages in the style of "great opportunity, make fast money now by clicking here" on Telegram channels or on Twitter comments. We remove every spam attack we encounter as fast as possible. Phishing schemes are far more dangerous than conventional spamming, as it typically tries to impersonate a person or a company to get people to send funds to their own ETH or BTC address. In 2017 there were a few attempted phishing schemes against Bitnation, which we dealt with swiftly through contacting the hosting and domain name providers and send cease and disease letters to the website creators. We also put out a warning on our Steemit blog. As always, common sense and basic due diligence apply - when sending funds, always check that the url is the official one, and don't trust any information which is not on the official website, pinned message in the official Telegram channel, or posted on the official Steemit account.
So called 'FUD' (which stands for Fear, Uncertainty, and Doubt) has been a major issue in the cryptocurrency space since its inception. Sometimes it's just random people online who are bored and angry, sometimes it's political (because of our work with refugees we've had quite a lot of trolling from the alt-right, as well as from the far left, because of our free market philosophy), sometimes from competitors or former team members who were unable to grow with the organisation. We've seen all shades and colours of it over the years. The most important thing to remember with trolls is that they don't seek a legitimate constructive dialogue, they seek to confuse and destroy, and the way they do that is through drain attention from the team and the public otherwise spent on building things. It's when trolls are given attention that they win. Hence, ignoring them, and focusing on what matters - delivering great technology - is the best remedy.
Changing regulatory landscape: the regulatory uncertainty has been exhausting, to say the least. We had to spend a monumental amount of time and money on setting up corporate entities in various jurisdictions to avoid ICO restrictions and in some cases, outright bans. Another regulatory setback was the newly passed GDPR regulations, which adds an additional regulatory burden to our legal, software and web development teams. It's unfortunate that some governments are trying to hamper this new wave of technological innovation and economic growth - which their citizens would benefit immensely from - and we hope that more countries will come to their senses and embrace these opportunities rather than strangling this tidal wave of economic and societal evolution. In the meanwhile, we'll keep operating out of jurisdictions who are willing to adapt to new realities and encourage enhanced technological and economic growth.
ICO fatigue and bans: Far from the glamorous headlines of WIRED and TechCrunch about the "billionaire boom of ICO's", it has become clear that more than 99% of ICO's are either outright scams or well intentioned but unfeasible. This has created a sort of ICO fatigue amongst both investor and the general public. Over the last six months, Facebook, Google, LinkedIn, Twitter and even Medium announced various degrees of advertisement and content bans on ICO related contents, and even cryptocurrencies at large, in some extreme cases. Those bans were annoying for us, but the what had the worst effect on Bitnation was Slack banning us from accepting new people into our chat. Slack is where we used to organise ourselves, both as a team, and everyone who was curious about Bitnation. We had to setup a new Slack workspace for new team members, while moving all community conversations to Telegram, which is less than ideal for an open source code community driven organisation. Telegram is just a stream of messages while something like Slack is more of a "work space" allowing for teams to work and focus on specific projects. By the end of the year we'll release the Pangea Desktop client, and move the community from Telegram to Pangea.
Organisational growing pains: When expanding rapidly it always causes growing pains. Some people feel uncomfortable with the fast-phase changes, and a lot of routines has to change. And when recruiting lots of people rapidly to cope with the expanding workload, there's room for significant trial and error in the process. Although we're still changing and growing, the dust is starting to settle now, and we have a great core team with a good mix of personalities and skill sets. To further mitigate growing pains, we're incorporating holon wide and individual KPI's and strict documentation and storing processes.
ETH booms and busts: needless to say, planning budgets with the continuously volatile price of ETH is challenging. As a backup we have a fiat reserve, and we try to pay our expenses in XPAT, when possible.
Goals for the next 12 months:
Pangea Roadmap for the next 6 months:
Lucy and the Exocortex (the reputation system)
Mediation and Arbitration market (dispute resolution)
Desktop client
Encrypted group chats
Upgraded nation functionalities
Addition of more blockchains (Bitcoin, EOS)
UI/ UX improvements
DApp and Smart Contract Store
Main iOS store (as opposed to TestFlight)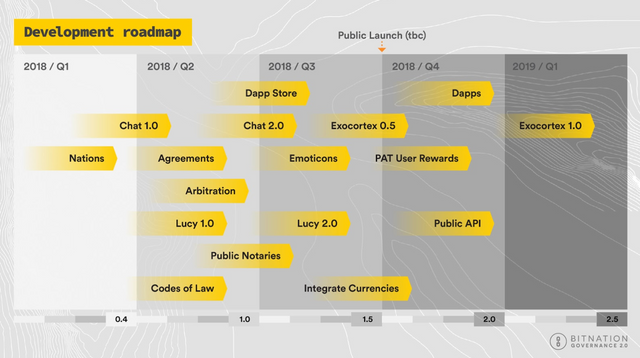 Pangea Go-To-Market Strategy
Until September 2018 our target audience is focused on empowering early adopters in the crypto community, through regular local meet ups, token airdrops into the Pangea wallet for Bitnation Citizens, bitcointalk bounties, and the integration of other ERC20 tokens.
In late Q2, early Q3 we'll kickoff a more aggressive go to market strategy, through working directly with communities that need Bitnation, to help them design customised nations and governance applications. Bitnation as an organisation and individual team members have already been actively working with some of these communities for years, like refugees, homeless communities, diaspora communities, ecovillages, online activist movements, etc. The basic premise is that it's not our job to tell people how to use our product, it's our job to empower communities to design and build the product they need using our tools.
In Q4 we aim to conduct rigorous market studies including polls, focus groups, and A/B testing, to prepare for a mass market launch in Q1 2019, based on the results from the previous months of crypto community outreach and autonomous community customisation. For the next yearly report we expect to have more than +1M app installs.
XPAT, Wallets and Exchanges
Our goal for the next 12 months is to reach a market cap of $500M for XPAT, and be trading on top 5 exchanges. We expect the XPAT ownership to be at least +100k persons in 2019. As mentioned above, we'll be able to add more ERC20 tokens on the Pangea wallet starting from July 21 2018, and by this time next year, we expect to have several non-Ethereum based currencies on the wallet as well.
ICO Phase III: Slow Release
The ICO Phase III: Slow Release is currently scheduled to start in September, though dates might vary, as it's subject to contract audit results. The slow release structure enables people to participate based on development benchmarks being met, and market adoption of the technology, rather than on speculation.
How Phase III works: Each token sale period lasts 7 days and next period starts right after the previous period ends. In order to buy XPAT, you send ether to the sale smart contract, and the smart contract immediately calculates the number of tokens to be sold based on base price and sends this number of tokens to you. After the end of the period, you may claim bonus tokens via a separate call. The smart contract keeps track of how many tokens might be claimed by contributors. If you contributed in several periods, you may claim bonus tokens for all of them at once.
To Summerise...
2018-2019 will be all work, no play! We'll continue to solidify what've already built in terms of the organisational infrastructure, the team and most importantly, the technology. We'll build all Pangea core functionalities during 2018 to be ready for an aggressive mainstream launch in 2019, and do the groundwork to make XPAT a widely adopted token.
A summary of measurable goals we set for ourselves for the next 12 months:
Having developed, launched, battle tested, and perfected all core technology functions of Pangea (smart contracts, id & reputation system, iOS, Android and desktop, dispute resolution, DApp infrastructure, etc):
+1M installs of Pangea
+$500M market cap for XPAT
+$1M of daily trading volume for XPAT
+100k wallet addresses of XPAT holders
Join the conversation on Telegram
Contribute with code on GitHub
Follow us on Steemit, Twitter and Facebook
Come build the future with us!
Yours always,
Susanne Tarkowski Tempelhof
BITNATION Founder and CEO
#BITNATION
#BlockchainsNotBorders