BitMovio Product introduction
BitMovio is a blockchain-enabled, next-generation gamified video entertainment platform for the Fortnite generation with a freemium business model. Our product is currently in open-beta and accessible via:
● Web: https://v.bitmov.io/
● Android Play Store: https://play.google.com/store/apps/details?id=com.bitmovio
● iOS App Store: https://itunes.apple.com/us/app/bitmovio/id1436731109?ls=1&mt=8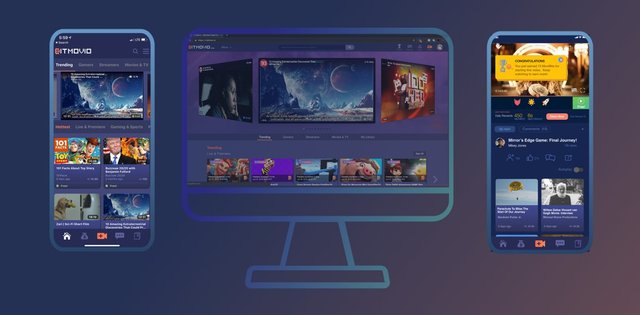 You can also find the various product links and corporate information through our corporate website https://www.bitmov.io/.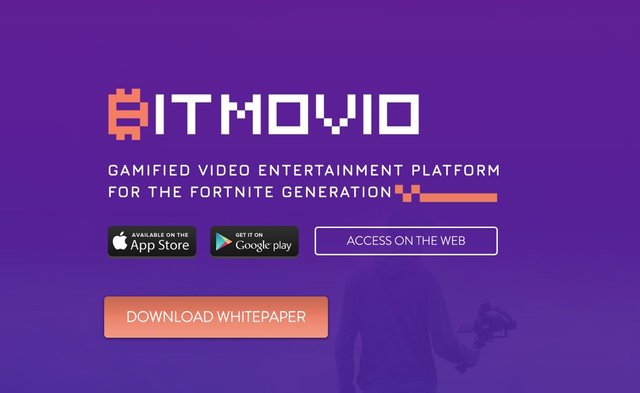 Below is the home screen of our video site and our app.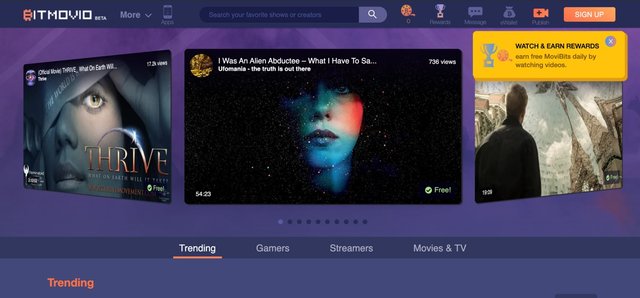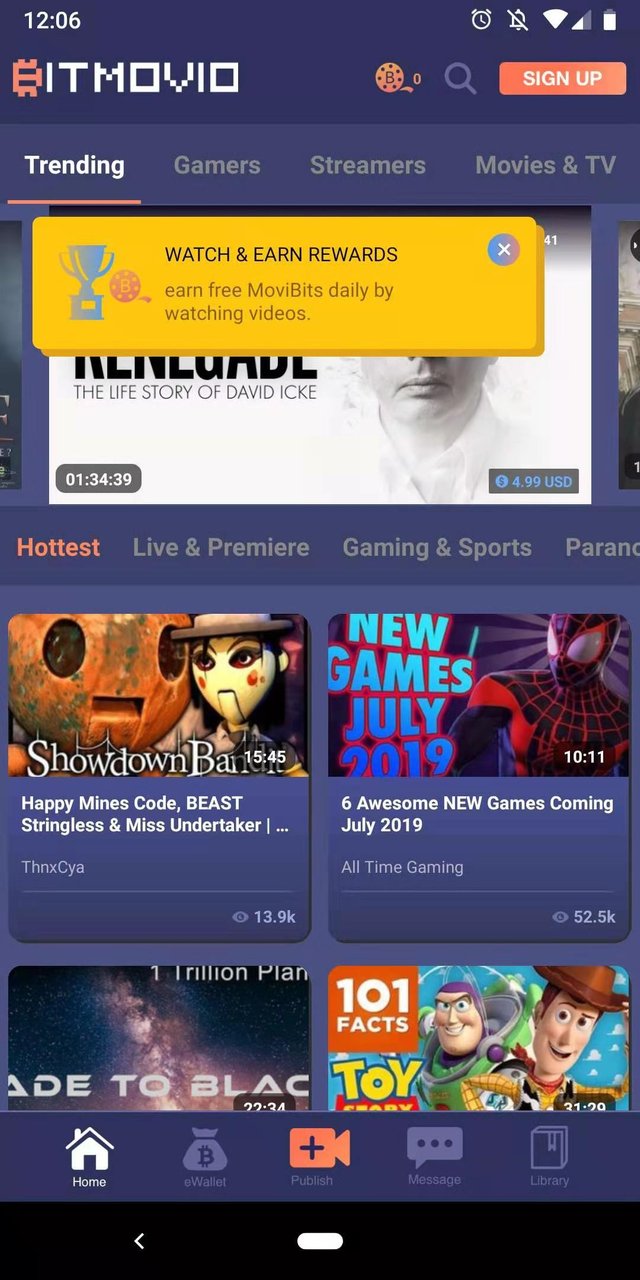 STEP 1. Sign Up
On our video site (https://v.bitmov.io/) or mobile app, you can watch free content without signing up for an account. But you need to sign up an account in order to earn rewards and engage with the content and consumer community. The sign-up is for free and currently we offer 500 MoviBits, our in-platform virtual currency as sign-up bonus if you sign up on our web portal or via our Android app. Important: you will not receive sign-up bonus if you use our iOS app for signing up because of limitations from iOS app store policy. Please learn more about MoviBits here: https://www.bitmov.io/movibits
When you click the sign up button you will have a new page to ask you sign up, you need to fill up your Email address and password. If you have a referral code from one of your friends, you can also enter the referral code on the sign-up screen so that you friend can earn referral rewards. Our current referral rewards program rules can be found here: https://www.bitmov.io/movibits-rewards.
Once you sign up an account with email, you will receive an verification email from us asking you to verify the account. Once verified, you will be able to log into your account with the email/password pari you used during the sign up process.
You can also sign up an account on BitMovio platform with your Facebook or Google account.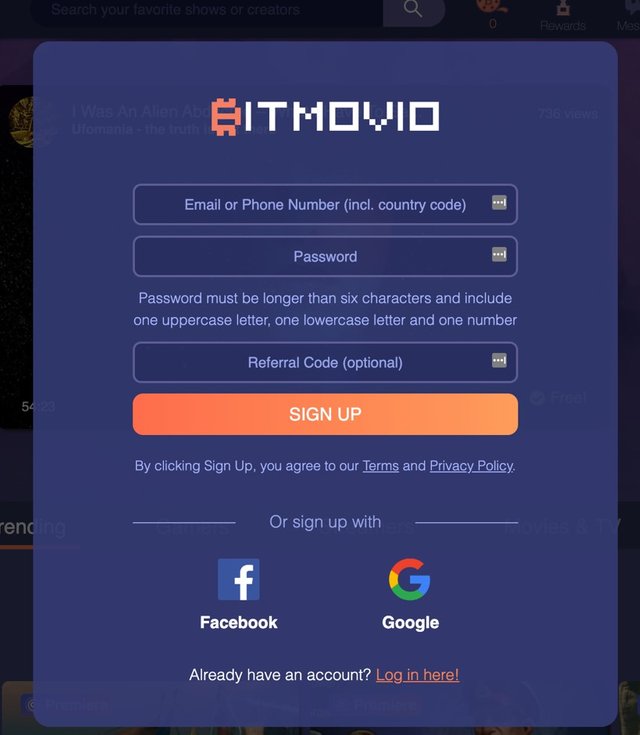 STEP 2. Manage account and customize channel
After logging in, you can change your account setting such as updating your profile icon, your email address, your phone number, your screen name, channel alias, and other personal information. You can also update your security settings such as enable two-factor authentication, block 18+ content and inappropriate content.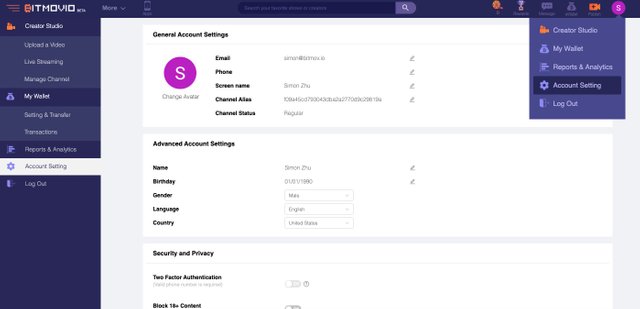 If you are a content creator and intend to publish your videos on BitMovio, you can also personalize your channel set-up by clicking "Manage Channel" tab under "Creator Studio" on the left-hand-side menu bar. Here you can edit your channel artwork, include your social profile links, edit your "About me" description, and set-up the promotional video on your channel.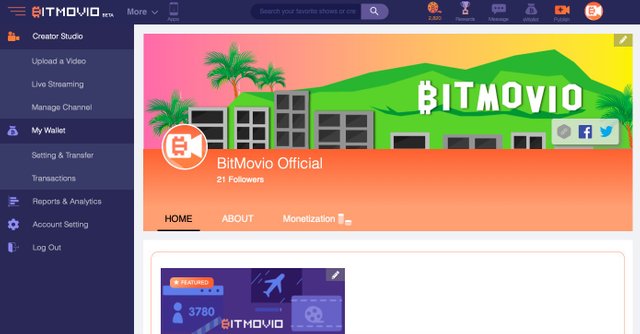 STEP 3. Engage with Videos/Creators and Deposit funds to eWallet
After signing up you can watch videos and earn rewards. There are many free videos for you to enjoy. You can tip content creators if you enjoy their work. A Heart equals to 100 MoviBits, a Star equals to 1,000 MoviBits, and a Rocket equals to 10,000 MoviBits.
On the same video viewing screen, you can also follow the content creator, direct message the content creator, like the video, share the video to your social networks, flag the video if you find that the video is inappropriate and violates our community guidelines. Furthermore, you can also send "bullet chat" that will show up on the video screen time-synced with the specific frame. You can also leave a comment to the video and tip the commentators.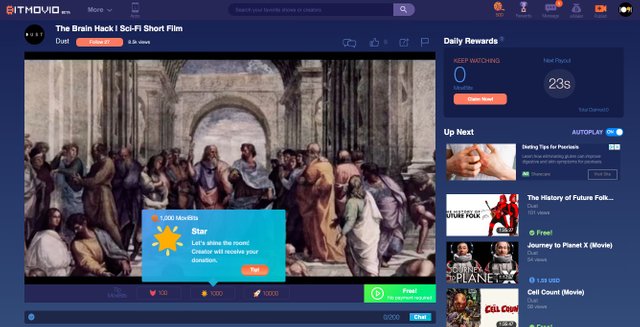 On the Daily Rewards window on the right hand of the screen, you can claim your daily rewards by watching the videos and you can immediately see your MoviBits balance increased at the top of the menu bar, or in your BitMovio eWallet.
There are also premium movies and TV episodes on the platform that you can view the first 5 minutes for free; but need to pay to access the whole video. If you want to purchase the video or if you want to tip the content creator a rocket, you will need to fund your BitMovio eWallet. You can access the eWallet through the eWallet button near your account on the top of the page.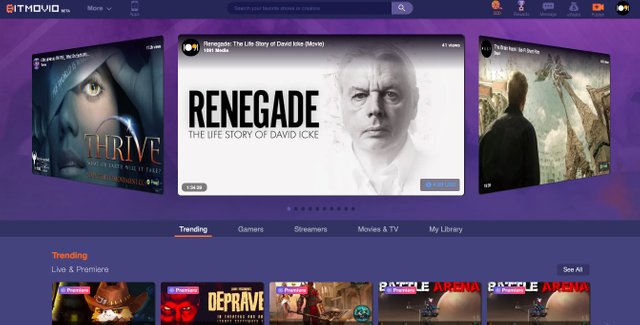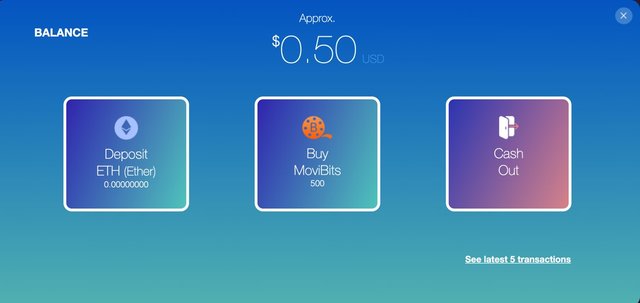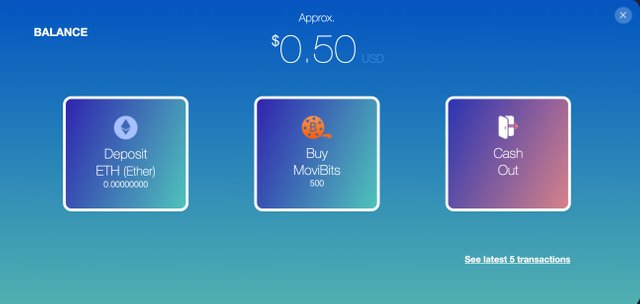 You can see you already have 500 MoviBits (Worth for 0.5 USD) in your wallet
There are two ways to deposit money into your BitMovio eWallet. The first option is to deposit ETH. When you click the ETH button, you will get the wallet address from BitMovio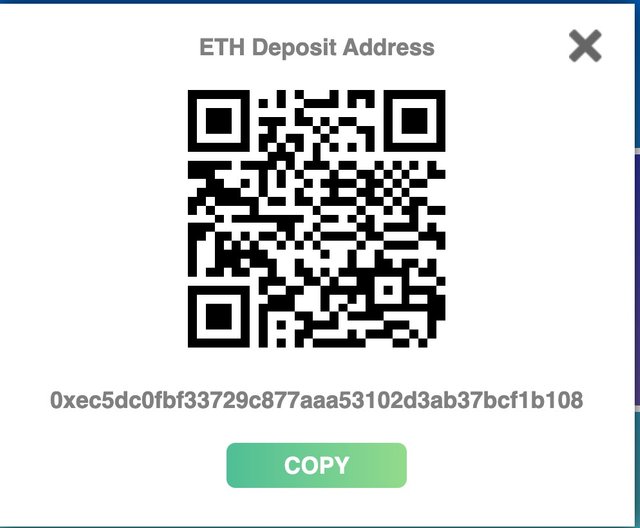 You can copy the wallet address and send from your own external ETH wallet.
The second way is buy Movibits directly with credit card/debit card (through the web browser), or via in-app purchase (through our iOS and Android app). Please note that iOS and Google app-store charges 30% of all in-app purchases. Purchasing MoviBits on our web browser thus is 30% cheaper than buying MoviBits via in-app purchases in our Android and iOS apps.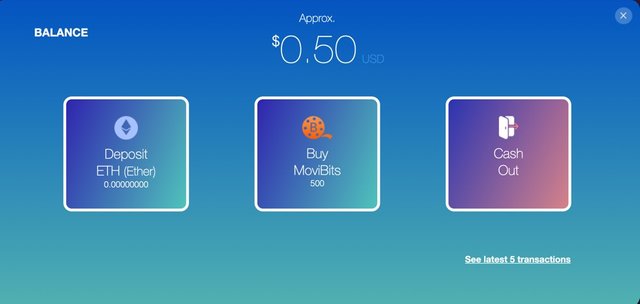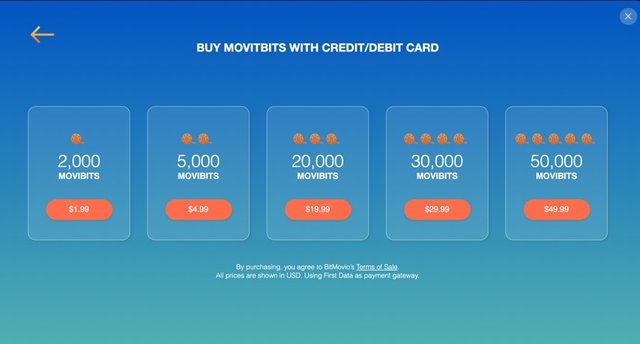 There are five opinions to choose how much Movibits you want to buy. Once selecting the amount of MoviBits you want to purchase, you will be directed to our payment gateway page which is hosted by firstdata (https://www.firstdata.com).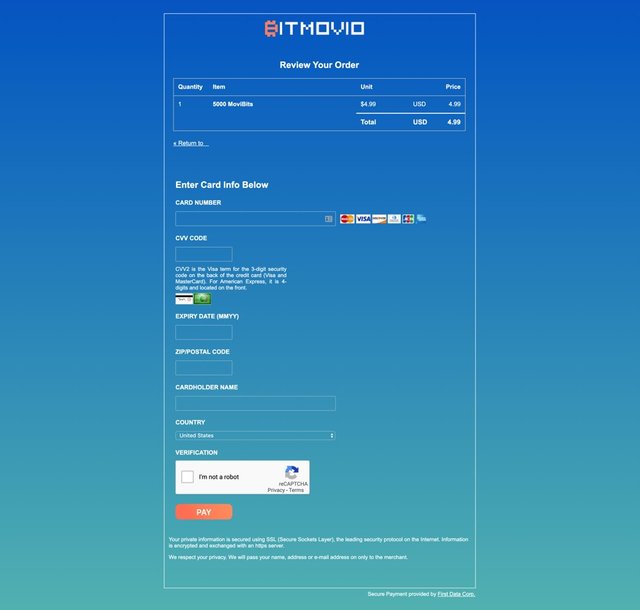 Enter your card information and finish the verification to complete the payment
Here are the steps for mobile in-app purchase of MoviBits in the BitMovio app.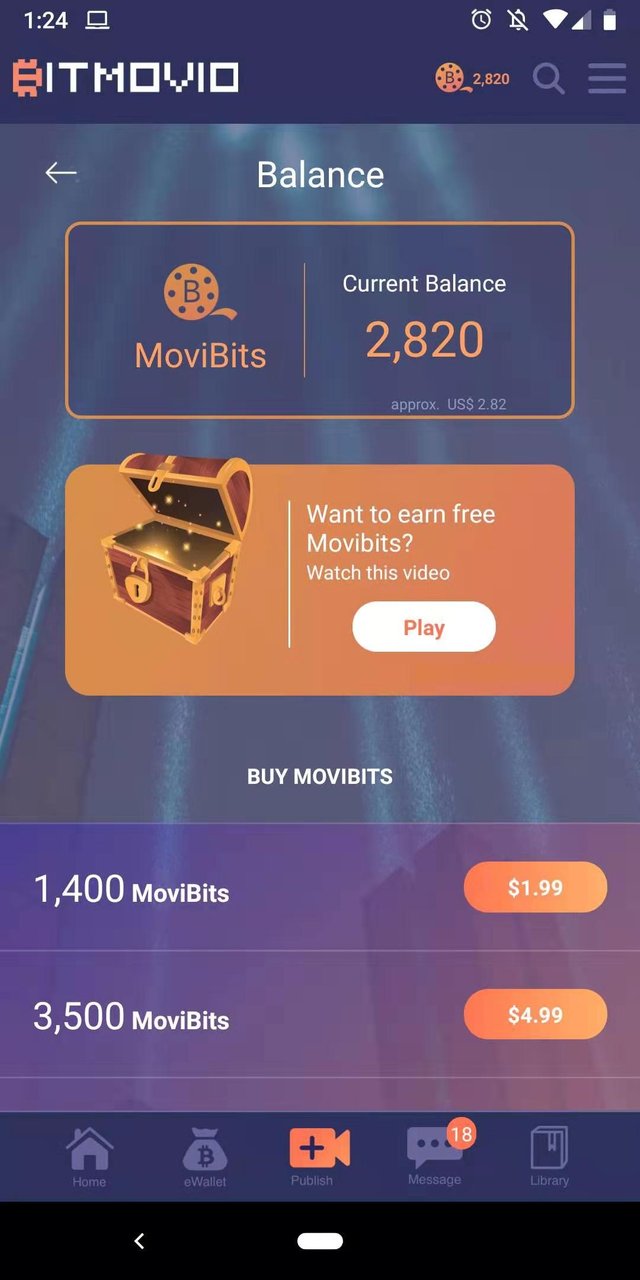 STEP 4 Publish Your Pre-recorded video or Live Stream
BitMovio supports self-publishing for content creators. You can publish your pre-recorded video or live stream your real-time life moments.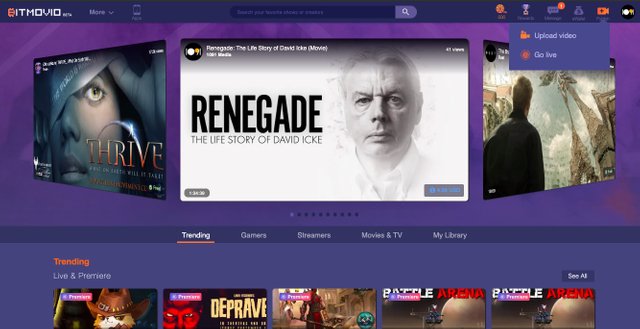 When you want to publish your video, just click the upload video, then you can upload your pre-recorded video from your computer.

Once selecting the video file to upload, you will land on the video editing page. Under the General tab, you are able to edit the metadata of the file file including uploading the thumbnail, editing/adding the title, description, tags, language, content rating (All Audience, or 18+ content) etc.. You can also select to publish the video immediately, or schedule a premiere at a future date so that you can create a watch party of your video. Under the Payment tab, you can select payment options in each geographic region (free, rent, buy, block). Under the advanced tab, you can upload the subtitles or captions of the video and also set up other advanced options for your video.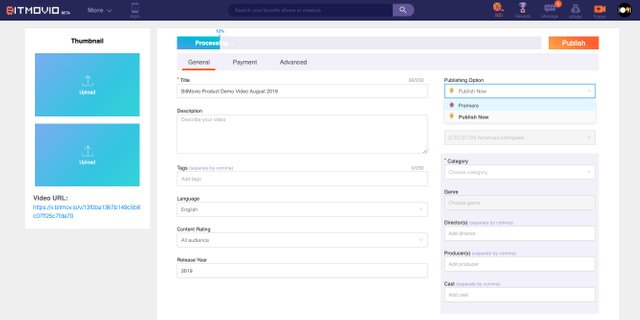 You can also live stream your game play or real-time moment. After clicking the go live button, you will be brought to the live stream set-up page. We support two options to go live: (1) the professional encoder option that you can live stream through professional tools such as OBS by entering the Server URL and Stream Key from BitMovio. or (2) use your computer camera to directly live stream via browser. For option #2, we currently support Chrome browser only.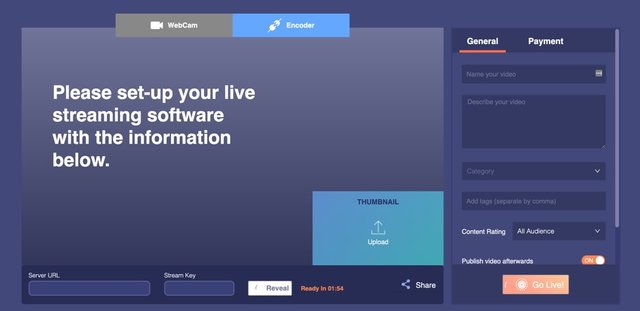 You can also directly go live with your mobile phone as well by clicking the Publish icon at the bottom of the mobile app.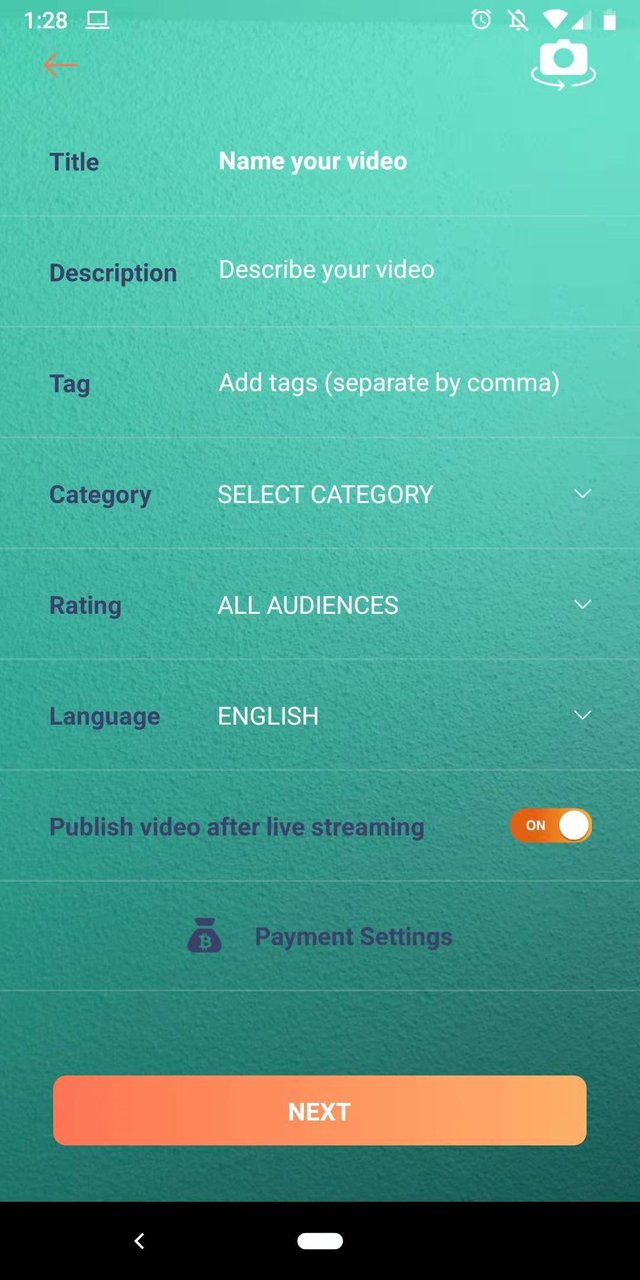 STEP 5. Rewards & Incentivization
Besides of the daily watch & earn rewards that you can claim by watching videos on BitMovio platform, we have also launched our referral rewards program. You can refer your friend to get addition rewards. Just click the Rewards button on the top of the page, copy the code and send to your friends. You can earn up to 1,000,000 MoviBits through the referral program. Please find the detailed rules here: https://www.bitmov.io/movibits-rewards. We will introduce additional rewarding programs in the future. Please stay tuned!
For users who register with your referral code, they will get 500 sign-up rewards if they sign up on web browser or Android App. Important: users will not receive sign-up bonus if the user uses our iOS app for signing up because of limitations from iOS app store policy.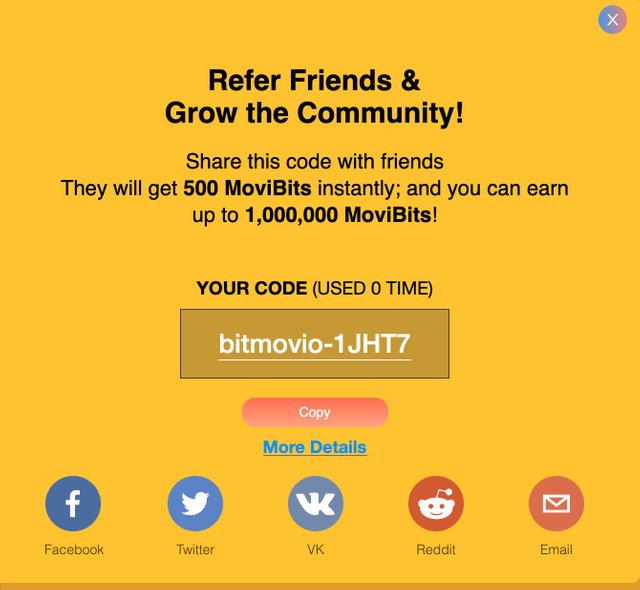 On Mobile apps, you can find your promotional code by clicking the hamburger menu bar at the top right corner after log-in and then clicking "Rewards" menu.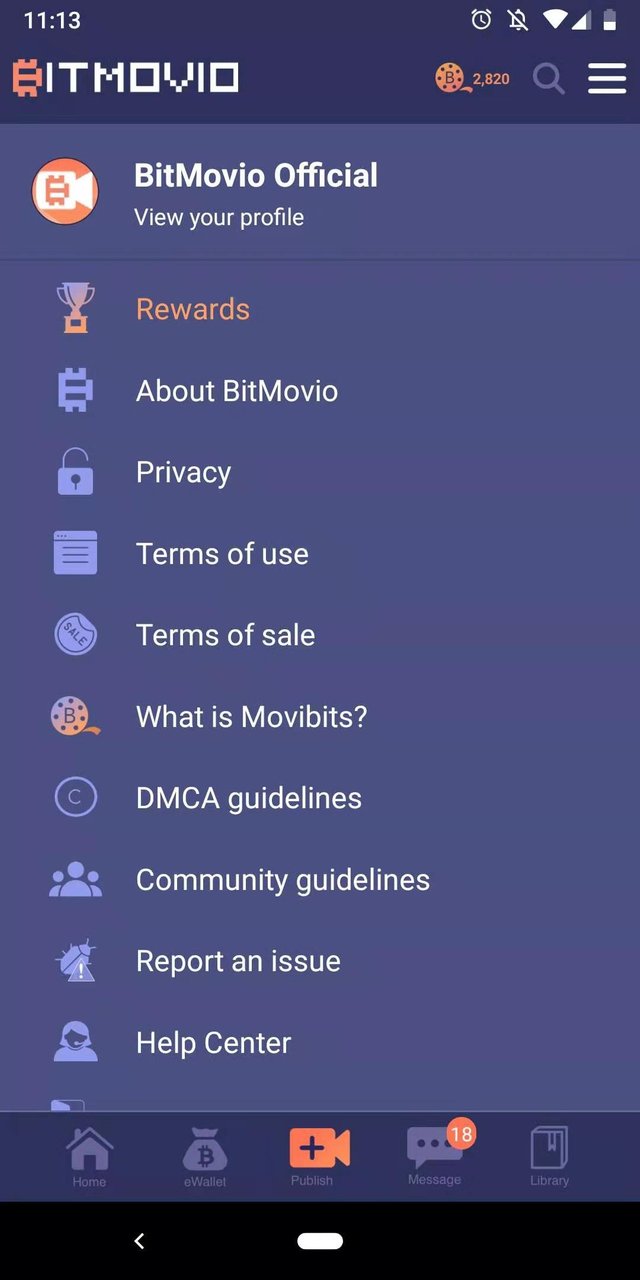 STEP 6. Withdraw funds for content creators
Content creators can earn revenue through a variety of means on the BitMovio platform, including advertising for free content, microtransaction for premium/paid content, and tipping/donations from fans. We are introducing additional monetization models on the BitMovio platform.
Content creators can withdraw earnings from the platform. You can initiate withdraw your earnings by clicking "Cash Out" button on the eWallet short-cut screen.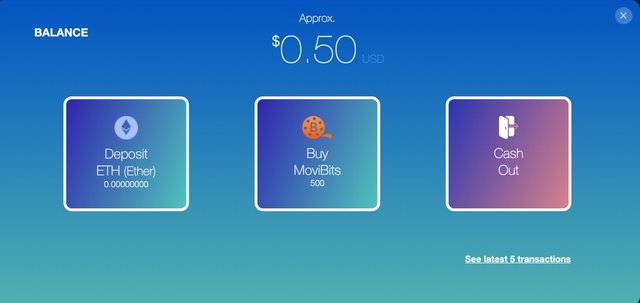 If users pay you via Eth cryptocurrency, you can initiate instant withdrawal, with a daily limit of $500 USD equivalent for account security.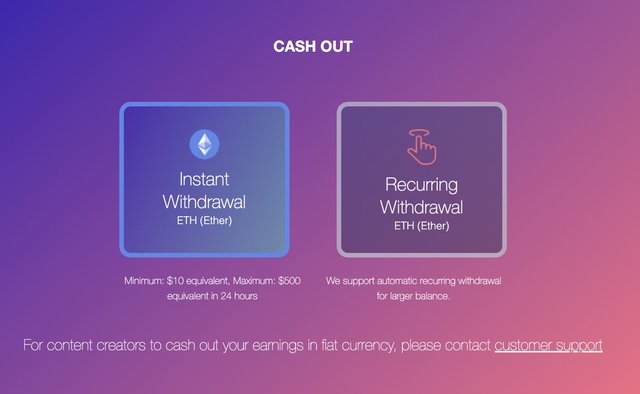 when you choose instant withdrawal ETH, fill in your wallet address and the amount you want to withdraw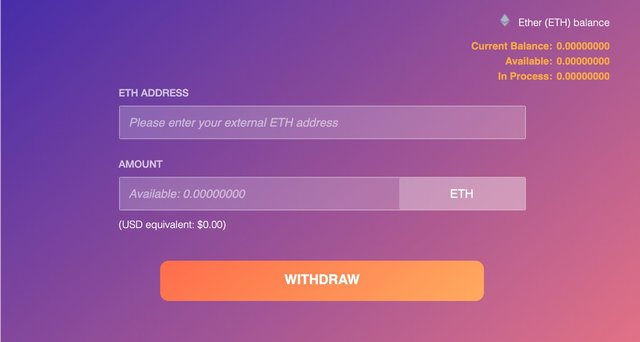 Notice: Minimum: $10 equivalent, maximum: 500
If you want to withdraw large amount in ETH, you can set-up recurring withdrawal option which needs account verification and two-factor authentication. Alternatively, you can contact [email protected] for account verification.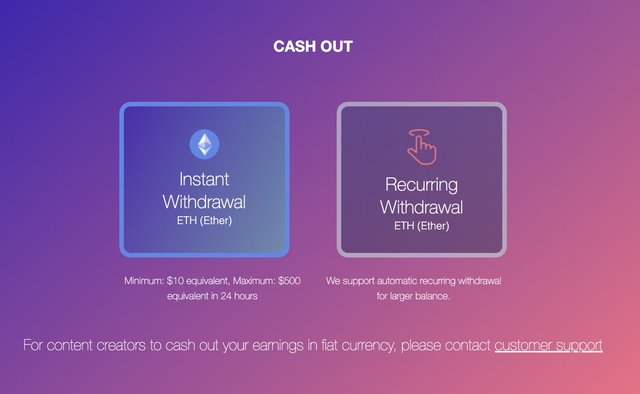 For earned MoviBits virtual currency and also earned advertising revenue, currently we only allow cash out in fiat currency once the earned MoviBits and advertising revenue exceeds USD$100 equivalent. To enable cash out in fiat currency, please contact [email protected] for account verification and payout account set-up. Here you can find additional details about MoviBits virtual currency. https://www.bitmov.io/movibits
STEP 7. Transaction Record and Analytics
Content creators can view detailed analytics regarding the viewership and transactions of their videos on the BitMovio platform.
From the eWallet shortcut screen accessible by clicking the eWallet icon from the top menu bar, you can access the latest five transactions in real time.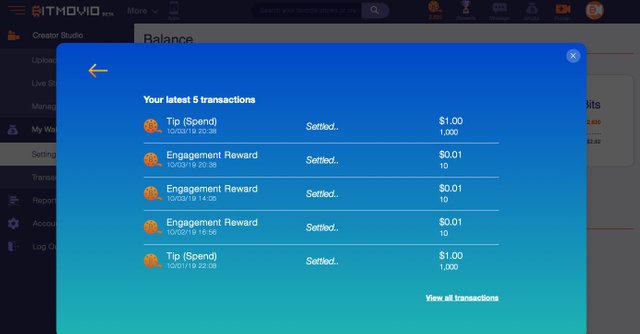 You can view the detailed transaction records by clicking "View all transactions" on the above screen, or click "My Wallet" -> "Transactions" under the drop-down of the profile icon.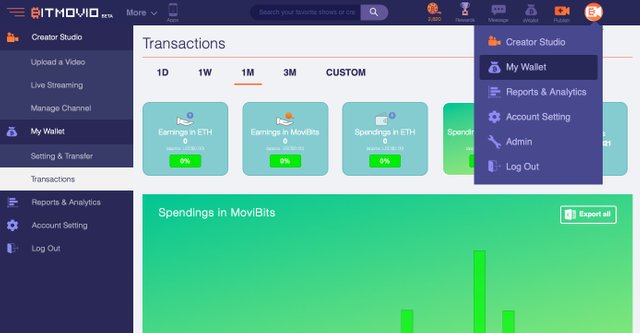 In addition, you can access detailed reports and analytics such as viewership, watch-time, net followers, engagement details, and ad performance from the "Reports & Analytics" tab.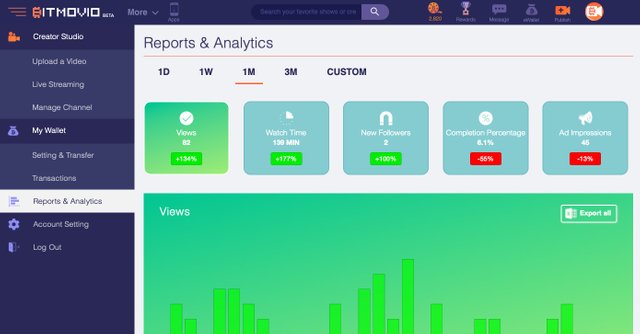 We are additional additional advanced reports and analytics. Please contact [email protected] if you have any specific requests or questions.