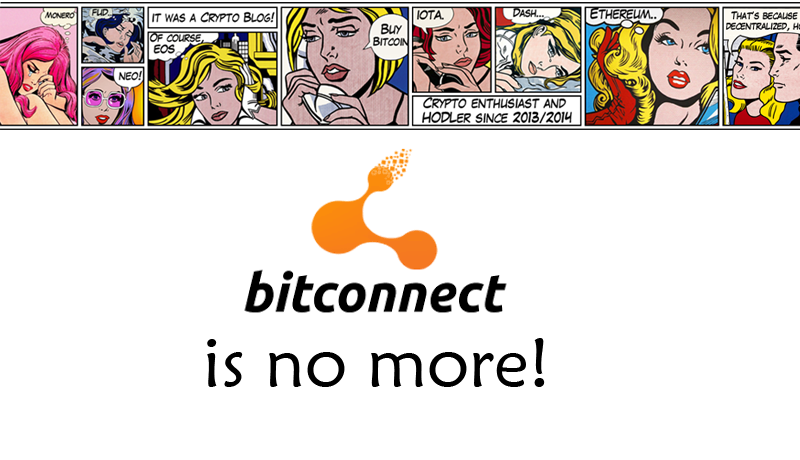 BREAKING NEWS: Bitconnect has closed down! This literally just happened, so details are still a bit unclear but it looks like some kind of Bitconnect exit is going on.

This news was posted on the Bitconnect site, which has since gone offline, gotten back online and gone offline again. It's very unstable and unclear if it will be accessible again. I copied this text from the Reddit where the announcement was also posted:
"This is to inform all community members that we are closing the Bitconnect lending and exchange platform. We are closing the lending operation immediately with the release of all outstanding loans. With release of your entire active loan in the lending wallet we are transferring all your lending wallet balance to your BitConnect wallet balance at 363.62 USD. This rate has been calculated based on last 15 days averages of the closing price registered on coinmarketcap.com. You are free to withdraw your BitConnect coin currently in QT wallets that was used for staking as well. We are also closing BCC exchange platform in 5 days. In short, we are closing lending service and exchange service while BitConnect.co website will operate for wallet service, news and educational purposes."
source: https://bitconnect.co/system-news/94/changes-coming-for-the-bitconnect-system-halt-of-lending-and-exchange-platform (link doesn't work at time of posting - site offline)
So the official announcement says that they are simply closing the lending operation and that people need to withdraw their funds. However, the Bitconnect subreddit is full of people saying they cannot get their funds out of Bitconnect, or even log on. Panic has set in for sure. Those lucky few who do manage to get in are advised to get their funds out A.S.A.P. if they can, or risk losing them entirely.
Bitconnect has long been accused of being a Ponzi scheme and many people have predicted it would not last forever and at some point it would come crumbling down. Perhaps the current Bitcoin bearish moves were enough to cause a lack of new inflowing capital to keep the Ponzi running? Many have speculated that Bitconnect would remain profitable for as long as Bitcoin and crypto kept going up. Perhaps a crucial threshold has finally been breached?
Or perhaps this has to do with the more recent 'Cease and desist' letter that Bitconnect has received from the State of Texas?
It could, of course, also be the final exit-scam of the owners of Bitconnect. We'll probably find out in due time - these things tend to travel fast across the internet.

I was made aware of this news by Crypt0 on Youtube, whose video I will embed here below. It is about Bitconnect closing down:

(Art by Roy Lichtenstein)