Nothing can prevent Bitconnect sell-off
I have been writing for quite a while about Bitconnect, estimating that they will exit scam before New Year. New Year is getting closer, only one week left. To be honest, its going to be a long week for Bitconnect.
I don't want to dig into math again, I did that many times, but lets reevaluate.
BTCBCC has no support
Most important thing on a ponzi scheme is new money/withdrawals. The good thing about that is that bitconnect has a token that gets traded with bitcoin. When people invest into platform or buy the token, price will go up vs bitcon as shown in the yellow line. On the contrary, when people withdraw their loans or sell bitconnect token (considering they bought the token to speculate on the price, not invest), price of bitconnect will fall.
One thing that is confuzing, is that if price on dollars go up people thing that bitconnect is doing good. Thats why it took more than a month for most people to understand that the end is near. Bitconnect price was going up vs. dollars because bitcoin price was going up. What is important, is how is bitconnect doing vs. bitcoin.
In a month, the price dropped 53.50%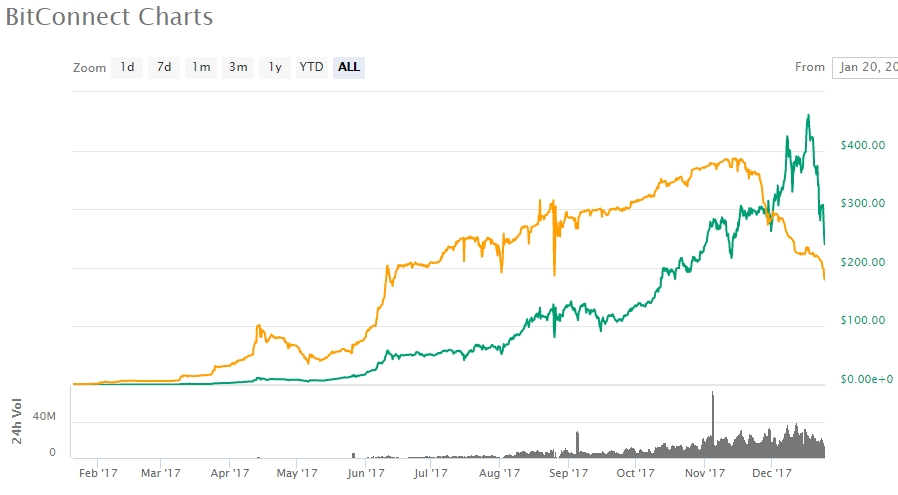 Rigged daily interest
The other important thing is daily interest. Return that ponzi schemes offer. Returns have many purposes, it make the scheme seem legit because they are paying, it is supposed to incentive people to reinvest (its humans psychology that
wants to get rich quicker) and also attract new investors.The problem is, after some time, new investors portfolio will grow so much with reinvestments. Their withdrawals will be bigger than new investors money.
The last month, it seems that bitconnect is stuck between the two dilemmas. First, they have to offer higher interest to attract new money flowing in, but not high enough to keep withdrawals low. Second, mostly bitconnect investors are greedy stupid bastards that think 0.30% a day is low, if bitconnect will not pay higher rate they will withdraw their invested capital and invest to another HYIP.
The chart shows that bitconnect is stuck at around 1.50% a day, can't offer more, or less. If interest has correlation with bitcoin volatility, surely there should be days with higher interest than 1.50%. One sentence, it is rigged.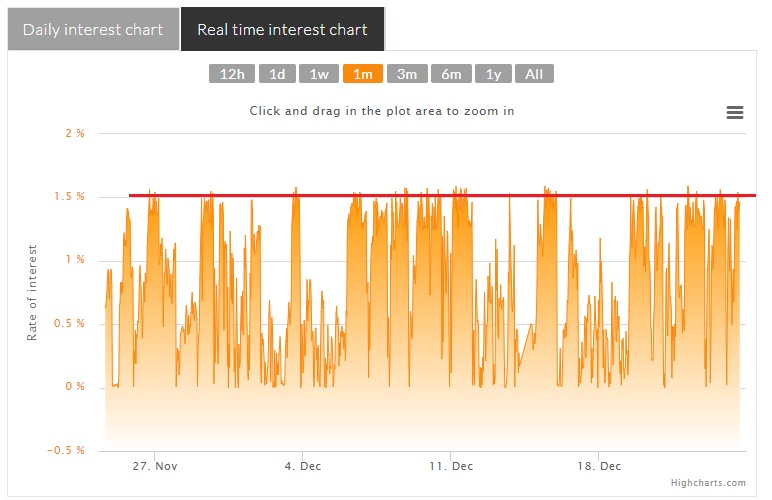 Coinmarketcap rank
Another thing that I will add, bitconnect rank on coin market cap. Not long ago, it used to be at 6th rank, and now its 23rd. It's funny cause every day it is dropping a rank or two.
I bet it won't be long before it's not on top 100.
Disclosure: I never owned a single bitconnect coin, never had bitconnect investments. First time I heard about bitconnect was in May, it took me 5 seconds to figure it out its a ponzi scheme. I have no interest on bitconnect whatsoever. Rewards I get on my post are not worth my time. My main motivation is warning innocent people falling for this trap. If I saved only one innocent person, it was worth my time and effort.
Follows and upvotes are appreciated :)
---
Disclaimer: The information contained herein is author's opinion, does not purport to be comprehensive and is strictly for information purposes only. This is not a financial advice. It should not be regarded as investment/trading advice.