BitConnect.help : The Referral System

Learn more at www.bitconnect.help
While most cryptocurrencies are in decline today (and the past days / weeks), BitConnect delivered a steady daily income so far! I'll show you the current status of my investment in this weekly update and you can see for yourself. I'll also explain the referral system, which can increase your profits greatly.
In case you are new to BitConnect, make sure you have read my step-by-step tutorial, explaining and showing how to actually invest in BitConnect.
Unlike other cryptocurrency investments, BitConnect is developing nicely as it delivers a steady payout. Have a look:

Status / My investment
Investment started:
2017-08-15
(exactly 1 month!)
Total investment: 810 $
Total earned: 154.71 $

I started with 490 $, then added 120 $ down the line and made multiple reinvestments. Furthermore I received additional $ from referrals that used my link and invested in BitConnect. Thank you so much for your support! (More about the referral system further down.)
So now the current active investment is 810 $.
In case you have not invested in BitConnect yet, feel free to use the following affiliate link to support me. I am going to keep you up to date and help you along the way with this and other investments – just contact me, if you have any further questions!

Reinvest
As a reminder: One of the major benefits of
BitConnect
is the daily payout combined with the opportunity to reinvest, because this enables you to
exploit the compound interest effect!
I introduced it already in a previous blog post last week with a
step-by-step guide on how to reinvest and exploit the compound interest effect
.
Referral system
One aspect I have rarely mentioned in the previous blog posts is the referral system.
This allows you to earn additionally to the daily payout.
So how does it work? Have a look at this: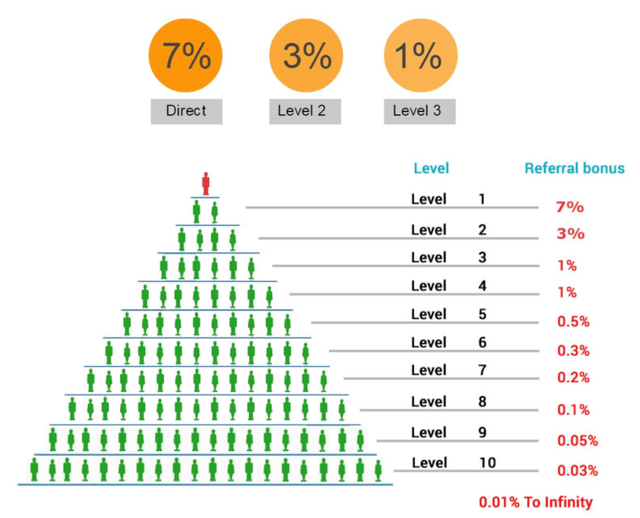 As soon as someone is using your referral link and investing money in BitConnect lending, you receive 7% of their investment as bonus. If another person is using their referral link afterwards, you still receive 3% of that person's investment as bonus. And so on.
Example:
Person A is using your referral link and invest 500 $. Then you receive 35$ bonus from BitConnect.
Person B is using the referral link of person A and invests 1,000 $. This means, not only person A is receiving 70 $ bonus, but you also receive 30 $.
And so on…
So as you can see,
by using various channels to spread the word
, like Instagram, Facebook, or Twitter
you can greatly increase your investment!
And just to make sure the bonus system is understood: The bonus is paid by BitConnect and the amount is not taken away from the referred person!
I currently have 8 referrals and some of them invested in BitConnect.
I want to thank each and every one of you for your support! As a thank you, I am going to invite you to my upcoming Facebook group, with the following goals:
Mentoring and guidance
More insights into online investments
Discussion about online investments
Creating strategies together and discuss them thoroughly
Interacting with each other: Asking questions + receiving answers asap.
More profitable investments!
On top of that, I will provide you with a Google sheet that allows you to
edit the preferred investment amount and interest rate
in order to calculate your
investment returns
by yourself.
Just contact me.
If you are interested in that, just use my referral link for now and I will invite you as soon as the group is live!
Referral link: https://bitconnect.co/?ref=RaphaelFelix

Strategy
My plan is still to reinvest all earnings aggressively until I reach an amount of 2,500 $ to 5,000 $. Then I likely going to take some profits out to reach break-even before increasing the active investment amount again.
Make sure to have a strategy and be advised to NEVER INVEST MONEY YOU CAN NOT AFFORD TO LOSE!
Furthermore let me mention that BitConnect is a highly risky investment. Like ALL cryptocurrency investments! The model of BitConnect is unlikely sustainable over multiple years. On the other hand, if you look at other cryptocurrencies, with 500% gains over a few weeks and then falling down again – that is also highly speculative and risky!