How to Make the Best Of The BITCOLOAN Token? BitcoLoan CFO's Article!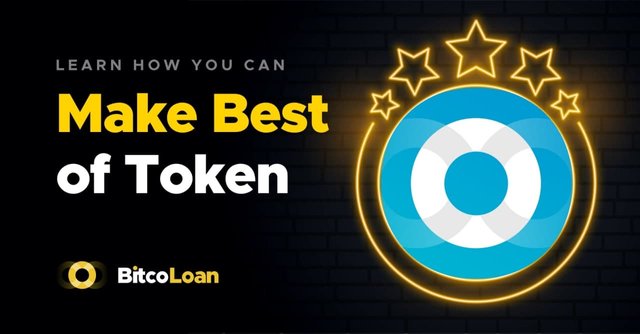 Hello, BitcoLoan community. This is me again, the BitcoLoan CFO. Today I'd like to tell you more about the token economy, how to make the best profit from it and what you should do now.
I'm not going to bore you with technical details – I'll get straight to the point. The most popular question we get from you is how to earn on the token. Now, I'm going to share a few secrets with you!
BITCOLOAN Token
So, what is BITCOLOAN Token? The token is a part of the BitcoLoan Protocol. When the protocol will be launched, you will be able to use the token within the protocol so you could earn, invest and get loans.
At the moment, the token is the company option available on the CeFi platform. You can profit from it both in the short and long term.
Let's talk about quick profits first.
VIP Status
We've had a big update recently on our platform. This update introduced our users to VIP status that gives you access to the exclusive "VIP Only" loans. We grant a VIP status to those users who've had no less than 500,000 tokens at their disposal.
This loan type is characterized by very favourable terms, such as:
Increased profit percentage
Flexible terms
Unique and luxurious offers offers
If you invest in such loans, you get up to 30% additional profit in comparison to other loan types.
How to get more tokens
As the Private Sale is over, but the token is not yet listed on the exchange, you can obtain more tokens in three ways:
Bounty tasks
Investments
Token Accumulation
Tasks won't take much of your time, but will get you plenty of tokens. Complete all the available tasks in the "Token" section and get some BITCOLOAN Tokens as a reward.
In addition to tasks, you can get tokens by investing. For each $1 invested you get 64 tokens. You will also profit from loans – not in tokens but in the currency you've invested in.
The more tokens you have, the better. When you store tokens in the BitcoLoan system, you get 1% of the remaining token balance daily.
These simple and effortless ways can get you the necessary token amount really quick and bring you closer to VIP status.
How to earn more
VIP status and 1% of the remaining token balance daily is not enough for you? We have some more advice for such ambitious users.
The first advice is to increase your rating. By completing Bounty tasks, you can both increase your rating score and daily profit – you will get 0.3%. At first glance, it isn't much. However, 0.3% a day makes 109.5% profit a year. It is something prominent, isn't it?
You can find out more about the rating system and how you can profit from it in this article. You can find a very useful tip you can use there!
The other advice is to use promo codes. They increase your investment amount, which means more profit!
You don't have any promo codes just now? Use the universal promo code I'm sharing with you today. Apply a SUPER20 promo code and increase your profit by 20%!
Accumulate tokens
Obtain VIP status
Use promo codes
Earn more!
I hope that you find this article quite useful. I wish you luck and high profits!
Liked reading this article? Spread the word!